Christopher Dinkins | January 5th, 2019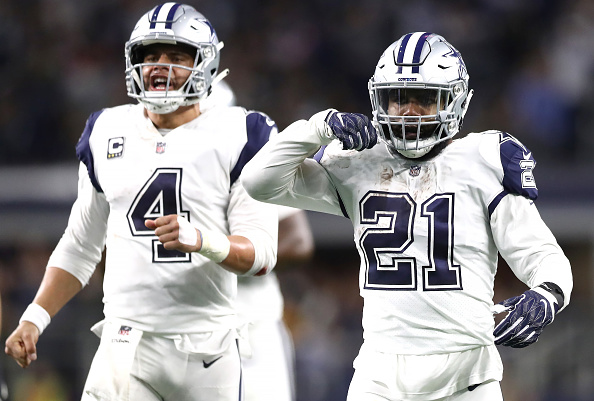 It's postseason time in the NFL and there are no two fanbases happier for a return to the "tournament" than Dallas Cowboys and Seattle Seahawks fans.
And on that note, I got a little bit of help putting this article together from a Cowboys fan, my friend Malcolm, who has been a Cowboys fan for as long as I've known him, and my friend, DJ Diz, one of Brooklyn's finest deejay's, to add their opinions to what's about to happen at AT&T Stadium on Saturday night. The last time these two teams met in the playoffs was on January 6, 2007, at Qwest Field (as it was known at the time). It was the "OH NO ROMO" game, one of the wildest playoff games in history, won by Seattle 21-20, when Tony Romo mishandled the snap on a potential game-winning field goal in final seconds. That single play followed Romo for his entire career and labeled him as a "choker". The Seahawks have had their umm…."choker" moments in playoff history as well, but we won't comment on that right now, "I'm just here" to drop these lines.
Diz and Malcolm's Takes
Diz stated it will be a "very intriguing game as both teams are just alike". Yes, both teams have running games that will need to be effective and can be. And they both have mobile quarterbacks who can extend plays to find open receivers, and both teams are stout defensively. Malcolm adds "both teams are different from when they met in Week 3, Dallas didn't have Amari Cooper or Randy Gregory". Malcolm also says that "Seattle won't be able to load the box this time" and that is true because of the way Dak Prescott is spreading the ball around the field getting more of his receiving corps involved. Diz has a concern about Seattle being a "different team on the road", but he also added that for Seattle run game to be effective, it must win on third down and the offensive line must be able to play better than Dallas' defensive front. Seattle brings its top-ranked rush offense into this game and Chris Carson, who has rushed for 1,151 yards and nine touchdowns, is part of a team that brings three running backs with at least 400 yards, and that's not counting quarterback, Russell Wilson. But let's not leave him out of the equation, Wilson's 35 touchdowns is a career high and his seven interceptions is tied for fewest he has ever had. He brings a 110.9 QB rating into the game, which is his personal best.
The Running Attacks
Dallas is going to take advantage of this being a home playoff game, and that is where Dak Prescott has shined this season. He has thrown 14 touchdown passes and just three interceptions at AT&T Stadium. Add in Dallas' running game, which has averaged almost 5 yards per carry, and you can expect the Cowboys to run the ball early and often to set up play action so they can take some shots downfield against the 11th best defense in the NFL in points allowed. Kris Richard, Dallas' defensive coordinator and a hot name among coaching candidates, used to hold the same position with Seattle, and that may be something to watch during the game in regards to tendencies that Seattle may come with on offense. Malcolm also added that Dallas has "linebackers that can cover sideline to sideline", and that may hinder how Seattle decides to move the ball. He also mentioned that the Cowboys "pass rush has improved greatly" and that Randy Gregory will make a big impact along with rookie Leighton Vander Esch and Jaylon Smith, who have combined to hold first down rush attempts to 4 yards or less. That is huge in the playoffs.
Dallas O-Line vs Seattle D
Will Dallas be able to deal with Seattle's strong run defense? Dallas will have guard Zack Martin and tackle Tyron Smith back but possibly not at full strength, Prescott could see more pressure from Seattle's "Legion of No Running Room". The Seahawks defense is the only team in NFL not to allow a rushing touchdown on first or second down. So again, expect to see the ground games and offensive lines of both teams get a lot of attention and analysis leading up to this game. Malcolm also added that "Dallas needs to finish drives with six points instead of three", and that Scott Linehan, Dallas offensive coordinator is "too predictable", so Dallas may need to diversify its offense a little to throw Seattle defense off balance. Diz adds that he expects his Seahawks "to keep the game close and that quarterbacks playing in the postseason for the first time against SuperBowl-winning quarterbacks are only 1-11". So that might bode well for Seattle when it comes to experience, and for a team that has lost 7 Pro Bowlers, they are going to need that experience in this big road playoff game. I expect to see a good postseason game, these two teams are known for providing playoff memories, and this one should be nothing less.
Main Credit Image: Embed from Getty Images