Andrew Harbaugh | January 5th, 2019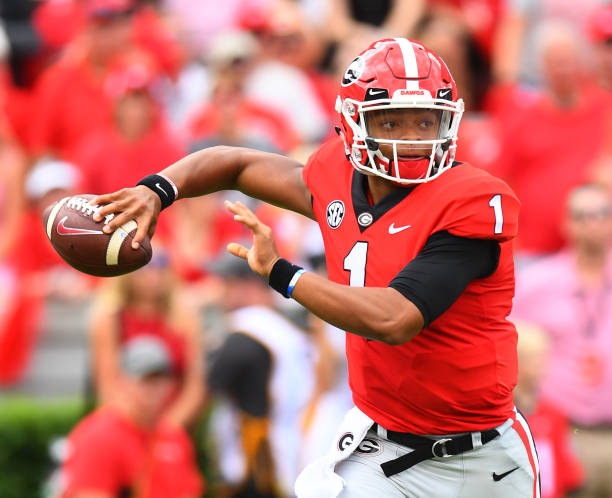 As first reported by Jeremy Birmingham it appears Justin Fields will be signing with Ohio State after visiting there today.
Fields made big news a couple weeks ago when it was reported he was in fact in the NCAA transfer pool of players. This meant he had seemed to have grown tired of being used in a role similar to what Jalen Hurts was this year for Alabama which for the most part was a decoy or as a runner. On the depth chart, he was behind a future top prospect Jake Fromm who as a freshman last year led Georgia to the National Title Game.
When Fields committed he knew what situation he was committing to which is why many were confused then and even more confused when he grew tired of sitting behind a player like Fromm. This now opens up a lot of new possibilities and can potentially impact more teams than just Georgia and Ohio State. With that in mind there are a lot of scenarios to play through so let's cut right to the thick of it shall we.
Scenario 1: Justin Fields cannot play immediately, Dwayne Haskins stays
At the time of writing this, it has been reported that Fields is filing for immediate eligibility but there is no say as to whether or not he will be successful in doing so. Let us break down the scene where he has to redshirt and then Dwayne Haskins stays.
If your a Buckeye fan this would be a dream scenario, you get one more year of a guy who was third in Heisman voting and just torched Washington in the Rose Bowl. Then after next year you get a fully rested Justin Fields who will be having his own, probably more successful, version of a revenge tour.
It would also allow for Fields to fully learn and develop under another great QB and it would also allow for him to get a better handle on Ryan Day's playbook. Fields is a better runner than any quarterback that Day has had at Ohio State, so you could even see the Buckeyes go back to some stuff people saw when Terrelle Pryor was playing in The Horseshoe.
Scenario 2: Justin Fields is eligible right away, Dwayne Haskins declares
This is what I expect to happen and playout in Columbus if I'm being honest. With this years quarterback class in the draft being so thin Haskins could declare and easily be a top 10 pick in the draft come April.
If he declares and Fields is eligible then full steam ahead on the Ohio State hype train and Jim Harbaugh may be looking for a new pair of khakis. Fields would have two years of eligibility left and in Ryan Days system he should be a Heisman contender and the team as a whole would be a National Title contender. Fields would also be able to develop into a top prospect as well to compete with Lawrence for the top spot in 2021 and may even play each other in a title game by times their careers are done and over with.
Scenario 3: What does this all mean for Tate Martell?
The guy to be left out in the desert seems to be sophomore Tate Martell. Martell coming out of high school was the second-ranked dual-threat high school quarterback and had played at a national powerhouse at Bishop Gorman in Las Vegas. He committed to Ohio State over other schools like Alabama, Washington, Arizona State, and Texas A&M, of those schools Arizona State is the one with the biggest glaring need at quarterback.
If Martell were to lose the quarterback job he would be assumed to have if Haskins declared I would expect Martell to potentially transfer as well which would mean another top prospect would be a free agent in college football again. Of the schools, he reportedly considered I would say Texas A&M and Arizona State have the largest glaring needs at the position, a dark horse candidate to consider is UCLA with Martell in Chip Kelly's offense, he would be a blast to watch. Wouldn't hurt either that Los Angeles is only a four-hour drive for the Martell family to see their son play every Saturday on a big stage.
The college football season may only have the title game left, but there is never a dull moment during the offseason. This is the just first of many big stories to happen in the coming months so be sure to stay glued in with me on Twitter and all of us at The ScoreCrow!
Questions and comments?
thescorecrowsports@gmail.com
Follow Us on Twitter @thescorecrow
Follow Us on Reddit at u/TheScorecrow
Follow Andrew Harbaugh on Twitter @DHH_Mandrew
Main Credit Image:"Embed from Getty Images