Jordan Leandre | January 4th, 2019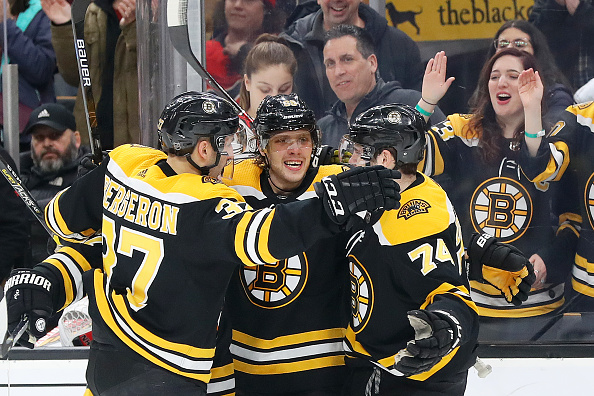 The Boston Bruins have been relying on immense depth at the blue line this season, just to tread water in the Atlantic division race.
While they have, what some would call the best forward line in hockey with Patrice Bergeron centering Brad Marchand and David Pastrnak, the rest of the team hasn't really kept their end of the bargain in regards to scoring output.
The top line each has at least 13 goals to this point in the season, and Pastrnak tied for fourth in the league with 25 goals, the only other Bruin with double-digit goals through 41 games is Jake Debrusk with 13.
David Krejci is the next closest with just seven in 41 games played.
But according to Nick Kypreos on Hockey Central, you should be keeping your eyes on the Boston Bruins in regards to making a move for a winger in the future.
Which then poses the question: What line would this winger be on when he is brought to town? In years past, the Bruins have tried to solve their secondary scoring issue by unloading mid-level prospects, along with NHL talent that hasn't panned out, to acquire the likes of Rick Nash, Drew Stafford, and Lee Stempniak in each of the past three seasons; but none of these three really performed up to par with their expectations of becoming a top-six forward on a team littered with young talent that hasn't quite taken that next step outside of Jake Debrusk.
TSN did a top-30 ranking for what they perceive as the "Trade Block." On that list, names like Wayne Simmonds, Phil Kessel, and Artemi Panarin were featured.
With that in mind, knowing the Bruins could certainly benefit from the services of any of the three, keep in mind the current cap of the Bruins is $74.7 million –– leaving them just a hair over $4 million in space. Thus making it somewhat difficult to bring in a high-salary guy like a Phil Kessel or Artemi Panarin.
So who could the Bruins be in on?
Micheal Ferland – LW – Carolina Hurricanes
Having spent his first four years in the league in Calgary, Ferland netted himself a two-year deal with Carolina last offseason worth just $3.5 million overall. However, the 26-year-old winger really burst onto the scene last year when he put up a career-high 20 goals with the Flames.
But with the Hurricanes sitting seventh in the Metro this season, that leaves them in a position to sell this deadline in hopes to acquire talent for the next couple of seasons.
What makes Ferland so attractive for the Bruins is that, despite his 11-game goal scoring drought, he'd still be fifth on the Bruins in goals, with 11 –– five coming on the Power Play. Combine that with his consistent improvement in points from year-to-year since coming to the NHL, he appears to be a relatively safe choice for the Bruins.
Kevin Hayes – RW – New York Rangers
Despite being an overall cap-hit of almost $6 million on the year, Kevin Hayes has less than the allotted $4 million remaining on his contract that the Bruins can surely afford. Having acquired a winger from the Rangers last year in Rick Nash, the Bruins have already traded Ryan Spooner and Matt Beleskey to the Rangers.
An interesting part of the story, that could make Bruins fans a bit skeptic on the prospect of acquiring Kevin Hayes was how much of a disaster the Jimmy Hayes trade was.
While Kevin is a much more consistent goal-scorer, who's on pace for a career-high in points this year, there were reports that Jimmy Hayes' analysis of how Boston treated him led to them missing out on Jimmy Vesey.
Not that any of this could deter the production of Kevin Hayes if he were in fact moved to the Bruins, but it is something to keep in mind.
Jakob Silfverberg – RW – Anaheim Ducks
Unlike Ferland and Hayes, Silfverberg provides something the Bruins probably desire the most with the winger they'd be acquiring: A right-handed shot.
Despite being just 28 years old, Silfverberg has seen his name bounce around the rumor mill for a few years, but nothing has ever progressed. But even with the Ducks sitting four points out of the third spot in the Pacific, with a little over half of the season yet to be played, he finds himself on the block once again.
A youthful goal-scoring wing with a right-handed shot would be just what the doctor ordered. You know, if the doctor's name is David Krejci; who hasn't played with a top-tier proven scorer since the likes of Jarome Iginla and Milan Lucic. He also got David Pastrnak for bits and pieces of the past two years, and it has really brought out a David Krejci that Bruins fans haven't seen in a handful of years.
Don Sweeney knows this could be a make-or-break season for the Bruins veteran core of Bergeron, Chara, and Krejci. Maybe even Marchand and Rask as well. It's no secret the potential of this team if everyone gets healthy and clicking at the right time, but that doesn't mean you should hang your hat on first and second-year players to all of a sudden blossom into superstars. Sometimes acquiring a relatively young guy who is on a one or two-year deal can help shape the rest of the team.
They could also become a part of that core for the future, anyway. But expect the Bruins to dive into the market for a winger this year; and not a bottom-six one at that.
Questions and comments?
thescorecrowsports@gmail.com
Follow us on Twitter @thescorecrow
Follow us on Reddit u/TheScorecrow
Follow Jordan Leandre on Twitter @JordanLeandre55
Main Credit Image: Embed from Getty Images