Coach Treal | January 4th, 2019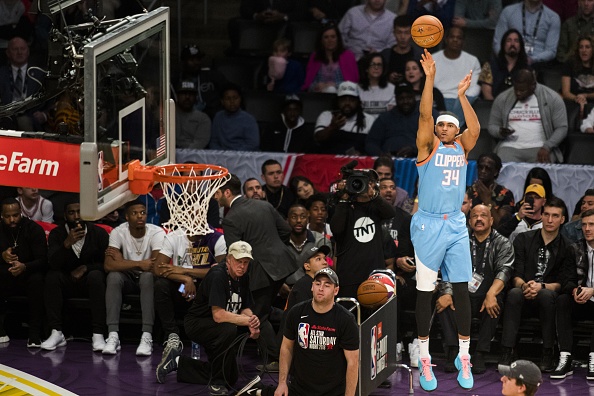 This week on player spotlight we are taking a closer look at another Clipper player who should be getting All-Star consideration this season Tobias Harris. The 26-year-old dual threat forward out of Tennessee is having a career season in his 8th season in the league.
He entered the league at a very young 19 years old after just one season as a Vol. A highly touted prep player coming out of New York even earning McDonald All-American honors. After his lone season in Tennessee which saw he posted solid numbers of 15 ppg and 7 rpg, he decided to enter the draft where he was selected in the first round of the 2011 NBA Draft pick number 19 by the Charlotte Hornets (Bobcats) then was immediately dealt on draft night to the Milwaukee Bucks.
Tobias rookie campaign saw him hit the court in 42 games with 9 of those being starts where he only averaged 5 ppg in the lockout-shortened season. His sophomore campaign saw a step back in games played as he only saw action in 28 contests and his scoring average remained the same. It was clear that a change of scenery would be the best option for Tobias. That's exactly what happened in his 2nd season as he was dealt to the Orlando Magic and saw his game and numbers increase. He played 27 games for the Magic with 20 starts and posted 17 ppg and 8 rpg and for the season he jumped to 11 ppg. With his increased minutes and role, Orlando had high hopes for Harris entering his third season in the league. That year he split his time between starting and 6th man but remained consistent with his play averaging 14 ppg and 6 rpg. The Magic rewarded him with a contract extension in 2015; a four-year deal worth $64 million. The deal proved to not come with long-term ramifications as he was traded yet again, this time to the Detroit Pistons. He once again split his time between starting and a reserve role in his lone full season in a Pistons uniform. But he did make his only playoff appearance thus far that season where he posted 14 ppg and 9 rpg before they were swept.
As we come to the present day the season Tobias is having, for me without question, a season worthy of him making his first all-star game appearance. Having a career year which is seeing his post 21 ppg and 8 rpg is good enough on numbers alone but add in the fact that the Los Angeles Clippers are currently sitting in the 6th seed in the loaded western conference playoff picture gives Tobias a realistic chance at making the all-star game. He has already registered 9 double-doubles thus far and should surpass his career mark of 11 in a season.
For a player on his fourth team, you would think Tobias at this point would welcome another long-term deal at this point in his career but reports came out this summer that he actually rejected a contract extension from the Clippers worth a reported $80 million, deciding to bet on himself and become a free agent this summer. He decided to bet on himself and so far it's looking like a smart move. I hope he is able to continue his strong play and go into the summer free agency period and finally find a home so he can unpack and really have a place to call home for what should be the prime of his career.
Check Out Other Players in Coach's Spotlight Series | Domantas Sabonis | Spencer Dinwiddie | Montrezl Harrell
Questions and comments?
thescorecrowsports@gmail.com
Follow Us on Twitter @thescorecrow
Follow Us on Reddit at TheScorecrow
Follow Coach Treal on Twitter @CoachTreal2
Main Credit Image: Embed from Getty Images