Logan Whaley | January 3rd, 2019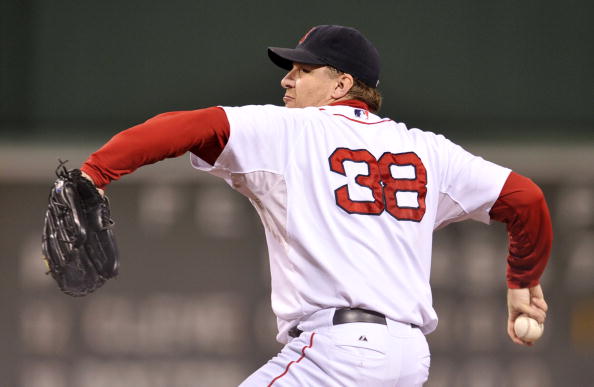 As Hall of Fame votes continue to come out, Curt Schilling is next on our list. The former All-Star starting pitcher enjoyed an illustrious 20-year career between five different big league clubs. Looking at his seventh year on the ballot, how does Schilling stack up against the greats and what are his chances?
History
Curtis Montague Schilling grew up all over the place but went to high school in Phoenix, Arizona, after his family settled in the desert. He graduated from Shadow Mountain High School, where it took until his senior year to make the varsity baseball team.
Schilling experienced a tryout with the Cincinnati Reds following his junior year, as well as a meeting with the Milwaukee Brewers before settling on Yavapai Junior College, located in Arizona. The first year there, the team went to the JUCO World Series.
A couple of years after graduating, Schilling was selected in the second round of the January draft by the Boston Red Sox, in 1986. The team at the time, the Elmira Pirates, served as the first professional stop in Schilling's grand career. Two short years later, Schilling found himself on the move, shipped off to the Baltimore Orioles.
Early career
In 1988, Curt Schilling made his major league debut at the crisp age of 21, for the Orioles. Ironically, that game came against his former team the Boston Red Sox. Schilling fared respectably, pitching seven innings, giving up just three runs on six hits and striking out two. Unfortunately, Schilling went 0-3 with a 9.82 ERA in the four games he started at the end of that season.
His career in Baltimore did not amount to anything, as he won just one game in his time there. Following this, Schilling was shipped to Houston, where he pitched for one season. That year, Schilling appeared in 56 games, pitching to a decent 3.81 ERA. The Astros, however, made the decision to trade Schilling, sending him to the Philadelphia Phillies in exchange for Jason Grimsley, a relief pitcher with an affinity to walk batters.
It was in Philadelphia where Schilling truly took off. The first year there, Schilling appeared in 42 games, making 26 starts. It was truly a fantastic year for Schilling as he finished 14-11 with a 2.35 ERA. Even more impressive may be the 10 complete games Schilling threw. Schilling finished with a WHIP under one, and an ERA+ of 150.
From there on out it was wheels up for Schilling, as he rode a strong nine-year career for the Phillies, before being traded to the Arizona Diamondbacks. The three years he spent in Arizona were nothing short of phenomenal.
Becoming a Champion
While his career in Philadelphia is one which fans will never forget, the prominence Schilling rose to in his time in Arizona was insane. Schilling anchored a Diamondbacks rotation with Randy Johnson and took that team to new heights.
His first complete season in Arizona, the Diamondbacks won a thrilling seven-game World Series over the New York Yankees. That year in 35 starts, Schilling finished 22-6 with a 2.98 ERA. He was 34 years old and finished second in the National League Cy Young voting, behind his teammate Randy Johnson.
By the end of his Diamondbacks career, Schilling had finished with 58 wins, a 148 ERA+, and 875 strikeouts. He lost less than 30 games in his time in the desert. Schilling was far from finished yet, however, as his career would come full circle in Boston.
Finishing a strong career
The Diamondbacks sent Schilling to Boston in exchange for Jorge De La Rosa and three other players following the 2003 season. Schilling was 37 years old by that point, and Arizona had a decision to make. For the Red Sox, the fun was beginning.
His first year in Boston a couple of different things happened. First, Schilling would make 32 starts, finishing 21-6 with a 3.26 ERA and once again finishing second in the Cy Young race, this time behind Roger Clemens. Second, he would help lead the Red Sox to their first championship in 86 years.
Then in 2007, his final season at the age of 40, Schilling would help lead the Red Sox to their second world championship in 4 seasons, making 24 starts and finishing with a 3.87 ERA.
Hall of Fame worthy?
Curt Schilling is at an interesting point with Hall of Fame voting. As this is his seventh year on the ballot, Schilling has only three years before his chance is up. Currently sitting at 51.2%, there has not been an increase from last year. Needing to cover almost 25% may be difficult for Schilling with just a few years left.
Schilling finished his career with 216 wins, an ERA of 3.46, an ERA+ of 127 and a more than respectable 3.23 FIP. Most prominently, Schilling is one of the greatest postseason pitchers in the modern era, finishing with a career 2.23 postseason ERA spanning 19 starts. In seven World Series starts, Schilling carries a ridiculously low 2.06 ERA.
That being said, we may need to hold the reigns tight on this one. Schilling never did win a Cy Young Award and received only six All-Star nods in 20 years. Schilling does possess an impressive resume, but it seems to be borderline Hall of Fame worthy, relative to many other stars.
To add to the challenge, Schilling also found himself at the scope of interesting issues off the field. He was a prominent name during the steroid era, despite vehemently denying use. Then just a few years ago, Schilling brought his political agenda into the Hall of Fame vote, speaking on John Smoltz' liberal view on policy and calling Smoltz a democrat and ceding to that as the reason for his election.
Schilling was an outstanding pitcher. His personality quirks can be a challenge. However, the Hall of Fame votes' brass tax is all about his on-field contributions, for which there were many. Nonetheless, it would be kind of a surprise to see Schilling scale the voter ranks so increasingly over the next three years. It may be unpopular to say but Curt Schilling's time will, unfortunately, run out.
Other articles in our Hall of Fame series: Billy Wagner | Andy Pettitte| Edgar Martinez |Mike Mussina | Todd Helton| Larry Walker | Roger Clemens | Roy Halladay | Fred McGriff | Jeff Kent | Scott Rolen
Questions and comments?
Follow Us on Twitter @thescorecrow
Follow Us on Reddit at u/TheScorecrow
Follow Logan Whaley on Twitter @game7magic
Main Credit Image: Embed from Getty Images