Nickolas Loza | January 3rd, 2019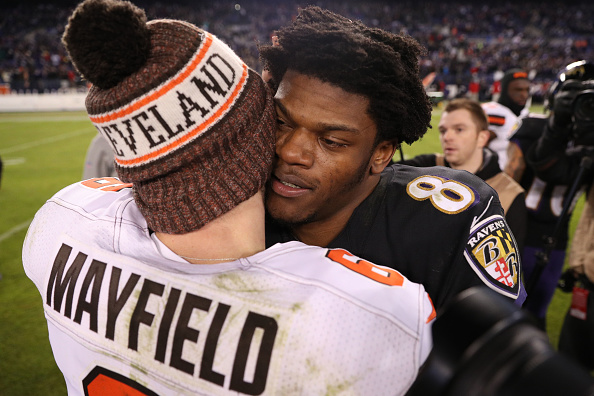 During Week 17 of the 2018 NFL Season, the Browns and Ravens faced off in a meaningless game for the Browns, and a meaningful game for the Ravens, because with a win, the Ravens would clinch the AFC North and go to the playoffs for the first time since 2014. The Ravens managed to take care of the Browns at home 26-24, therefore clinching a playoff birth and giving them a chance to represent the AFC in Super Bowl LIII.
The Two Rookie QBs and How They Changed the Dynamic of Their Teams
In this game, two of the NFL's most promising young prospects faced off against each other for the very first time, both of them were unlikely starters because they did not come into this season as their team's starters. Baker Mayfield of the Browns, who relieved Tyrod Taylor in a Week 3 game, never looked back. Mayfield was having a rookie season to be remembered, coming into this game he had 24 TDs and 11 INTs and was only three passing touchdowns shy of eclipsing Peyton Manning and Russell Wilson's rookie passing TD record of 26 TDs. He broke the record by passing to another rookie, Antonio Callaway with 3:24 left in the fourth quarter to cut the Ravens lead to just two points, which the Browns would end up losing to the other rookie QB who was playing in this game, Lamar Jackson. Lamar Jackson has totally changed the dynamic of the Ravens offense ever since he took over the starting job from the embattled Joe Flacco in Week 11. In the seven games in which Lamar Jackson has started, he has passed for 1,201 yards, and 6 TDs while leading the Ravens to a 6-1 record. But the most important thing he has contributed to is the Ravens rushing attack, which has gone over 200 yards five times in the seven games in which he has started. That's insane to think about especially in today's pass-happy NFL. Of course, with an elite running attack, comes more time of possession, and with more time of possession, you allow your defense to rest, which is a key part of the Baltimore Ravens. The Ravens have become that team you would prefer not to face in the playoffs, due to Jackson's rushing abilities and the Ravens elite defense.
The Potential Brewing Rivalry and the Comparisons
It may be too early to call, but we may have seen a snapshot of the next great QB Rivalry in Jackson-Mayfield. This rivalry will be regularly on display due to the Browns and Ravens being in the same division and the two teams facing off twice every year. This rivalry has the potential to be the next big one that will require a Primetime game due to the intriguing QB matchup, just like Brady-Manning was. It's truly exciting to see two young and budding QBs develop and face off against each other twice a year. It's going to be a fun matchup next year seeing the Mayfield and Jackson faceoff in their second seasons, especially when they've both had an entire season and offseason to learn and fine-tune their skillsets. This might become this generation's Brady-Manning, but even better. Hopefully, it won't be as one-sided as Brady-Manning was, but we'll see. Maybe we'll even see this rivalry in an Aikman-Young sense, with them meeting in the conference championship every year for a period of time. Either way, it has the promise of becoming an all-time great matchup.
Hope you all enjoyed!
Questions and comments?
thescorecrowsports@gmail.com
Follow Us on Twitter @thescorecrow
Follow Us on Reddit at u/TheScorecrow
Main Credit Image: Embed from Getty Images