Filip Canda | January 2nd, 2019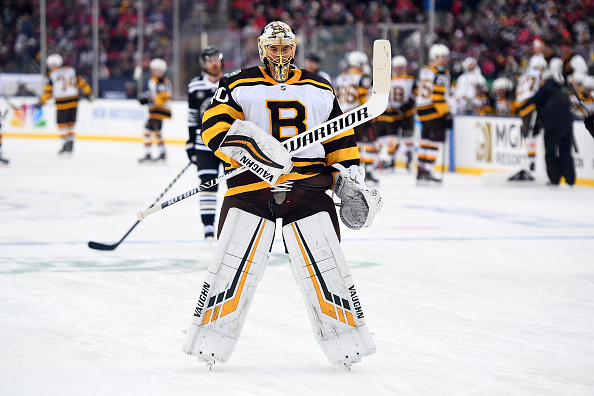 It was a heck of a game yesterday at Notre Dame Stadium in South Bend, Indiana. Fans across the NHL might be arguing about the Blackhawks playing their third Winter Classic game since 2015, or the Bruins playing their third Winter Classic game since 2010. But it was a great show for players, fans, and everybody, who tuned in to watch it. The game was a promotion of hockey and it was successful.
A Little History
Before the game, the Bruins were the favorites to win it. It never came easy for them in their previous Winter Classic showings though, in that 2010 Winter Classic in Fenway Park, the Bruins tied it up late and then Marco Sturm provided an overtime game-winning goal. Bruins fans are afraid to even think of that Winter Classic from Gillette Stadium in Foxborough three years ago. Montreal Canadiens, the Bruins archrivals, came in and crushed the B's with a 5-1 win.
Just five guys from that day played yesterday in Notre Dame Stadium. How much has this team changed in just three years… Many guys were injured thought, David Krejci missed the game in Foxborough because of an injury suffered just days before the huge event, Brad Marchand got suspended for checking Mark Borowiecki just two days before Winter Classic. David Pastrnak, having a broken foot, later recovered went to play World Juniors for the Czech Republic.
Anyway, Zdeno Chara, Kevan Miller, Torey Krug, Patrice Bergeron, and goaltender Tuukka Rask remember that infamous day from Gillette Stadium. But three years later, they got their revenge. It had to feel like the Blackhawks had rights for getting their revenge too because they lost in Washington and in St. Louis before…
Kura-heap alive in Boston again
Who would have said it, the game was tied midway through the third period and it was Sean Kuraly scoring an eventual game-winner. Sean Kuraly. He played 110 games for Indiana Ice in USHL in an earlier stage of his career. It was so emotional for him to play a Winter Classic game on the NHL level later on. It was the 122nd game of his NHL career and believe it or not, he scored his tenth goal in NHL, of course, 25-years old lefty has four playoff goals in 16 career games in the NHL playoffs.
Ever since Kuraly had those two goals in Game 5 in Ottawa in April 2017, the Bruins franchise love him. When he is not producing, they are patient, because it's Sean Kuraly. And he doesn't keep playing because of "some" two goals recorded nearly two years ago, yesterday you could have perfectly seen why he is so appreciated within the Bruins fanbase. And you can also see why Bruins GM Don Sweeney awarded him with a two-year contract worth $1,275,000 per year last June.
Going to Christmas break, Kuraly had two goals during this campaign. First was a goal scored with two seconds to go in the game, which made it 8-2 against the Red Wings at TD Garden, the second goal came as an empty-netter against Nashville on 22nd of December. Now he scored an overtime winner in Buffalo last Saturday in a massive win for the Bruins, then he has a Winter Classic game-winner. Only Marco Sturm and Sean Kuraly can say, that they had a Winter Classic game-winning goal in the Bruins franchise history!
Rask rewrites history, prevails against critics
Rask lost his previous Winter Classic start when allowing five goals on 25 shots on goals and this season, Finnish goaltender has been under scrutiny so far within the Bruins fanbase. It was a tough call for head coach Bruce Cassidy to pick Rask over Jaro Halak, who is having an outstanding season so far, but he had to make this decision. It was 469th start of Rask´s career in the regular season of the NHL, making him the netminder with most starts in the Bruins franchise history.
Tuukka Rask played his best game of the season, stopping 36 of 38 shots on goals by Chicago and he was the number 1 star of the game. It was his big day and he didn't want to allow his critics to be loud again. Tuukka Rask IS showing up for big occasions. Fans use to say, that he has had a bad season so far, but he has a 91.4% save percentage throughout 20 starts thus far, compared to last season, when Rask nearly entered Vezina Trophy conversation (again), he had a 91.7% save percentage.
Two players, Tuukka Rask and Sean Kuraly, who were not going to Christmas break with high spirits, are the huge heroes for Boston now. And as the Bruins are getting fully healthy again, they hope that such a win will mean something bigger to come. Don't forget that last time the Bruins won the Winter Classic, the very next year they won the Stanley Cup.
Questions and comments?
thescorecrowsports@gmail.com
Follow Us on Twitter @thescorecrow
Follow Us on Reddit at u/TheScorecrow
Follow Filip Canda on Twitter @Phiil7
Main Credit Image: Embed from Getty Images