Christopher Dinkins | January 1st, 2019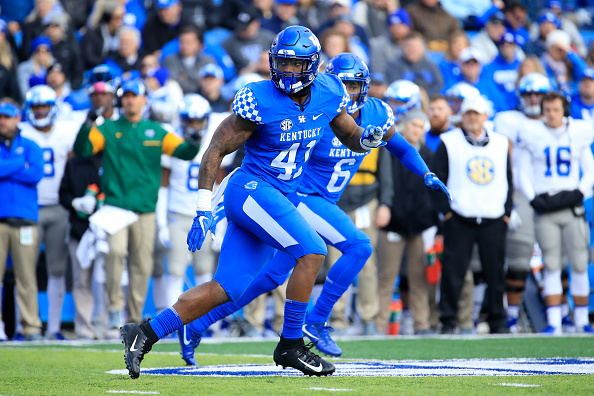 I knew there was a bowl game that I forgot about, it used to be known as the Tangerine Bowl, which was turned into the Florida Citrus Bowl in 1983. WOW !!!!…Where was I ?? Because I clearly remember the Capital One Bowl from 2001 until 2014, and then it was CompUSA, Ourhouse.com, and then it was sponsored by Buffalo Wild Wings a couple of years ago. Overton's sponsored the game in 2018, now it is sponsored by VRBO, a vacation rental marketplace and will be hereby known as (for now) the VRBO Citrus Bowl. And out of all of the non-College Football Playoff bowl games, this game has the highest payout per team at $4.25 million. That's more money for the Big Ten and Southeast Conferences, Now that we got the identifications out of the way, it's time to discuss this game.
Kentucky Wildcats (9-3, 5-3) SEC
Kentucky comes into this game coming off its best regular season in 41 years. The first win in Mark Stoops tenure as head coach would be a great way to start off the new year. Here is a tidbit: these two teams are meeting exactly 20 years to the day after their last meeting in the Outback Bowl in 1999. A win would make an enormous statement to the Kentucky faithful, and it would put a stamp of truth after falling short against Georgia and Texas A&M. The Wildcats have a player in All-American pass rusher Josh Allen, as he was also named the Bronko Nagurski and the Chuck Bednarik as the top defensive player in college football. He has risen fast on NFL scouts lists, quite possibly even as the number one overall pick. A big game from Allen could mean a 10th win for the Wildcats, as they will want to play solid defense and run the ball effectively on offense. Benny Snell Jr can make that happen, Snell finished second in SEC with 1,305 yards rushing with 14 touchdowns. Snell has rushed for over 1,000 yards in the last three seasons and can most certainly take over the game, as he showed with a 175-yard showing against Florida, then he followed it with 165 yards and four touchdowns versus Mississippi State two weeks later.
Penn State Nittany Lions (9-3, 6-3) Big 10
On the Penn State side, this will be the last chance to watch the senior quarterback Trace McSorley do his thing. This was not his most productive season, which was most likely a by-product of not having Saquon Barkley to help him move the ball downfield. He has 2,284 yards and 16 touchdowns passing the ball, but only at a 53 percent clip. McSorley also has a career-high 723 yards running the ball. So he may have a really nice game today, and it would mean a lot with this team winning as they would have three consecutive double-digit victory seasons for the first time since 1980. Even though back then the seasons were a little bit shorter. Can Trace McSorley and Head Coach James Franklin can close out their stellar time together at State College?
The Battle
Kentucky is eighth in the nation in scoring defense giving up 16.3 points a game. Not a small feat accomplishing that in the mighty Southeast Conference. Penn State is ranked 20th in scoring defense and they have talent that is continuing to get better. Defensive end Yetur Gross-Matos and linebacker Micah Parsons will be stars in the future. Kentucky's defense may need to make a play or two to help win this game since their offense struggles to score points and is ranked 100th in total offense in the nation. Penn State can take advantage of the Wildcats shortcomings on defense if McSorley can throw the ball successfully. The Nittany Lions have extra motivation as well, they have a number of players who may leave early for the NFL Draft, defensive end Shareef Miller and on the offensive side, running back Miles Sanders and linemen Ryan Bates and Connor McGovern. Kentucky linebacker Jordan Jones is not eligible to play, and for the second year in a row, this team will not have a key starter in its bowl game. Both teams have motivation to win that elusive tenth game of the year and the weather may become a factor as the game wears on. Expect to see both teams give a great performance to springboard them into next year…….HAPPY NEW YEAR !!!!!
Main Credit Image: Embed from Getty Images