Pranav Ramasubramanian | January 1st, 2019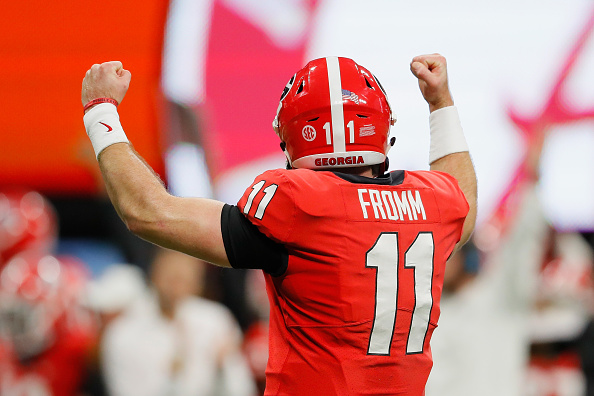 The Sugar Bowl is not part of the College Football Playoff semifinal this year, but it's still a good bowl to be in as it features the fifth-ranked Georgia Bulldogs, who are 11-2 and the fifteenth ranked Texas Longhorns, who are 9-4. Two big name schools and some great coaching makes this game a must-watch chess game as there will be a lot of schematics left and right and it will surely be a bloodbath till the end with all the positional talent.
Record: 9-4
Big wins: Oklahoma, Iowa State
Big 12 record and ranking: 7-2 in the Big 12 and 2nd overall
Strengths
It's Year 2 of the Sam Ehlinger show as Ehlinger has taken full reins of the offense using his skills as a patient pocket passer and ability to pull it down and run making him a dual-threat quarterback which has helped the offense evolve. If anything were to happen to Sam Ehlinger then they would have to insert Shane Bucheler, who played quality snaps with the offense last year so there would not be much of a drop-off on offense if Ehlinger isn't ready to go at game-time. Ehlinger has a duo of trusty receivers in Lil' Jordan Humphrey, who uses his ability to glide past defenders and fights through contact to create big yardage with good yards after the catch while Collin Johnson dominates press coverage making good cuts with good body control making contested catches consistently. They need to continue being physical like they have all season long to get Georgia's defense off their element to help the Longhorns be successful. The Longhorns offensive line has done a great job protecting Ehlinger all year and needs to continue to do that as they only allowed two sacks per game.
The Longhorns have limited the run this year as they have only allowed 151.2 rushing yards per game with help from linebackers Gary Johnson, who uses his lateral movement to sidestep blockers and stop the ball carrier in his tracks. Then you have Anthony Wheeler, who uses his size and speed to just be at the right place at the right time to make the right play to set the tone. The Longhorns have an elite pass rusher in Charles Omenihu, who can generate pressure by shooting gaps with a solid swim move He needs to do that often to make Jake Fromm feel uncomfortable throughout various parts of the game to help the Longhorns win.
Weaknesses
Sam Ehlinger is probable with a shoulder sprain and the Longhorns will lose a dimension of their offense if Shane Bucheler has to take over because he is a non-threat in the running game, unlike Ehlinger. The rushing attack was very mediocre besides Ehlinger and that effort won't change against the dominant front seven that Georgia has so the Longhorns will become one-dimensional if they can't establish a run game at any point in the game. The issues on the road have also been a struggle as three of their four losses have been away from home and they have given up 30 plus points in each game. This game is being played at a neutral field so the Longhorns might be in for a long game. The defense wasn't great this year as they allowed 26.2 points per game, which is 56th in the FBS and they need to show more effort at least in the season finale to keep the game in reach for the Longhorns offense. The Longhorns don't have a great secondary and they might be without their top turnover generator Cade Sterns, who had 4 interceptions along with 62 tackles, 46 solo and 16 assisted most among the secondary. This could make Fromm's day much easier. Georgia is loaded on offense so if the Longhorns catch themselves on their heels too much, like in previous games, Georgia will dominate.
Record: 11-2
Big wins: Florida, Missouri, Kentucky
Southeastern Conference record and ranking: 7-1 in the Southeastern Conference and 2nd overall
Strengths
Another good year for Jake Fromm, who just seems to be developing into a great college quarterback with great arm strength and accuracy and needs to continue this to expose the weak Texas secondary. The Bulldogs also have a two-headed monster in the backfield in D'Andre Swift and Elijah Holyfield with Swift doing it all with speed and strength, easily breaking tackles for big runs and getting in the trenches if needed. Holyfield has good vision, strong footwork, and a nice burst. Fromm likes to spread the ball to his receivers so no one really has superior stats, but watch out for Riley Ridley and Mecole Hardman as they should get the ball more in the course of the game due to more play designs and trust for them in crucial situations. They must deliver to give the Bulldogs the win.
The defense was simply superb as they only allowed 18.5 points per game, which is 14th in the FBS so they need to keep the current trend going to stop the Longhorns offense. The defensive backs and safeties have a lot to do with this success as they have all done their jobs exceptionally well only allowing opponents to 180.5 passing yards per game with key contributions from Richard Lecounte III, J.R. Reed, Tyson Campbell, and Deandre Baker. The pressure on Ehlinger should come from D'Andre Walker, who leads the team in sacks with 7.5 and needs to use his long arms early often to put Ehlinger on the ground and Georgia on top.
Weaknesses
When younger players lose a close emotional game that meant everything it takes a lot out of you psychologically and the Bulldogs will have to make sure the loss to Alabama doesn't weigh on them too much. Jake Fromm needs to step into his throws and needs to move around a little bit more or else he will fall prey to sacks and hits from the Longhorns D-line. Georgia's offense won't kickstart if they let all the pressure get to them. The defense is going to miss a major piece when Deandre Baker sits out for the draft as they have to put a freshman at that spot so the secondary won't be as stout as usual giving up occasional big plays and D'Andre Walker's status is up in the air so the Bulldogs may lose their top pass rusher so Ehlinger may get extra time in the pocket costing the Bulldogs a win if D'Andre Walker can't play. The special teams are horrible and shouldn't improve in this game so hopefully, the game doesn't come down to that or else the Bulldogs will be pinned in bad field position all game long. Georgia has to channel all their energy into this game or else it will tough sledding.
Players to Watch For
Texas Longhorns
Sam Ehlinger, QB- The captain of the ship and he has accounted for 38 touchdowns, 25 passing for 3,123 yards while rushing for 418 yards and 13 touchdowns making him a dual-threat quarterback to give Texas a real it factor this year. His abilities to push the ball vertically or make a good pass play on the run will be needed when dealing the Bulldogs front seven. He is likely to stay in Texas and grow under Tom Herman.
Lil' Jordan Humphrey, WR- He is the No.1 receiver on the team with 79 receptions for 1,009 yards and 9 touchdowns. He's used as a slot receiver to create the ultimate mismatch for his big size, but quick feet enable him to get a lot of catches. He has a late 1st rounder, early 2nd rounder potential.
Collin Johnson, WR- He had 65 receptions for 945 yards with 7 touchdowns as the No.2 receiver on the team. He can stretch his body horizontally to catch anything thrown at him, which might just put Texas over the top if he can take advantage of the passing gaps in the Bulldogs secondary. No Deandre Baker makes this easier than usual against the Bulldogs secondary.
Charles Omenihu, DE- He had 43 tackles, 31 solo, 12 assisted, and 16 for loss along with 9.5 sacks. He has terrific hand movements that spring him free to make big plays in the passing and running game. He has early or late 1st rounder potential.
Georgia Bulldogs
*Some players omitted due to availability status
Jake Fromm, QB- Another good year as he threw for 27 touchdowns and 2,537 yards and is among one of the nation's best quarterbacks. Fromm's intangibles will matter more in this game as he will have to use his leadership and experience because he has to have the Bulldogs mentally ready for this matchup. Fromm will likely stay at Georgia in hopes of a National Championship run next year.
D'Andre Swift, RB- The No.1 running back on the team with 1,037 yards and 10 touchdowns. He will have to bring his receiving game along with this run game and if he does this the Bulldogs will roll. He will likely return to school.
Tom Herman and the Texas Longhorns will jump on Kirby Smart and the Georgia Bulldogs early, but Jake Fromm will get the Bulldogs back and settled and the Bulldogs will make the better in-game adjustments to get past Sam Ehlinger and the Longhorns.
Prediction: Georgia Bulldogs 37 Texas Longhorns 34
Questions and comments?
thescorecrowsports@gmail.com
Follow Us on Twitter @thescorecrow
Follow Us on Reddit at u/TheScorecrow
Follow Pranav on Twitter @PranavRama1
Main Credit Image: Embed from Getty Images