Andrew Harbaugh | January 1st, 2019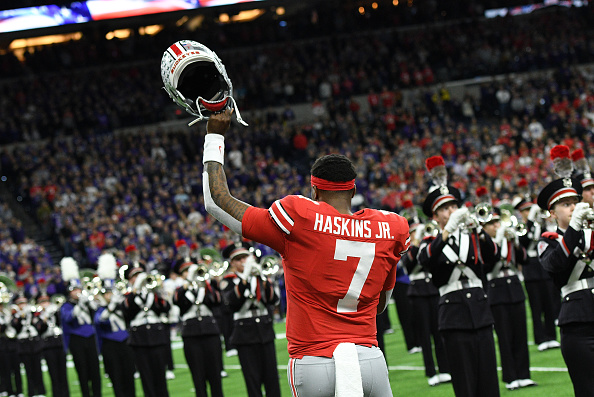 "The Grand Daddy of them All" – Keith Jackson
We all grew up hearing the legendary tone of Keith Jackson on ABC as we all tuned in to watch the Rose Bowl and start the new year off right. Now I'm only 24 so my earliest and favorite Rose Bowl memory has to be when Texas faced off against USC in 2006. Vince Young made his immortal run to the end zone on fourth down to give Texas the win. Coincidently it was also Jackson's last time calling the Rose Bowl.
This year though has not been given the credit it deserves when the Buckeyes roll into Pasadena to face off against the Huskies of Washington. Both teams won the respective conferences, both teams have storylines, and both teams have plenty of talent on both sides of the ball. This has the makings of being an all-time classic and hopefully, it can live up to the hype I feel it is deserving of.
Ohio State 12-1 (8-1) Big Ten Champions
Offensive Rank: 2nd
Defensive Rank: 67th
Players to Watch: QB Dwayne Haskins and WR Parris Campbell
If you watched the Heisman ceremony you had have seen two faces that showed polar opposite emotions, Kyler Murray and his pure joy and Dwayne Haskins and his genuine disgust. I referenced earlier to the Rose Bowl where Vince Young went off against USC, I expect Haskins to have the same response Young did to not winning the Heisman that year. Haskins has shown pure dominance and since the upset loss to Purdue and he has shown he can handle pressure when it's applied and that he can carry this team. His number one weapon though will play a big part in his success and I'm not talking about JK Dobbins.
Parris Campbell is one of my favorite weapons and the most underrated in college football. This year for the Buckeyes he has over 1,000 yards from scrimmage and found the end zone 11 times. They use him all over the field and line him up at several positions and you never know if he is going to be used or a decoy either way though he demands attention and it opens up the whole offense for the Buckeyes.
Washington 10-3 (7-2)
Offensive Rank: 59th
Defensive Rank: 12th
Players to Watch: CB Byron Murphy and S Taylor Rapp
One of the best defenses in college football that no one talks about is the one that finds its home in Seattle. One could argue they might even have a more complete defense than the one that plays at Century Link Field. I digress though, this team is led by its defensive leaders one of which is a top corner, Byron Murphy. Murphy leads the team in interceptions with 4, one of which was a pick six in the Pac-12 title game to seal the win against Utah. Murphy has a similar build to Denzel Ward both being 5'11" and being in the neighborhood of 180 pounds. With his great frame and arm length, Murphy has proven to be one of the best lockdown corners in college. When going up against the high powered Buckeyes offense he will prove to be a huge difference maker.
As for difference maker number two that is Taylor Rapp. Rapp has proven to be a complete player defensively, 58 total tackles, 5 TFL, 4 sacks, and 2 interceptions. He is a disrupter on defense and with how Haskins handled pressure earlier this year if he can do that in this game then it would be a big problem for the Buckeyes this Urban Meyer swan song of a game.
Both teams have had excellent seasons, both teams will be on two different paths after today. Will Washington have momentum going into next year as a program with them gaining Jacob Eason at quarterback? Or will the new Buckeyes led by Ryan Day not lose a step that they always had up on everyone when Urban Meyer was there coach? Lots to watch for and I can't wait. Don't miss it on ESPN at 5:00 p.m EST.
Questions and comments?
thescorecrowsports@gmail.com
Follow Us on Twitter @thescorecrow
Follow Us on Reddit at u/TheScorecrow
Follow Andrew Harbaugh on Twitter @DHH_Mandrew
Main Credit Image: Embed from Getty Images