Andrew Harbaugh | December 31st, 2018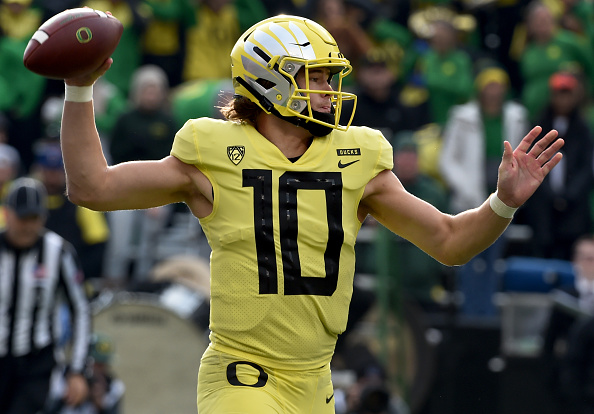 Don't you just hate when you rent a movie or game from Redbox and you forget to return for a couple days and you didn't even watch it? Oh right, this is the Redbox Bowl game, well that was awkward.
Anywho, this game has remained pretty interesting even through much of draft declaration season. This game will feature the Spartans of Michigan State and the Ducks of Oregon. Oregon will be lead by there stellar quarterback Justin Herbert along with his favorite weapon Dillon Mitchell.
Michigan State will counter with there weapon pairing of quarterback Brian Lewerke and running back L.J Scott. Lewerke has been very unimpressive as of late but Scott since declaring for the NFL draft has seemed to gain some steam with analysts and scouts.
Michigan State (7-5, 5-4) Big 10
Offensive Ranks: 116th
Defensive Ranks: 14th
Players to Watch: QB Brian Lewerke and RB L.J Scott
We have a tiny preview of these players above but now is time to dive deeper into them. First off quarterback Brian Lewerke at one point was a top 10 prospect at the position, then the season played out. Lewerke this year had the very underwhelming stat line of 54% comp., 1,868 passing yards and 8 touchdowns to 10 interceptions. Needless to say, he played his way out of a lot of rankings including my own. How he performs in this game against an underrated Oregon defense will be the biggest difference maker for the Spartans.
If Lewerke can't be relied upon then the game will rest on the legs of L.J Scott. Scott, much like Lewerke, was a highly touted prospect at one point but had a very down year as well. He ran the ball only 55 times for 180 yards and didn't score once. He has battled injuries but will be back for this game. If Scott can show the potential many still believe he has, then Michigan State has a chance to pull a big upset in San Francisco today.
Oregon (8-4, 5-4) Pac-12
Offensive Ranks: 31st
Defensive Ranks: 62nd
Players to Watch: QB Justin Herbert
Herbert gave Oregon and its fan base a huge Christmas gift this past week when he announced he was staying in school for one more year. With that in mind expect Oregon to come out of the gates fast and hard using Herbert a lot. He is the straw that stirs the drink for this whole team and he has shown he has the mobility to extend plays and the arm talent to make tiny windows seem like highway passing lanes. Herbert's case to be the QB1 next year starts today when the eyes of the nation will be glued to their TVs as he leads his team against a solid big ten defense of Michigan State. If he can carve them up, expect the talks of what could have been to be loud.
Thanks to Herbert staying in school and Scott returning from injury this whole game has become a lot more interesting. Be sure not to miss it at 3:00 p.m EST on Fox when these two top level, but underperforming teams, face off.
Questions and comments?
thescorecrowsports@gmail.com
Follow Us on Twitter @thescorecrow
Follow Us on Reddit at u/TheScorecrow
Follow Andrew Harbaugh on Twitter @DHH_Mandrew
Main Credit Image: Embed from Getty Images