Pranav Ramasubramanian | December 29th, 2018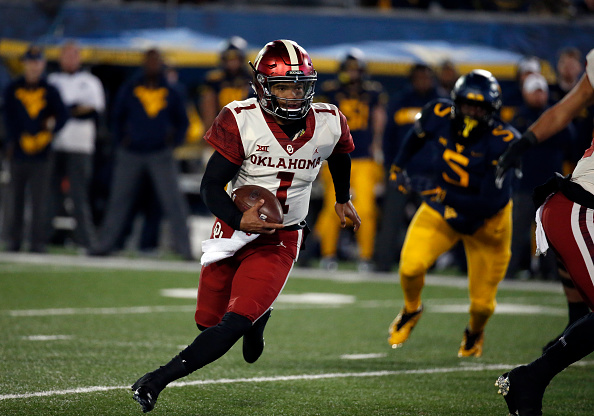 Ever since the conception of the four-team College Football Playoff two of the major bowls get reserved as part of the playoff and this year it features the Alabama Crimson Tide, who are 13-0 and the Oklahoma Sooners, who are 12-1.
Offense wins games, but defense wins big games and that was the case last year when the Wisconsin Badgers overcame an 11-point lead with four touchdowns from Alex Hornibrook to beat Malik Rosier and the Miami Hurricanes 34-24 as they completely shut down Malik Rosier every time he tried to bring Miami back.
The quarterbacks on each side this year were Heisman candidates with one being the winner so this one should be a popcorn show the whole way with no defense played and highlight-worthy plays throughout the game. This contest will be exciting and engaging and probably not decided until the last couple of possessions.
#1 Alabama Crimson Tide
Record: 13-0
Big wins: Georgia, LSU
Southeastern Conference record and ranking: 8-0 in the Southeastern Conference and 1st overall
Strengths
The best coach in college football history is Nick Saban, who has six national championships yet never seems to take a break and seems to change with the game of football by surrounding himself around younger coordinators. He caters more to today's game and helps connect with the players because he puts a lot of effort into being able to recruit top players and get the maximum from them. In last year's National Championship Tua Tagovailoa took over in the second half and helped Alabama come back against Georgia basically forcing Saban to keep him at starting quarterback and he didn't disappoint at all this year making Alabama one of the best offensive teams in the nation coming in at 2nd with 47.9 points per game. This is one of the best offensive teams Saban has ever coached just racking up the touchdowns left and right with Tua's mobility and great vision combined with great accuracy. It wasn't all great and Jalen Hurts not transferring paid off as Tua hurt his ankle in the SEC Championship game and Hurts had to finish off the game calmly leading Alabama to a big win over Georgia to keep them in the playoff picture. If Tua has to come out then inserting Hurts will be no problem and the Alabama offense won't miss a beat if Tua is indeed out. They also have 4 primary receivers in Jerry Jeudy, Henry Ruggs III, Irv Smith Sr. and Jaylen Waddle that Tua likes to spread the ball to as they racked up the yardage and touchdowns all year and should be open early as Tua will use his mobility to free them. The running game is also on another level when you factor in the trio of Damien Harris, Najee Harris, and Joshua Jacobs and their big frame and size give them the ability to run past tacklers making people miss and get big gains and they need to do that early to help the Tide attack on all cylinders to blow the game open early.
The defense is also superb as Alabama only allowed 14.8 points per game, which is 4th in the FBS and will have to bring that same energy to this game. They have an amazing defensive line headlined by Quinnen Williams, whose speed off the line shuts down nearly everything. He will have his opportunity to get his share of sacks on Kyler Murray in this game. Another breakout on the defensive line is Isaiah Buggs, who has gotten to the quarterback the most on the team by using his hands actively to shed blocks and reads opposing outside runs and is able to box it in for small gains. If he gets going early and limits the Sooners offense, it'll be game over very soon. In the middle of the defense is Dylan Moses, whose speed makes him a dynamic player that can adjust to any situation and he will adjust to the Sooners fast-paced offense so if he figures out what the Sooners will run then the Tide will roll. The Crimson Tide also aren't that team that you can throw deep on because of Deionte Thompson, who can read the quarterbacks eyes and bait them into a bad throw. If he can get Murray in bad situations early the Crimson Tide will have nothing worry about. Nick Saban will have the defense ready for this daunting task.
Weaknesses
Tua just hurt his ankle in the SEC Championship game so his abilities running the ball will be limited so he will be reduced to being a pocket passer meaning that he will rush less and throw the ball a little bit more to avoid big hits meaning that he will be more prone to mistakes. Alabama also seems to have this weird kicker issue and it doesn't seem like they have solved it so hopefully, the game doesn't hang in the balance of a field goal, because then the Crimson Tide might actually have to be worried. They have also lost key depth when they lost three players to suspension because of violation in team rules so it narrows the gap for injury as Kedrick James, Elliot Baker, and Deonte Brown are all out. The special teams have been horrid and shouldn't improve overnight so it will put the Tide in some tough field position. Nick Saban can tend to take bold choices that end up flipping the game and giving the opponent a chance to win so Saban needs to make sure he calculates a little bit better in this game so he doesn't hand the ball over to Kyler Murray with a chance to win. Saban is also headstrong on some of his schemes in-game and he needs to learn to mix it up during the game so Alabama doesn't stay stuck in the same spot because the Sooners will feast on that.
#4 Oklahoma Sooners
Record: 12-1
Big wins: Texas, West Virginia, Iowa State
Big 12 record and ranking: 8-1 in the Big 12 and 1st overall
Strengths
After Baker Mayfield left it felt like Oklahoma had lost something truly special, but Kyler Murray has made it even better with his play and has used his size well being able to quickly run through defenses for touchdowns or big runs and then sitting in the pocket to deliver a bullseye to his receivers. This made Murray the No.1 dual-threat quarterback in the country earning the Heisman and he will need to mix up the plays he runs to keep Nick Saban on his heels. Kyler Murray isn't the only one on the team that can run as he has a trusty duo of running backs in Trey Sermon, whose size makes him hard to tackle combined with his speed in the open field and Kennedy Brooks, who is just patient and waits for everything to open up for big gains. They will both need to maximize their carries and impose their will on the Alabama front seven early so they can break off a couple of big runs in the second half to help the Sooners take control of the game. The passing game has mainly worked this year because of two main players in Marquise Brown, whose sprinter-like speed helps him get past the secondary for easy catches while his route running stretches throughout the entire field and CeeDee Lamb, who keeps crucial drives alive with his timely catches. It will be crucial as the duo will need to continue this season's success against Alabama's secondary. Oklahoma has the No.1 offense in the FBS with 49.5 points per game and they need to keep that up to counter Tua and Alabama.
Alabama loves to run, but if Oklahoma's linebackers Kenneth Murray, and Curtis Bolton both use their size and field vision with a different level of tenacity and take care of the plays at the line of scrimmage then they will limit Alabama's offense to give the Sooners a chance to win. They must smother Alabama early and often.
Weaknesses
Marquise Brown is listed as probable after his foot injury in the last game and he needs to play for the Sooners offense to stay explosive and give Oklahoma more options on offense. They will need everything they can get against the Alabama defense. Injuries everywhere are really killing the depth for the Sooners especially the loss of Rodney Anderson. His experience is big in games of this magnitude so they will have to rely on the younger talent, who are prone to make more mistakes. They should be able to use as many bodies as they need so they can stay fresh against Alabama on both sides of the field, but they can't now, which will hurt them late in the game as their personnel will get very tired. The defense is non-existent as the Sooners don't show resistance and just let the opposing team run whatever they want, which Tua will take huge advantage of if the Sooners don't buck that trend in this game. The Alabama offense is very unforgiving. The Sooners defense gave up 32.4 points per game, which is 96th in the FBS and if they dig a hole early it may be enough to bury them.
Players to Watch For
Alabama Crimson Tide
Tua Tagovailoa, QB- He followed up a National Championship well by getting the start at quarterback and accounting for 42 total touchdowns, 37 in the air and 5 rushing. Tua can find every little gap in your defense and make it a big gap exposing you with big plays while mixing up playcalling so he should be rolling today. He can cap off a strong season by getting Alabama to the title game.
Jerry Jeudy, WR- He really grew into Tua's favorite target as he had 59 receptions for 1,103 yards with 12 touchdowns. He has become so good by developing his knowledge for football and can read coverages well that complement his great speed, body, and athleticism. Jeudy has a late 4th rounder, early fifth-rounder potential
Quinnen Williams, DT- The defensive line of Alabama is massive and Williams is part of it contributing 66 tackles, 42 solo and 24 assisted while 18 tackles were for loss with 8 sacks. His power to shed blocks will help him put more pressure on Kyler Murray forcing him into quick and rushed decisions. He is a potential top 5 pick in next year's draft.
Dylan Moses, LB- One of the younger players, but he had 76 total tackles, 38 solo and 38 assisted, the most tackles on the team, with 10 being for losses of yardage. He can virtually play any position and he has exceptional footwork that makes his change of direction look smooth. He has late 1st rounder or early 2nd rounder potential.
Oklahoma Sooners
Kyler Murray, QB- The Heisman winner and heir apparent to Baker Mayfield delivered a great season with his 51 total touchdowns, 40 passing, and 11 rushing while the Sooners offense didn't experience any drop-off. Murray's speed is his biggest advantage as he can buy more time and extend plays to get big plays executed. Murray will be looking to go to the MLB rather than the NFL.
Marquise Brown, WR- A breakout year for Brown as he had 75 receptions for 1,318 yards with 10 touchdowns. Brown will have to use his ability to track the ball very well along with his excellent balance to make big catches. He has a late 2nd rounder or early 3rd rounder potential.
CeeDee Lamb, WR- He was the No.2 receiver for the Sooners as he had 57 receptions for 1,049 yards with 10 touchdowns. He has the ability to go up in the air for one-on-one jump balls and can make ridiculous circus catches. He needs to make sure that he just comes with the passion he always does to have a big game and lead the Sooners to victory. He has an early 1st rounder, late 2nd rounder potential.
Kyler Murray and Tua Tagovailoa will go head-to-head in what should be the best quarterback vs quarterback battle in a long time in an instant classic, but Alabama's defense will make a couple of plays to help the Tide return to yet another National Championship game.
Prediction: Alabama 62 Oklahoma 51
Questions and comments?
thescorecrowsports@gmail.com
Follow Us on Twitter @thescorecrow
Follow Us on Reddit at u/TheScorecrow
Follow Pranav on Twitter @PranavRama1
Main Credit Image: Embed from Getty Images