Givanni Damico | December 29th, 2018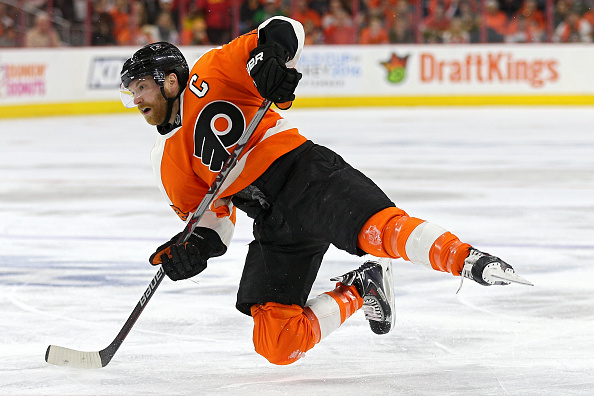 Saturday is a huge slate and I know many people avoid playing all-day slates, so these DFS plays will be for the main slate which starts at 7:00 E.T.
Key Three Skaters:
Alex Ovechkin, WAS (at OTT)
Ovie is having a career year and the Caps take on the worst defensive team in the league, the Ottawa Senators. Honestly, it sounds like a perfect play. Ovie has had seven multi-goal games this year and could easily pick up number eight on Saturday. Ottawa is also on a back-to-back as well, as if this matchup could get any more enticing. It's an expensive play, but if it pays off, you could get 40 points from one player.
Mitch Marner, TOR (vs. NYI)
The Maple Leafs take on the Islanders with both teams being on the back-end of back-to-backs. This means that it could be Robin Lehner in goal for the Islanders on Saturday and he has had his share of struggles in his career. Marner has 53 points on the year and no matter if it's Lehner or Greiss, this should be a high-scoring game for both teams. Marner is on the top line and the top powerplay unit, although they have moved him back and forth from line two so it remains to be seen where he will play. Marner has had nine points in his last six games and will look to continue his hot streak.
Claude Giroux, PHI (at FLA)
This play is a little bit contrarian, especially to be way up in key three skaters, but Florida is playing on a back-to-back. Albeit, it is a home-and-home back-to-back, Florida goaltenders have struggled this season keeping them near the basement in the Atlantic Divison. The Flyers are very close to the basement as well, but Claude Giroux has been the one consistent player for the Flyers. He has had 13 multi-point games, and call it a hunch, but I think he could have 14 after Saturday. I like Giroux as a low-owned player on Saturday so this could be a big boom for whoever plays Claude.
Stacks of the Night:
WAS1 (Ovechkin, Backstrom, Carlson) at OTT
Possible Add-Ons: T.J. Oshie (PP1)
Alex Ovechkin should have a huge day as I said earlier, but so should his entire first line. They overpower Ottawa's first line greatly. Nicklas Backstrom has gone ten games without a goal but has racked up eight assists in that time period. When Ovie has a big night, Backstrom is usually the one providing him with the helpers. These two are a good tandem. John Carlson has been cold over his last four games but averages a point per game. He has plenty of multi-assist games and this should be another. T.J. Oshie has been ice cold, so play him at your own risk, but he is on line one and powerplay unit one. He is also a very cheap price so this play could pay out very well. It's important to note that Washington just played Ottawa in Washington and won 4-0. The goals scored in this game came from the unusual suspects, Brett Connolly, Matt Niskanen, Jakub Vrana, and Michal Kempny. Don't expect lightning to strike twice.
COL1 (MacKinnon, Rantanen, Landeskog) vs. CHI
Possible Add-Ons: J.T. Compher (PP1)
Nathan MacKinnon is a monster. It's safe to say that he is living up to the number one pick, with 57 points so far this year. Colorado just played Chicago two games ago and it was one of the few games where MacKinnon was blanked. Despite this, Chicago's goaltender situation is in serious jeopardy and Nathan MacKinnon will not go two games against the same team without a point. You'll have to pay up for this stack. Mikko Rantanen and Gabriel Landeskog were also blanked last time out against the Hawks, but so was most of the team. J.T. Compher was the only one with a goal. You can't use this one game as a control. Rantanen and Landeskog have been great all year, and you can actually get Skog for a pretty reasonable price. Don't be naive and avoid this stack because of one game. I encourage you to use J.T. Compher too, even if it is as a cheap one-off because he gets significant time on the powerplay one unit.
TB PP1 (Stamkos, Kucherov, Point) vs. MTL
Possible Add-Ons: Ondrej Palat (PP1)
Steven Stamkos is starting to heat up again. He has 12 goals and five assists in his last eight games and has been racking up multi-point games. He is a little over-priced for his inconsistency but if he goes off, you will regret not having him in your lineup. I think it's important to note that Montreal is on the back end of a road-and-road back-to-back. Teams playing on road-to-road back-to-backs allow more goals than any other team. Some people are saying that Brayden Point is taking over as the best center on the Lightning and it is hard to argue with these people. In his last 17 games, he has had at least a point in 14 of them. He has also had 14 multi-point games this season. His price has gone up due to his success. This is another expensive stack, but we will get to a couple cheaper stacks. All I'm gonna say about Nikita Kucherov is that he's a beast who pulls multi-point games out of nowhere very often. Ondrej Palat has four points in his last six games and adds some value to this line.
Others to consider: TOR1 (Marner, Tavares, Rielly), PIT1 (Crosby, Guentzel, Letang)
Contrarian Stacks (probable low-own % stacks):
DAL1 (Seguin, Benn, Radulov) vs. DET
This stack is overpriced which makes it contrarian. The Red Wings have allowed five or more goals eight times this year. Last time they took on Dallas, they won 4-2, but it was in Detroit. They will head south to Dallas with a below-average defense and a banged-up offense. I can almost guarantee you that Jamie Benn will have less than 7% own rate because of his price, but I think this will be a good game for him and the line. Call it a hunch if you want.
VAN PP1 (Pettersson, Boeser, Horvat) at CGY
Possible Add-Ons: Alexander Edler (PP1)
I'm telling you to play a Vancouver line? Sure! Elias Pettersson is averaging over a point per game in his rookie campaign. He comes at a relatively low price on FanDuel, hovering in the low-$6,000s range. He's had his share of multi-point games this year, as well. Brock Boeser is relatively cheap for the time being, hovering in the mid-$6,000s. Boeser is a big-play threat and a multi-point threat, so take advantage of his low price while you can. Bo Horvat is the team's second-leading scorer and has five powerplay goals as well as five powerplay assists. Edler adds good value to this line but hasn't been overly productive this year. Calgary has been doing better than expected this year, but they are an inconsistent team. I would especially take advantage of this stack if Mike Smith is in net, but if David Rittich is patrolling the crease, the stack should still be played.
PHI1 (Couturier, Giroux, Konecny) at FLA
Possible Add-Ons: Ivan Provorov (L1)
This is a pretty good value stack, as well as a stack that will have low own percentage. If you're looking for a one-off, go with Giroux or Travis Konecny.
Value Stacks:
WAS2 (Wilson, Kuznetsov, Vrana) at OTT
Tom Wilson is just too cheap to not take advantage of. Paired up with Kuznetsov, this line provides the same spark as most first lines. Jakub Vrana is quietly having himself a very solid season and is a great value play.
NSH PP1 (Josi, Fiala, Johansen) vs. NYR
Possible Add-Ons: Ryan Ellis (PP1)
Someone's gotta score for Nashville with Filip Forsberg and Viktor Arvidsson out. Might as well be the top powerplay unit. The Rangers are pretty weak defensively, so if the Preds get some opportunities on the power play, they should be able to take advantage. Roman Josi isn't cheap but he is incredibly consistent and productive. Ryan Johansen is a boom or bust player, so let's hope it's a boom. Kevin Fiala is here for the sake of value, but if you are OK with two defensemen from the same team, I'd take Ryan Ellis over Fiala.
Top Positional Plays
(If I already talked about a player in stacks or key-three skaters, they won't be here):
Centers:
Patrice Bergeron, BOS
Jack Eichel, BUF
Auston Matthews, TOR
Matt Duchene, OTT
Aleksander Barkov, FLA
Evgeni Malkin, PIT
Ryan O'Reilly, STL
Alex Galchenyuk, ARI
Ryan Getzlaf, ANH
Wingers:
David Pastrnak, BOS
Jeff Skinner, BUF
Sam Reinhart, BUF
Jonathan Drouin, MTL
Jonathan Huberdeau, FLA
Mike Hoffman, FLA
Vladimir Tarasenko, STL
Phil Kessel, PIT
Gustav Nyquist, DET
Patrick Kane, CHI
Alex DeBrincat, CHI
Ondrej Kase, ANH
Pontus Aberg, ANH
Elias Lindholm, CGY
Matthew Tkachuk, CGY
Defensemen:
Torey Krug, BOS
Rasmus Ristolainen, BUF
Rasmus Dahlin, BUF
Morgan Rielly, TOR
Thomas Chabot, OTT
Shea Weber, MTL
Shayne Gostisbehere, PHI
Mark Giordano, CGY
John Klingberg, DAL
Value Defensemen:
Ryan McDonagh, TB
Oliver Ekman-Larsson, ARI
Neal Pionk, NYR
Brent Seabrook, CHI
Darnell Nurse, EDM
Charlie McAvoy, BOS
Erik Gustafsson, CHI
Colton Parayko, STL
Goaltenders (Make Sure They're Starting!):
Frederik Andersen, TOR (vs. NYI)
Andrei Vasilevskiy, TB (vs. MON)
Pekka Rinne, NSH (vs. NYR)
John Gibson, ANH (vs. ARI)
Good luck! DM me on Twitter if you win!
Questions and comments?
thescorecrowsports@gmail.com
Follow Us on Twitter @thescorecrow
Follow Us on Reddit at u/TheScorecrow
Follow Givanni Damico on Twitter @giodamico15
Main Credit Image: Embed from Getty Images