Carson Babbini | December 29th, 2018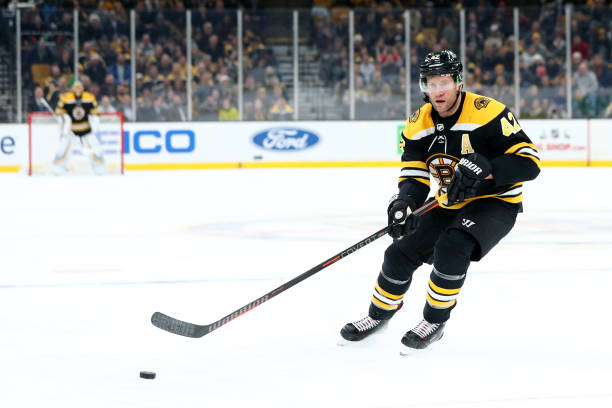 After the Boston Bruins and New Jersey Devils game Thursday, the Department of Player Safety has announced that Bruins forward David Backes has been suspended for three games for an illegal hit to the head on Devils forward Blake Coleman.
The Decision
In the Department of Player Saftey's video, the hit is explained to be an illegal hit to the head. This means that the main point of contact was Coleman's head. Backes was also deemed to take an angle that makes the head the primary point of contact, even though Backes does graze Coleman's shoulder. The contact to the head was also avoidable, but Backes did not change the angle of his body, head, or shoulder. Backes, under the terms of the Collective Bargaining Agreement, is a repeat offender which is why he is suspended for three games.
The Impact
This is the second suspension of this caliber this week with San Jose Sharks defenseman Erik Karlsson being suspended earlier this week for a check to the head. While Backes may not have the offensive impact that he has in the past for the St. Louis Blues, these three games will be a test for the Bruins with games against the Buffalo Sabres, who are one of the best teams in the NHL this season, the Chicago Blackhawks in the Winter Classic who have struggled this year but still have plenty of offensive firepower, and against the Calgary Flames who are the best team in the Pacific right now. The games with the Sabres and Blackhawks will be back to back so it would be nice to have Backes' fresh legs for that time, as the Bruins will get a total of one day of rest between these three games. Two of three games will be on the road as they travel to Buffalo and Notre Dame Stadium before coming back home. With the Bruins clinging to the second Wild Card spot in the Eastern Conference, these games will be crucial to maintaining their status in the playoff race.
Questions and comments?
Follow us on Twitter @thescorecrow
Follow us on Reddit u/TheScorecrow
Follow Carson Babbini on Twitter @cbabs1120
Main Image Credit:
Embed from Getty Images