Givanni Damico | December 28th, 2018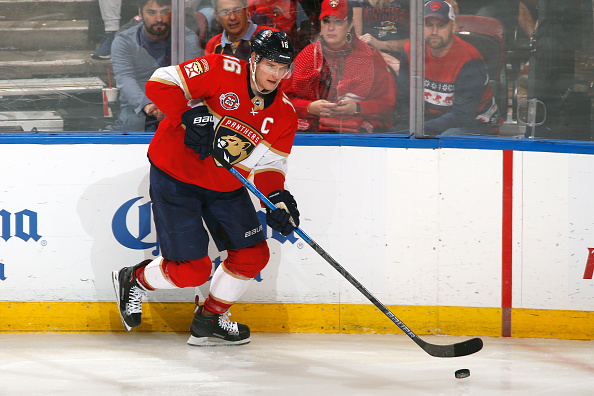 I always find small slates like Friday's (three-game) much tougher than big slates because there is less room for error and if you don't hit the nail on the head and other people do, you might lose everything.
Key Three Skaters:
Aleksander Barkov, FLA (vs. MTL)
Barkov has 36 points in 35 games this year (15 goals and 21 assists). In his last games, he has four goals and four assists. The Panthers face a below-average team defensively in the Montreal Canadiens so it should be a good day for Barkov. He has an above-average goal percentage on shots at 15.6%. Let's ride this train while it's hot and go with Barkov.
Mathew Barzal, NYI (vs. OTT)
I think people expected more out of Barzal this season after he won the Calder trophy and they perceive his play as underwhelming thus far. I think his critics are being a little too harsh on him. He is on pace for fewer points and goals than last year, but he's been catching fire lately. In his last eight games, Barzal has two goals and five assists. He has only found the back of the net five times this year, but I expect him to start finding it soon. He will have his chance against the Ottawa Senators, the worst defensive team in the league.
Cam Atkinson, CBJ (vs. TOR)
Cam Atkinson is on pace for career-highs in goals, assists, and points. He's been playing absolutely lights out lately and is a relatively reasonable price for his point-volume. He has four goals in his last five games, and 23 goals and 16 assists on the season. Earlier in the year, he had a 12-game point streak which included 13 goals and seven assists. He is the kind of guy who can get you 40+ points occasionally when he goes off for those three or four-point games. The Leafs and Frederik Andersen are always hard to play against but they aren't invincible, and in a slate like Friday's, you have to attack Atkinson.
Stacks of the Night:
FLA1 (Dadonov, Barkov, Huberdeau) vs. Montreal
Possible Add-Ons: Mike Hoffman (PP1)
I already spoke of the brilliance of Aleksander Barkov, so let's move on to Evgeni Dadonov. Dadonov has 17 goals and 17 assists in 35 games, and five points in his last five games. Dadonov usually racks up only one point per night but he has had multi-point games. He also has high shot volume. Jonathan Huberdeau has been brilliant in his last 17 games with five goals and 23 assists. He started the season slowly but has caught fire. He is on both line one and powerplay unit one and should have a good game. If you've watched hockey this year, you know that Mike Hoffman has been red hot. He has cooled off since being moved to line two, recording just four points in his last six games. The Panthers are experimenting right now because they have too talented of a team to be basement-dwellers, but for now, they'll stay there.
TOR1 (Tavares, Marner, Rielly) at CBJ
Possible Add-Ons: Andreas Johnsson (L1)
The main reason that I'm riding this stack is that Columbus is the only team playing on Friday that is on a back-to-back. It is a road-home back-to-back, so there is travel involved as well. This is important to note because it is more than likely that Joonas Korpisalo will start in goal on Friday and he has a GAA of 3.49. John Tavares has played better since Auston Matthews returned and has returned to true form. He has five goals and four assists in his last five games and is a must-play tonight. Mitch Marner is also red hot with six goals and three assists in his last five games. This stack is expensive but will be very productive. Morgan Rielly is pretty expensive, rightfully, as he has three goals and eight assists in his last five games. This whole line is red hot and you don't want to miss out on them. Even Andreas Johnsson has three points in his last two games. Play him at your own risk.
NYI PP1 (Barzal, Bailey, Lee)
Possible Add-Ons: Jordan Eberle (PP1, don't recommend)
I already spoke of Mathew Barzal, so we'll discuss Josh Bailey. Bailey had the best season of his career last year with 71 points. He is having a worse year than last and has only scored seven times, also recording 21 assists. He's never been a 20-goal scorer so this isn't too unusual but it makes him a risk in DFS. He hasn't scored a goal since November 24th but he is due against Ottawa. One goal and one assist, you heard it here first. Anders Lee is someone I hate using in DFS because of his inconsistency but I'm going to keep preaching the importance of playing against Ottawa. He has 13 goals and 13 assists in 35 games this year and four points in his last games. The Islanders should score 4+ goals against Ottawa, especially if Craig Anderson is still sick, but he will more than likely be back. Jordan Eberle is way too expensive on FanDuel so don't even bother (watch him have a hat-trick now).
Contrarian Stack:
OTT PP1 (Duchene, Tkachuk, Chabot, Stone)
Possible Add-Ons (if DK): Bobby Ryan (PP1)
This stack isn't necessarily contrarian because both of these teams are bad, but people make fun of Ottawa's defense and don't realize that the Islanders are nothing special. This is more contrarian to my advice from earlier than anything. All I'm going to say is that this stack is very inexpensive for the production. Chabot has 37 points this year (10 goals and 27 assists) and is a very safe play. Matt Duchene is having a fantastic year with Ottawa, and Mark Stone is leading the team in points with 40. Brady Tkachuk has been hot and cold this year, but he is very cheap for the production he provides.
Top Positional Plays
(If I already talked about a player in stacks or key-three players, they won't be here):
Centers:
Auston Matthews, TOR
Pierre-Luc Dubois, CBJ
Chris Tierney, OTT
Max Domi, MTL
Phillip Danault, MTL
Brock Nelson, NYI
Nazem Kadri, TOR
Wingers:
William Nylander, TOR
Kasperi Kapanen, TOR
Artemi Panarin, CBJ
Anthony Beauvillier, NYI
Patrick Marleau, TOR
Jonathan Drouin, MTL
Frank Vatrano, FLA
Mikkel Boedker, OTT
Ryan Dzingel, OTT
Defensemen:
Keith Yandle, FLA
Shea Weber, MTL
Jeff Petry, MTL
Seth Jones, CBJ
Zach Werenski, CBJ
Value Defensemen:
Aaron Ekblad, FLA
Jake Gardiner, TOR
Ryan Murray, CBJ
Scott Mayfield, NYI
Nick Leddy, NYI
Maxime Lajoie, OTT
Mike Matheson, FLA
Goaltenders (Make Sure They're Starting!)
Roberto Luongo, FL
Garret Sparks, TOR
Good luck! DM me on Twitter if you win!
Questions and comments?
thescorecrowsports@gmail.com
Follow Us on Twitter @thescorecrow
Follow Us on Reddit at u/TheScorecrow
Follow Givanni Damico on Twitter @giodamico15
Main Credit Image: Embed from Getty Images