Pranav Ramasubramanian | December 28th, 2018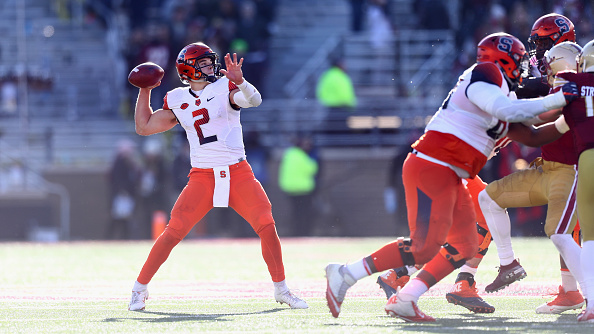 Mason Rudolph just aired it out and trusted his receivers and they made just enough plays to help Oklahoma State overcome Josh Jackson and Virginia Tech 30-21. This year brings another top 25 matchup with the 16th ranked West Virginia Mountaineers, who are 8-3 and the 20th ranked Syracuse Orange, who are 9-3. This Big 12 vs ACC battle is now in its fifth straight year in this bowl and should bring no shortage of offense so it should come down to whoever has the ball last in this one.
#16 West Virginia Mountaineers
Record: 8-3
Big wins: Texas, TCU
Big 12 record and ranking: 6-3 in the Big 12 and 4th overall
Strengths
Will Grier won't be available in this game so Jack Allison will be thrown into the spotlight as he has played well as a backup even though he hasn't gotten many opportunities in the last two years and will fit in well with an offense full of weapons. If Allison doesn't look good then Trey Lowe will get more time at quarterback due to a new rule as he will change it up and will confuse the Orange defense. They can rely on receiver David Sills, who was a touchdown machine in the regular season and can find unique ways to get open. He'll need to do that from the get-go to help both quarterbacks get comfortable early. The offense scores 42.3 points per game, which is ninth in the FBS and they have to rack up points against Eric Dungey's explosive Orange offense to keep up.
The defensive leader is David Long, who needs to use his explosiveness and ability to stay in the right position so he can stop the running threat that the Orange will pose. This will let West Virginia control the game.
Weaknesses
The NFL Draft takes hard work and preparing. With a chance at millions of dollars, some immensely talented players skip their bowl games to make sure they don't get injured and three top offensive players for the Mountaineers are doing this forcing the Mountaineers to call the next man up. Will Grier, the quarterback, has decided to prepare for the draft so the Mountaineers will have to look for a dual quarterback system for success and will lose consistency, stability, and the accuracy that Grier brings as he has 37 touchdowns on the year, which is 3rd in the FBS among quarterbacks. The quarterbacks really won't get that much time to throw as Yodny Cajuste, an offensive lineman is another player who has decided to sit out so the quarterbacks better let go of the ball faster because the Orange are likely to attack this. The team leader in receiving yards is Gary Jennings with 917 and his speed off the line of scrimmage will be missed along with his ability to be a reliable No.2 receiver to Sills. West Virginia loses another good option on offense to the draft. Grier loved to throw so much that the running game wasn't established and they won't be able to break out in this game because of the Orange's stingy defense making them largely one-dimensional. The Mountaineers defense, on the other hand, is non-existent allowing 26.5 points per game, which is 61st in the FBS so Eric Dungey should have a field day on the Mountaineers.
#20 Syracuse Orange
Record: 9-3
Big wins: NC State, Boston College
Atlantic Coast Conference record and ranking: 6-2 in the Atlantic Coast Conference and 2nd in American Coast Conference Atlantic
Strengths
It's always great to have a quarterback who is dual-threat and Eric Dungey brings that as he can create with his legs making it easy for him to throw as his running opens up easy passing lanes. He will have No.1 receiver Jamal Custis to throw to as Custis uses his height to easily make tons of catches and hit paydirt. He can bully the weak Mountaineers secondary for easy catches to help the Orange. The running attack also has another star in Moe Neal, who rushed for 823 yards averaging 5.6 yards a carry using his speed and ability to be shifty to rack up the yardage. The offense is 10th in the FBS with 40.8 points per game and they just might need to get another 40 plus to get one last win to finish off the season.
Good punt returns set up good field position so Sean Riley must have some good returns in this game as he has had all season long to give the Orange easy opportunities to score. The defense is going to need to get some early stops and linebacker Ryan Guthrie can do just that as he stops the play right at the line of scrimmage often.
Weaknesses
Eric Dungey got hurt in the Orange's big loss vs Notre Dame just about two games ago and he needs to be able to avoid big hits or else he may get sidelined again, and the backup didn't do a good job last time as he wasn't dynamic enough so keeping Dungey upright will be key for an Orange victory. The running backs won't get many carries because Dungey will look to run more so it will be tough to establish the running game. Dungey will be forced to do everything on offense leading to fatigue later on in the game, which will cost the Orange. The Orange have proven that the spotlight is too much for them as when presented with the opportunities to go up in the College Football Playoff Standings they floundered and lost big games because they went out of character and were unable to execute. The kick returns haven't been great like the punt returns so hopefully, Sean Riley takes more touchbacks so he doesn't cost the Orange valuable field position. The defense is actually worse than the Mountaineers as the Orange have let up 27.8 points per game, which is 74th in the FBS so they may have trouble stopping the Mountaineers offense today. The Orange have to make sure to minimize their mistakes or else they will be in for a long one.
Players to Watch For
West Virginia Mountaineers
Jake Allison, QB- He has only gotten garbage time up until this point for the last two years and with Will Grier out he finally gets his chance. He needs to come out with the right mindset and use his arm strength to get the ball where it needs to. He has 75 yards passing this season and will need to double that for the Mountaineers to win today.
David Sills, WR- He has 61 receptions for 896 yards with 15 touchdowns to anchor the Mountaineers passing offense. He uses his eyes to deceive opposing defenses in what direction he is going and can go vertical when needed using his agility to out race defensive backs. He will declare this year and could have a very Jarvis Landry type of impact in the NFL.
Kennedy McKoy, RB- Will Grier is out so now McKoy suddenly gets trusted to play a bigger role in the offense. He needs to set a tone early and take advantage of more carries so he can be leaned on more next season. He has to establish himself early and if he doesn't the Mountaineers are going to have a long day.
David Long, LB- The defensive anchor with 94 total tackles, 71 solo and 23 assisted he just flies to the ball to make sure he makes the right play. Long can bring physicality and being undersized actually helps him be faster and slip through. If he performs well it could bump him up to a second rounder in the NFL Draft.
Syracuse Orange
Eric Dungey, QB- A dual-threat quarterback, who can do it all with 32 total touchdowns, 18 throwing and 15 rushing. He is very nimble on his feet and his arm strength helps hit receivers perfectly on their routes and he needs to get that going from the start to help the Orange try and overwhelm the Mountaineers. He will be a late 5th or 6th rounder due to his inability to evade big hits and injury risk is also an issue.
Moe Neal, RB- He doesn't have that many carries but has quietly racked up the yardage with 145 carries for 823 yards, but just five touchdowns and if anything bad were to happen to Dungey then he would be given the keys to the offense. His size helps him easily bowl over tacklers and he can really go off for explosive runs once he gets his feet under him so look for this to be a very good developmental game for Neal. If he establishes himself in this game at any point the Mountaineers won't stand a chance.
Jamal Custis, WR- He is the top target for Dungey with 46 receptions for 826 yards with 6 touchdowns and needs to make himself available early to help the offense become unstoppable. He needs to use his combination of size and speed to confuse the Mountaineers on defense and make them misalign for the Orange to take over this game. He has a late 4th rounder, early fifth rounder talent.
Andre Cisco, DB- He is tied for the FBS record with 7 interceptions on the season stopping a lot of long bombs from opposing quarterbacks all year. West Virginia loves to throw long bombs so if Cisco stays home he will get some interceptions in this game that will turn the tide. He is able to do this is as a freshman, which is just amazing.
If Will Grier was playing West Virginia would be able to counter and even eclipse the Orange offense in production, but without Grier the West Virginia offense won't be the same even though it will still be solid and Eric Dungey will make just enough plays for the Orange to end their season on a high note with 10 wins.
Prediction: Syracuse Orange 34 West Virginia Mountaineers 28
Questions and comments?
thescorecrowsports@gmail.com
Follow Us on Twitter @thescorecrow
Follow Us on Reddit at u/TheScorecrow
Follow Pranav on Twitter @PranavRama1
Main Credit Image: Embed from Getty Images