Givanni Damico | December 27th, 2018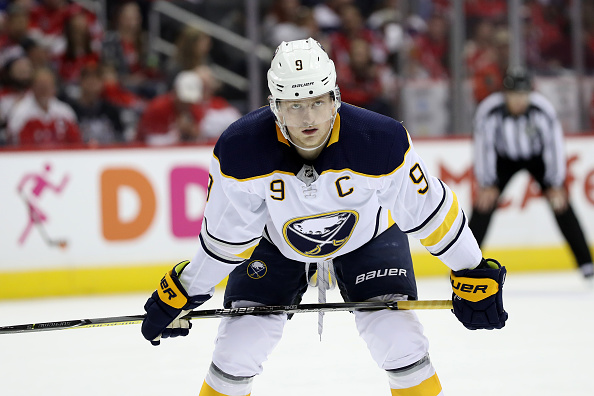 Tonight is a pretty big slate and I am here to guide you as to who you should play tonight in your NHL daily fantasy sports.
Key Three Skaters:
Brayden Point, TB (vs. PHI):
Brayden Point has been playing better than Steven Stamkos this year, plain and simple. He has been more consistent and more of a threat to light the lamp. He has 47 points in 37 games, consisting of 21 goals and 26 assists. The Lightning take on a team in the Philadelphia Flyers that have gone through five goaltenders this year and don't have a consistent guy to patrol the crease. I expect the Lightning to take advantage of whoever the Flyers plan on putting in the net, and Point to be at the center of that.
Jack Eichel, BUF (at STL):
Jack Eichel is on a tear. In his last nine games, he has nine goals and seven assists. He is a pretty fair price on FanDuel, hovering around $8000, or just under (same with Point). The St. Louis Blues have been a very underwhelming team this year that has not at all lived up to expectations. Their defense has been poor and Jake Allen is having the worst year of his career so far, with a 3.09 goals against average so far. Eichel and his linemates should have a big night.
David Pastrnak, BOS (vs. NJ):
Last game against Anaheim, David Pastrnak's price on FanDuel was only $7900. That might sound semi-expensive, but Pastrnak has been consistent lately and always has the ability to have a three-point night, as he did against Anaheim with a goal and two assists. He really has performed well and I don't know why his price was brought down. I expect his price to be back in the low-mid $8000's for next game, but the Bruins are taking on New Jersey. The Devils' goalies have not performed well and Pastrnak should have another big game.
Stacks of the Night:
TB2 (Point, Kucherov, Tyler Johnson) vs. PHI
Possible Add-Ons: Ryan McDonagh (L2):
I already spoke of Brayden Point, but usually when Brayden Point scores, Nikita Kucherov is the one who gave him the pass. Kucherov has an astounding 57 points in 37 games and I can guarantee that he will add to that against Philadelphia. Tyler Johnson is a good player to add for value, as well as for the sake of the stack. Point and Kucherov aren't the only ones scoring on this line. Johnson has 27 points (16 goals, 11 assists) in 36 games, and four goals in his last five games. This line should rack up some points at home against Philly.
BUF1 (Eichel, Skinner, Reinhart) at STL
Possible Add-Ons: Rasmus Dahlin (L1)
Jack Eichel is on fire. Jeff Skinner is too. In 37 games, Skinner has 26 goals and 12 assists, totaling 38 points for those of you who can't do mental math. Skinner doesn't have high shot volume when he plays, but when he shoots, he scores, registering a 23.2% goal percentage on shots. He is a bit of a risk for his price but if he has a two-goal game, you must definitely won't regret having him in the lineup. Reinhart doesn't light the lamp too much, but he has been racking up points lately. In 37 games, he has eight goals and 26 assists (34 points), and in his last five games, he has nine assists. He is meshing very well with Eichel, Skinner, and the entire line one group, as well as the powerplay unit. Dahlin has six points in his last five games since joining line one and is looking like he will generate more points if this line sticks together.
MIN PP1 (Staal, Granlund, Parise) at CHI
Possible Add-Ons: Ryan Suter (PP1)
I can guarantee that this will be a low-owned stack because people forget about the Wild. The Minnesota Wild were once a dominant team but seem to have fallen off this year. The team is aging and the future doesn't look too bright for them, but we only care about our daily fantasy profit, right? Zach Parise has been woefully inconsistent this year. With just two points in his last five games, both coming in one game, Parise is due for a big night. I am worried about the Blackhawks' goaltending situation. Corey Crawford is down with an injury and I'm concerned that his time in the NHL is running low. Cam Ward isn't a starter anymore for a reason, so if he plays, this line will take over. I think the Hawks should start Collin Delia who played very well in their last game. Mikael Granlund has 34 points in 35 games with just three assists in his last five games. You can see why I think this team is due, as well as why I think they will be low-owned. Eric Staal only has 23 points in 34 games (12 goals, 11 assists) with a goal and an assist in his last five games. Staal's shot volume is normally pretty good so I expect him to light the lamp against the Hawks. I understand if you don't want to take my advice on this streak, but you may regret it if they go off.
Contrarian Stacks of the Night:
ANH1 (Getzlaf, Aberg, Kase) at STL
Possible Add-Ons: Brandon Montour (L1)
This is a very inexpensive stack for a line that has been performing well all year. Ryan Getzlaf has nine goals and 20 assists in 32 games this year and his slowed down of late. Getzlaf has a goal and six assists in his last nine games which is solid, but for his price on FanDuel, it's not normally worth it. I think it could be on Thursday. Martin Jones for San Jose has been extremely inconsistent this year and could possibly have that night where he gives up 4+ goals. Anything is possible. Pontus Aberg has recorded nine points in his last eleven games. Aberg's stats don't jump off the page but for his extremely low price, he is a must play on line one and powerplay unit two. Ondrej Kase has only played 20 games this year but has 16 points. Kase is a guy that if you don't use this line, you need to use him as a one-off. He is also very inexpensive but averages about 14 FanDuel points per game. Kase is on powerplay unit one and also takes a lot of shots. Trust me and play Kase. Brandon Montour doesn't score too much, providing only 19 points in 38 games but takes a lot of shots and blocks a lot of shots. If he doesn't tally a point on the scoresheet, he should still get a good amount of points via shots and blocked shots.
NYR PP1 (Hayes, Kreider, Zibanejad) vs. CBJ
Possible Add-Ons: Mats Zuccarello (PP1):
Sergei Bobrovsky is a different goaltender on the road than he is at home. He allows more goals and powerplay goals on the road and I expect the Rangers to take advantage of that. The Rangers offense definitely doesn't contain a lot of firepower, but they need to heat up soon. Kevin Hayes quietly has 30 points in 35 games (10 goals, 20 assists). Hayes is on fire with five goals and eight assists in his last seven games. Hopefully he continues to ride his seven-game point streak into the Garden and helps take down Columbus. Chris Kreider has 17 goals and eight assists on the year with three goals in his last four games, but only seven points in his last 15 games. I would use him while he's on a nice stretch until he cools down again. Mika Zibanejad has 11 goals and 19 assists in 35 games. He has 11 points in his last 11 games and should make an impact against Bobrovsky. I just threw Zuccarello in here because I prefer him over Neal Pionk (maybe use him over Zucc) because Zucc is ice cold with just two assists in his last 10 games.
DET PP1 (Nyquist, Larkin, Vanek) at PIT
Possible Add-Ons: None
I am riding nothing except a hunch in this game. I have a hunch that Detroit will win and score four goals. This stack is definitely contrarian as I expect less than 10% own rate. Dylan Larkin is on an 11-game point streak with 13 points over this streak. Casey DeSmith hasn't been insanely good for Pittsburgh this year, instead quite inconsistent, so I expect the streak to continue. Gustav Nyquist has 31 points in 38 games. He's been held off of the score sheet for three straight games, but before that, he had 15 points in his last 12 games. As I said, I'm riding the hunch. Thomas Vanek has four points in his last five games, albeit three of them came in one game. I'm trusting Vanek as a value play and a low own % risk.
Top Positional Plays
(If I already talked about a player in stacks or key-three players, they won't be here):
Centers:
Patrice Bergeron, BOS
Sidney Crosby, PIT
Connor McDavid, EDM
Nathan MacKinnon, COL
Tyler Seguin, DAL
Mark Scheifele, WPG
Logan Couture, SJ
William Karlsson, VGK
Elias Pettersson, VAN
Sebastian Aho, CAR
Pierre-Luc Dubois, CBJ
Sean Couturier, PHI
J.T. Compher, COL
Wingers:
Blake Wheeler, WPG
Alex Ovechkin, WSH
Jamie Benn, DAL
Timo Meier, SJ
Tomas Hertl, SJ
Nick Schmaltz, ARI
Elias Lindholm, CGY
Brock Boeser, VAN
Leon Draisaitl, EDM
Claude Giroux, PHI
Jake Guentzel, PIT
Kyle Palmieri, NJ
Blake Coleman, NJ
Artemi Panarin, CBJ
Cam Atkinson, CBJ
Defensemen:
Torey Krug, BOS
Victor Hedman, TB
Rasmus Ristolainen, BUF
Esa Lindell, DAL
Miro Heiskanen, DAL
Roman Josi, NSH
Dustin Byfuglien, WPG
Jacob Trouba, WPG
Mark Giordano, CGY
Oscar Klefbom, EDM
Erik Karlsson, SJ
Value Defensemen:
Josh Morrissey, WPG
Shea Theodore, VGK
Ian Cole, COL
Jake McCabe, BUF
Colton Parayko, STL
Michal Kempny, WSH
Goalies (Make sure they're starting):
Carter Hutton, BUF
Devan Dubnyk, MIN
Adin Hill, ARI
Good luck, DM me on Twitter if you win!
Questions and comments?
thescorecrowsports@gmail.com
Follow Us on Twitter @thescorecrow
Follow Us on Reddit at u/TheScorecrow
Follow Givanni Damico on Twitter @giodamico15
Main Credit Image: Embed from Getty Images