Matt Woolsey | December 27th, 2018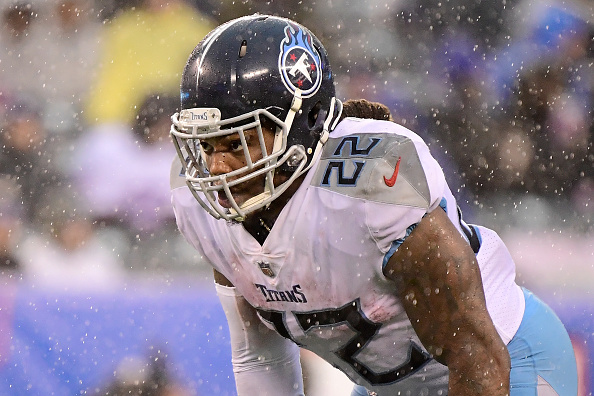 I remember watching Derrick Henry when he was in Alabama and was very high on him coming into the NFL. The landing spot in Tennessee behind the newly signed DeMarco Murray was less than desirable. But ever so often did we get a glimpse of what Henry could be as the starter. Then this past offseason the Titans moved on from Murray and made Henry the guy. Sure they brought in Dion Lewis as your third-down change of pace guy, but Henry is that first/second down bruiser so it was expected. Plus Lewis had a history of being injured throughout the season.
A Forgettable Season
The first game out of the gate the Titans played against the Miami Dolphins and Henry finished the game with 10 rushes for 26 yards. Oh, but he was involved in the passing game, one catch for five yards. 31 yards in total and no touchdowns, is this what we have been waiting for from Henry as the starter, 31 lousy yards? Only one time in the first 13 weeks of the season did he surpass 60 total yards. He did not finally break into the end zone until Week 7. 128 rushes for 474 yards and five touchdowns in the first 13 weeks of the season. Not what you signed up for if you drafted him or held onto him in dynasty for the past couple of years.
An Unforgettable Playoff Run
Did you start Derrick Henry in Week 14 to start the fantasy playoffs, you probably didn't. He ended up rushing the ball for 238 yards and four touchdowns. Now I said probably and not definite because some screenshots started floating around social media of people having to play Henry in their lineups. Imagine having this really good team, it is the first week in the playoffs, and then you faced Henry. It is moments like that will cause a person to go on suicide watch.
He then followed up that performance with 170 yards and two touchdowns, he is winning people championships in 2018, almost like Todd Gurley did last season. As for the championship game in Week 16 he ended up with over 90 total yards and a touchdown. A little less than what you were hoping for, especially since the matchup looked juicy but still serviceable.
The New Henry or a Mirage?
Derrick Henry already has 12 touchdowns on the season, sure seven of them came in the last three weeks, but those were the three weeks that really counted if you actually played him. He already has over 1,000 all-purpose yards, but will more than likely end the season with over 1,000 rushing yards.
But what do we do with Derrick Henry next season? Are we going to assume this the new norm? Has the Titans offense figured out how to utilize their big running back? Or is this just a fluke and we need to finally move on from Henry? As I said before we have seen a glimpse of what he could be, nothing sustained for a long period of time, and it's not uncommon for players to take three years and finally breakout.
But also remember the coaching staff in place now is not the coaching staff that was in place when Henry was drafted. We have seen teams start to move on from players they did not draft, especially when they have not really performed well. I wouldn't be surprised if the Titans poke around in the quarterback market since Marcus Mariota has been underwhelming and cannot seem to stay healthy as he left the game early this past week.
Game script and a huge 99-yard run against the Jaguars led to his big performance in Week 14. After the big run, the Titans broke the Jaguars spirit and it was easy to just keep handing the ball to Henry at that point. The following week they gave Henry 33 carries, yes 33 carries, this will not be sustainable week after week. They can do this in college, but not in the NFL.
In Week 16 he had 21 carries for almost 90 yards and a touchdown. Again you were hoping for more after his last two games, but it was serviceable. It was enough to be an RB-1 this past week.
I'm just sure I'm willing to finally give in. Sure if this was Weeks 3, 4, and 5 he would be in my lineup for Week 6. If you play in a Week 17 championship and own Derrick Hanry I would plug him in, but the fact we are about to have the whole offseason and anything could change I'm not sure I am willing to fully buy in. So what should you do from here?
Moving Forward
If I owned Henry in a dynasty league I would be holding onto him for next season, I sure as hell wouldn't drop him. Now if some big Titan fan or Henry truther sent me a trade offer wanting to pay up for Henry, I would hit the accept button and not look back.
If I was in a redraft league next season I don't think I could pay the late 3rd early fourth-round pick he was this past season. But if he started to fall towards the back of the fourth, early fifth I might consider snatching him up. Of course, this all depends on what the Titans do in the offseason. If they draft and pick up another running back, I'm not touching him or anyone else in that backfield.
Questions and comments?
thescorecrowsports@gmail.com
Follow Us on Twitter @thescorecrow
Follow Us on Reddit at u/TheScorecrow
Follow Matt Woolsey on Twitter @AresgodFF
Main Credit Image: Embed from Getty Images