Christopher Dinkins | December 27th, 2018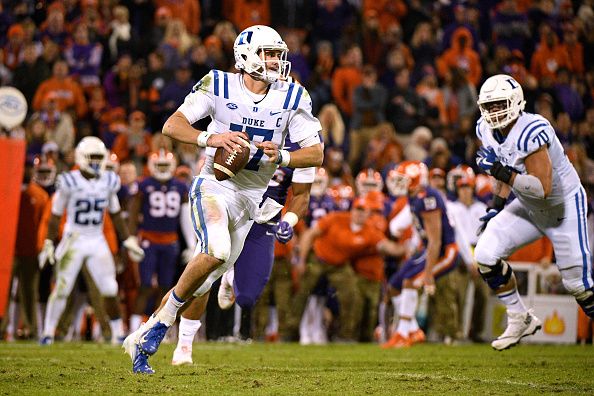 Here we are at another bowl game, this time its the Walk-On Bistreaux and Bar sponsoring the 43rd edition of the Walk-On's Independence Bowl. This game will be played at Independence Stadium, in Shreveport, Louisiana. We have the Duke Blue Devils representing the Atlantic Coast Conference versus the Temple Owls, representing the American Athletic Conference. This game will be played between teams who are very entertaining to watch when they are at their best.
The Blue Devils are coached by David Cutcliffe, who has been at the helm since 2008. This season's edition of Duke football is led by quarterback Daniel Jones who, if he declares for the 2019 NFL draft, may be one of the top QB's selected. He is a redshirt junior who has a skill set that could work at the next level. Jones suffered a collarbone injury early in the season. He had a nice set of numbers that won't make anybody nervous (2,251 yards, 17 TDs, 7 INTs), but he has nice size and will make a GM look smart on draft day.
Duke was actually ranked at 22 this season entering Week 5, they were undefeated at 4-0 and looking at making a big move before losing at home against Virginia Tech. They followed it up with going 3-2 until they lost its last two games in blowout fashion against Clemson 35-6, and Wake Forest 59-7. They have to realize they have a quarterback who is talented and will be looked at by NFL scouts. Duke will need running back Deon Jackson to also be a factor in this game since Temple's defense versus the run is 90th in the country. This Duke team is going to really need an all-around game on the offensive side of the ball to work against one of the best pass defenses in college football. Temple has allowed just 166 yards in the air per game this season, which was seventh in the AAC. Duke has a couple of receivers in T.J. Rahming and Johnathan Lloyd to help move the ball downfield, the Blue Devils will be stronger than they have been in a while, but they have struggled down the stretch.
Temple, on the other hand, will be coming into this first-ever meeting with Duke on the football field, with an interim head coach Ed Foley who took over when Geoff Collins left for Georgia Tech. Temple will have sophomore Anthony Russo at quarterback, he was installed at the position in week three and defeated Maryland 35-14. They suffered two defeats in good games against Boston College and Central Florida. His numbers were not all that great, but they ended up in wins many times. Temple would be wise to balance out its offense as Duke's defense has been attacked many times by teams who can establish the run, making Temple running back Ryquell Armstead a very important part of what Temple wants to do when it has the ball. Armstead has nearly 1,100 yards this season.
The Owls offensive line will be going up against a fundamentally sound Duke defensive front seven. Led by linebackers Joe Giles-Harris and Ben Humphreys, who each had injury problems earlier this season, the four weeks off before the game helps them in a major way. They also have Chris Rumph and Victor Dimukeje, rushers who come off the edge to help the linebackers out and cause disruption. The Duke defense is very athletic and can make big plays. Temple may not have the best offensive line in America, but they work hard to keep their quarterback upright. They gave up just 15 sacks in the regular season, which is tied for 18th in the nation. The balance is there for Temple to work against Duke and what it may bring on the defense side.
Temple may be the more passionate team coming into this game and could play a tough game against a ready Duke team. Ed Foley is coaching the Owls for the second time in a bowl game. This game could be enjoyable to watch a couple of NFL prospects or just to see a good football game to continue another entertaining bowl season. Duke is looking for its third straight bowl win, they have never won three straight bowl games.
Main Credit Image: Embed from Getty Images