Pranav Ramasubramanian | December 27th, 2018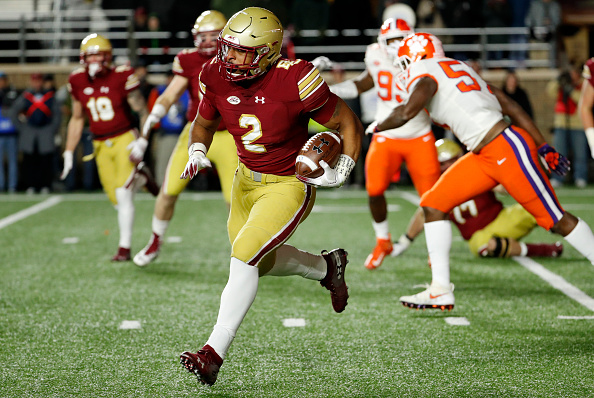 This is the first year of the First Responder Bowl as it was called the Heart of Dallas Bowl before and in the first year, it features the Boston College Eagles, who are 7-5 and the Boise State Broncos, who are 10-3. This will be a battle in the trenches and should be a very physical and hard-hitting game.
Record: 7-5
Big wins: Wake Forest, Virginia Tech
Atlantic Coast Conference record and ranking: 4-4 in Atlantic Coast Conference and 4th in Atlantic Coast Conference Atlantic
Strengths
Boston College likes to eat up a lot of clock and they can do this well with sophomore running back AJ Dillon, who can run right at you and you still won't be able to tackle him because he has enough strength and speed to either blow right past you or truck you. If the defense's sole focus shifts to AJ Dillon then Anthony Brown will get some more time to throw the ball and that will help him as he can rack up the yardage quickly as he had 2,121 yards on the year with the real benefit being in the red zone as he tossed for 20 touchdowns on the year. Anthony Brown spreads the ball out to various different receivers to keep the offense balanced and he'll need to do this in this game early and often as Boston College is averaging 32 points a game.
Boston College can bring the pressure with pass rushers Zach Allen and Wyatt Ray and they have to get in Brett Rypien's face early to get him off rhythm and have him throw some interceptions early. They had 18 interceptions on the year, which is tied for 3rd in the FBS. The linebacking core of Isaiah McDuffie and Connor Strachan are solid getting to the ball-carrier and they make sure that big runs are a rare occurrence on them and they need to limit Boise State's offense to make them settle for three like they have all season only allowing 17 touchdowns via the pass. The special teams for the Eagles have been really good and even though they only directly scored one touchdown they have set up good field position time and time again with the help of Michael Walker, who has 1000 plus return yards so they will look for him to set them up with a short field today to be more successful scoring points.
Weaknesses
Boston College wants to play slow and physical old-style football, but Boise State has a potent offense and if Boise State comes out and starts fast then the Eagles will start scrambling to get back to their style making them play some very uncharacteristic football that will knock them out of this game. AJ Dillon is also questionable and really hasn't looked like himself lately and he has to come back 100% healthy to anchor the Eagles on offense or else the Eagles will have to primarily rely on throwing the ball. Anthony Brown is classified as a dual-threat quarterback, but his running didn't add anything to the offense this year as he only managed 85 yards so he shouldn't pull the ball in and run unless the pressure gets to him very early. The Eagles haven't played well against top competition as they have blowout losses against four top-tier teams and one very bad loss to Florida State. The key to those games just seemed like a lack of focus more than anything else. The defense can't afford to give up more than 25 points and still win this game so they have to clamp down all throughout the game. The Eagles have lost the last three and need to come in with a fresh attitude or else Boise State will finish off the Eagles early.
Record: 10-3
Big wins: Fresno State, BYU
Mountain West record and ranking: 7-1 in the Mountain West and 1st in Mountain West Mountain
Strengths
The offense has been great all year and the big credit goes to Brett Rypien, who stays calm in moments of pressure and just slings the ball to his receivers to get them open or when they are open with ease anchoring the Boise State offense towards big point totals all season long. The running game has also done its part thanks to Alexander Mattison, whose strong legs help him get big gains. He can also evade tacklers with a solid stiff-arm so he needs to get the proper amount of carries to establish his presence in this game to give the Broncos multiple options on offense. Rypien has a quartet of good receivers so his eyes will quickly shift from one option to the next so he can mix it up and confuse the defense. This has helped the offense be the 24th best in the FBS with 35.4 points per game extending possessions with great third-down efficiency.
Curtis Weaver is a key piece of the defense and he needs to get himself one-on-ones early so he can exploit AJ Dillon and stop big plays at the line of scrimmage before they happen. He had 15 tackles for loss and needs more than a handful in this game to slow down the Eagles offense. The defense just does the basics very well and has only allowed 22.1 points per game so they need to continue to execute and stay disciplined to win.
Weaknesses
The defense can't seem to cover anybody in the passing game as they just let opposing offenses have their way, letting them dominate and giving up big passing plays. The D must find a way to counter it so they don't give up too many points. It also doesn't help that there are injuries on defense that will definitely hurt as top tackler Kekoa Nawahine is questionable along with Tyreque Jones, which could be detrimental as AJ Dillon will take advantage. Some minor pieces on defense are out, but it would be good to have more fresh bodies and the injuries don't really affect the offense expect for John Hightower, who is questionable. They will miss a red zone threat if he sits, which could be the difference in the game. The Broncos have been mentally weak when things don't go their way so they must sustain the same amount of energy throughout the game or else it's gonna become a dogfight. The special teams are terrible this year even with Hightower healthy so they will see even a bigger dropoff here if he doesn't play. The Broncos have to play smart and not make silly mistakes to give the game away to the Eagles.
Players to Watch for
Boston College Eagles
AJ Dillon, RB- One of the best backs in college football and he has rushed for 1108 yards and 10 touchdowns with his physicality and never give up mindset. He has to set the tone early so the Eagles can start rolling. He has to get big gains to get himself going early and is questionable to play today.
Zach Allen, DE- He looks gone after this season as his 61 tackles, 38 solo and 11 assisted are good considering 15 are for loss using his power and size to easily get inside. He has the ability to use his length and agility to get past bigger guards as he had 6.5 sacks this season and will need to get a couple on Rypien to make him flounder in the pocket. He can have a big impact if drafted by the right team come April.
Wyatt Ray, DE- He is also on the defensive line and played great with 44 tackles, 23 solo and 21 assisted with his fast movements around the field. His size gives him a physical edge and he has to bring that to bring down Rypien as he had 9 sacks on the year with 11 tackles for loss on the year. He is a good partner in crime and may have the potential to end up in Seattle with a Bobby Wagner or Carolina with Luke Kuechly.
Hamp Cheevers, CB- The FBS leader in interceptions with 7, he anticipates very well and doesn't let up any gaps. The ball must be perfect or else he won't allow a completion and he is very nimble. He has to come out very aggressive because the Broncos have a ton of weapons and he needs to shut at least one down to boost his stock for the draft.
Boise State Broncos
Brett Rypien, QB- He had an amazing year throwing for 30 touchdowns and just 7 interceptions so he just has to keep playing mistake-free football and hitting his receivers accurately. His size isn't great, but the ball comes out fast and will need to survive the Eagles pass rush. He has to stay locked in and could be a fourth or fifth rounder in next year's draft.
Alexander Mattison, RB- He anchored the running game with 1,415 yards and just couldn't stay out of the end zone with 17 touchdowns. He'll need to hit paydirt more than once today. He can get to the second level and break runs with ease. He has a 2nd rounder to 3rd rounder level potential if he plays well today.
Sean Modster, WR- He is the No.1 receiver on the team with 64 receptions for 978 yards and 8 touchdowns using his size to get open. He also uses his speed to fly all over the field so he will be targeted a ton and needs to make the catches to extend Broncos drives. He has to help exhaust the Eagles defense.
A.J. Richardson, WR- He is the No.2 receiver on the team with 825 yards with 54 receptions while hitting paydirt eight times and a big reason to him hauling in so many passes was his great speed. He also has great awareness to track where the ball is going and can adjust to poorly thrown passes. He needs to score as well for the Broncos to be successful today.
The offenses are well-balanced, but Boise State has the better weapons and they will step up late to make some keys plays to swing the game in their favor.
Prediction: Boise State Broncos 31 Boston College Eagles 28
Questions and comments?
thescorecrowsports@gmail.com
Follow Us on Twitter @thescorecrow
Follow Us on Reddit at u/TheScorecrow
Follow Pranav on Twitter @PranavRama1
Main Credit Image: Embed from Getty Images