Dale Money | December 26th, 2018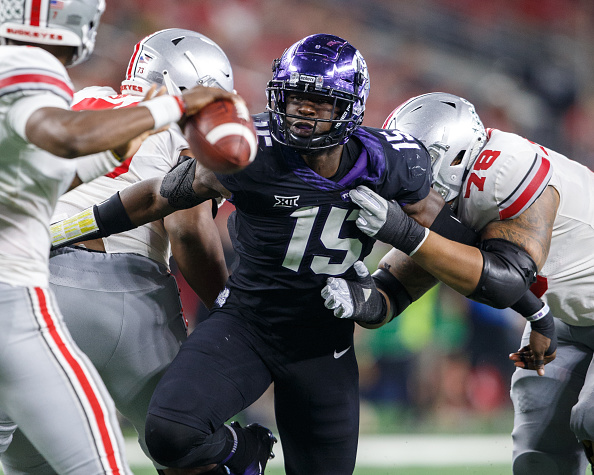 Meeting up for the first time in their Football history. Both the California Golden Bears and TCU Horned Frogs approach the game with a defense-first mentality and that will be on display at Chase Field Wednesday night. Cal won the bowl twice in two of its previous forms, as it came out on top in the 1990 Copper Bowl and 2003 Insight Bowl. TCU enters its bowl game with six wins for the second time in three years.
California Golden Bears  (7-5,4-5 in the Pac-12)
Strengths –  Patrick Laird is the key to the Golden Bears offensive game. The running back put his name out there. Rushing for over 900 yards for an average of 4.3 yards, along with 5 touchdowns. Not only was he successful on the ground, but was also quite active through the air. Putting up 50 receptions for 291 yards and 4 touchdowns. Laird will need to be contained, as he goes so go the Bears.
The Golden Bears are back playing in a Bowl for the first time since 2015 and for the first time under head coach Justin Wilcox. Wilcox has been one of the better head coaches in the NCAA this season. Having just signed a five-year contract. He has done a great job turning around the Bears program, inserting a 3-4 defense. The defense is now ranked 16th best in the country.
When you think of how they were just two seasons ago, allowing opponents to score on average 42.6 points per game. Which was good for 127th overall. It really does speaks to how far they've come with Wilcox running the show.
Weaknesses – Cal's offense only eclipsed 30 points on three occasions this season, though that ultimately didn't stop them from reaching 7 wins. Teams in the Pac-12 North simply don't contend for a title without a high-quality quarterback.
The team made a habit of swapping around two players at the Quarterback spot, with both Chase Garbers and Brandon Mcllwain getting an opportunity. Garbers emerged as the Golden Bears' chief passer. As he posted 1,413 passing yards and 14 touchdowns and 7 interceptions in 10 games played. He did enough for Cal to win four of its last six games, while letting that stout Bears defense, do their job.
Losing the team's primary receiver, Vic Wharton III, for the Cheez-It Bowl. Along with another very reliable receiver Kanawai Noa questionable. The offense will be counting on Laird to do the heavy lifting.
TCU (6-6,4-5 in the Big 12)
Strengths – Both teams bring elite defenses and poor offenses to this game, so which one will win out?. The Horned Frogs finished atop the Big 12 after allowing an average of 344.4 yards per game. Ranked No. 26 nationally in total defense. They limited opponents to beneath 20 points in five of its six wins.
Senior defensive standouts Ben Banogu and L.J. Collier are getting it done for the TCU defense. Collier, at 6-foot-4, 276 pounds, ranked second in sacks for TCU, registering five. He also had 9.5 tackles for loss, four pass breakups and 38 tackles.
One of the lone offensive bright spots. Wide receiver Jalen Reagor finished the year with 1,061 yards and a program-record seven straight games with a touchdown catch. Reagor has been the Horned Frogs' one reliable playmaker, as the offensive consistency has been pretty shaky. Hell, be even more important to the Horned Frogs with Grayson Muehlstein, still quite green even given the number of years he has been at TCU.
Weaknesses –  The Horned Frogs finished 7th in the Big 12 in total yards of offense and 8th in scoring offense. Third-string quarterback Grayson Muehlstein will be back under center for TCU in what will only be his second career start.
Muehlstein is an interesting case, as he's only appeared in a total of eight games in his four years at Texas Christian. He passed for 180 yards and a pair of touchdowns in his lone start vs. Oklahoma State on Thanksgiving Weekend and rushed for an additional 47 yards. When you consider the team he will be going up against has only given 20 plus points once in their last six matches, this should be a challenging matchup for the inexperienced quarterback.
The Frogs currently have two punters on their roster, both of whom struggled in 2018. Adam Nunez used to be a weapon for the TCU special teams, specializing in pinning opponents deep inside their ten-yard line.
He's struggled with his accuracy in 2018, dealing with injuries and has not been nearly as effective. Andrew David took over punting for a time but never seemed to get into a rhythm when given the opportunity.
Players To Watch
Ben Banogu TCU DE – At 6-foot-4 and 250 pounds with long limbs, Banogu stands out physically on the edge, and he uses his length well. He has been fantastic for the Horned Frogs the last two seasons. Ranking second and third in Big 12 sacks in 2017 and 2018 respectively.  He owns all of the tools to be a very good defensive end at the next level, with the potential to be a first-round draft pick this spring.
Ashtyn Davis Cal S – Ashtyn Davis, came to Cal primarily as a track and field athlete.  But now in his second season as a full-time contributor to Cal's defense. Named first team All-Pac-12 by The Associated Press. He is tied for the conference lead in interceptions with four and is second in the conference in kickoff return average.
Questions and comments?
thescorecrowsports@gmail.com
Follow Us on Twitter @thescorecrow
Follow Us on Reddit at u/TheScorecrow
Follow Dale Money on Twitter @packerd_00
Main Credit Image: Embed from Getty Images