Pranav Ramasubramanian | December 25th, 2018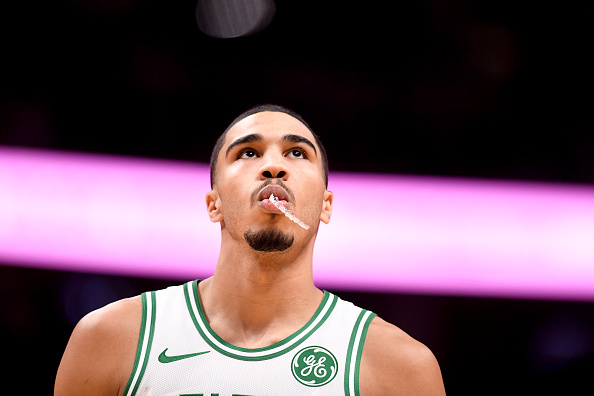 Christmas is a time for family togetherness because school and work are canceled as it's given a federal holiday for everyone including non-celebrators. NBA games on Christmas have become a tradition even for non-NBA fans because it's the one day where all the games are nationally televised on ABC, ESPN or TNT while also being easily accessible on online platforms. The NBA is smart to market this way because it attracts a large number of viewers as they also showcase new special Christmas Day jerseys for each team involved and let the players involved design special Christmas day sneakers with unique colorways.
Just take a peek at this marketing gem:
Merry Christmas everyone!! Throwback to one of the best NBA Christmas commercials. #merrychristmas pic.twitter.com/OWyIAmndjO

— #NBA2K4LIFE (@NBA2KGames) December 25, 2016
The Christmas games are always a highlight of the regular season.
Here's a rating for 2018's Christmas games from lowest to highest
The Bucks have quickly turned it around as they went from one of the most underwhelming teams to best all thanks to a great coaching job by Mike Budenholzer. Giannis Antetokounmpo is having an MVP season so far with 26 points and 13 rebounds per game and the Bucks ability to spread out the floor by making threes at a high level has left opposing defenses scrambling. The Bucks are a threat in the East and Giannis will look for revenge on Mario Hezonja after getting dunked on the last time around.
https://twitter.com/HeartofNBA/status/1069003425994678277
The Knicks have some wins against good teams, but they just seem to have lost to everybody else and can't find any type of consistency although Alonzo Trier was a nice find. The unavailability of Kristaps Porzingis has really killed the excitement around this team and it seems like a bridge year before they land a marquee free agent so they just seem to be playing for a high draft pick. The Bucks should easily find a rhythm and hit a bunch of threes to distance themselves and Giannis should get his revenge on Hezonja so flip to the Disney parade and enjoy that instead of this horrid game.
Prediction: Milwaukee Bucks 100 New York Knicks 75
If Chris Paul was healthy this would be a real marquee matchup as the Rockets were hitting their stride right before Paul strained his hamstring and the Rockets need a primary ball-handler like him in this game. James Harden should get comfortable early hitting his shots and the Rockets will create many three-point shots, but whether they make or miss will determine their outcome. The defense got worst this season so expect to see lots of Harden looking to get teammates comfortable early especially new teammate Austin Rivers and creating fouls so he can help the Rockets keep up on the scoreboard.
Uh oh. Chris Paul leaves the game with a hamstring injury. pic.twitter.com/FncgQwFjzG

— Dime (@DimeUPROXX) December 21, 2018
Russell Westbrook and Paul George are one of the best one-two punches in the league and have been very efficient this year because Westbrook passes to George more to help George out more offensively as he is now averaging 26.2 points and helping the Thunder close out key games. Westbrook does everything else as usual but helping George find his form offensively has taken the weight off his shoulders. Andre Roberson is out, but the younger players are picking up the slack and making up for it by playing hard each and every night and in a matchup that would've been a fun crash course it turns into a one-sided affair for the road team due to better defense and Chris Paul being out so if you like big names it will be the only reason you will tune in.
Prediction: Oklahoma City Thunder 112 Houston Rockets 98
The last game of the night is actually quite an intriguing one as Portland finally seems to have found a cohesive big man and three in Jusuf Nurkic and Al-Farouq Aminu helping the team operate with some swagger. If only they could find some defense because they seem to let everyone have whatever they want on offense. Damian Lillard and CJ McCollum light it up offensively with a young bench that gives solid minutes. The Utah Jazz started out the season slow and haven't quite recovered yet because Donovan Mitchell hasn't been shooting the ball well and the competition in the West is very strong. The role players also don't seem to be playing as great as it feels like they took last season's success for granted.
Here's the thing: statistical ranking systems that take into account the Jazz's schedule so far have them ranked as between the 8th and 13th best team. That's A) disappointing relative to expectations but B) not a huge catastrophe pic.twitter.com/wjEkpaZ8KC

— Andy Larsen (@andyblarsen) December 17, 2018
Portland has such a great offense and the Jazz haven't gotten their defense together yet so expect the Blazers to fill up the basket early and often to run away with this one so it might be a better option to sleep during this game.
Prediction: Portland Trail Blazers 94 Utah Jazz 75
This really looked like a mismatch in the preseason as the Celtics looked loaded and the 76ers really didn't have much but after the Jimmy Butler trade and seeing the Celtics chemistry kinda shaky early it becomes a closer game. The 76ers realized that they didn't have enough early on and made a blockbuster trade for Butler and ever since they have been 13-6 because Butler helps the 76ers win close games with key baskets late. The 76ers are better playing the perimeter game with Joel Embiid and Ben Simmons getting to the rim for easy baskets with their size and speed and they will look to take advantage of Boston's small-ball lineups. The Celtics have a lot of talented players, but there is only one basketball and it doesn't help if everyone tries to play hero ball and shoots unnecessary shots stagnating the ball movement. Kyrie Irving and Jayson Tatum seem to be the only ones being consistent while everyone else shows up one game then doesn't show up the next so you don't know what to expect and the product of most of their good games is the fact that they just played bad teams so they will at least be in this one till the end.
STRAIGHT SHOOTER: Kyrie Irving calls out #Celtics for "some selfish play… I can basically do anything I want out there." Says there's a real lack of cohesion now pic.twitter.com/JXdYTPQ9hs

— Mike Petraglia (@Trags) December 22, 2018
The 76ers are clicking and are juiced up for yet another classic game vs the Celtics and Irving and Tatum will show out, but Butler should hit the key baskets when they matter to help the 76ers edge the Celtics on the road in what should be a very entertaining game and a perfect prelude to LeBron vs the Warriors.
Prediction: Philadelphia 76ers 102 Boston Celtics 99
It's LeBron James vs the Warriors yet again, but this time LeBron dons a Los Angeles Lakers jersey to meet the Golden State in familiar territory. The Lakers haven't been playing very well of late as they have lost three of the last four and let up 105 plus in all of those games, but were without JaVale McGee and will be without him yet again so they must get Ivica Zubac to play well for the third straight game. The defense has to clamp up with the help of Lonzo Ball, Brandon Ingram and Lance Stephenson along with a balance offensively with LeBron James getting help from the likes of Kyle Kuzma, Ingram, Josh Hart, and Kentavious Caldwell-Pope.
https://twitter.com/PrimeJA23/status/1077293799913725953
The Warriors have struggled with consistency so Steve Kerr has been mixing up the lineups so expect some different rotations and more position-less basketball until DeMarcus Cousins starts playing in the rotation. Stephen Curry and Kevin Durant have started to establish a rhythm offensively and they are just unstoppable when that happens, but the ball will swing to the man with the best shot so Klay Thompson will get more shots even though he's taken a backseat because of all the attention that will be on Curry and Durant with Draymond Green setting it all up. This will be yet another legendary showdown between LeBron James and the Warriors and will be can't miss TV, as it could be a preview for the Western Conference Finals, but in this matchup, the Warriors should pull away late with keys baskets from Kevin Durant and Klay Thompson because they are at home.
Prediction: Golden State Warriors 115 Los Angeles Lakers 108
The NBA's 2018 Christmas commercial released just a few days ago.
Expect a fun-filled day of exciting matchups. All games are on ABC or ESPN.
Questions and comments?
thescorecrowsports@gmail.com
Follow Us on Twitter @thescorecrow
Follow Us on Reddit at u/TheScorecrow
Follow Pranav on Twitter @PranavRama1
Main Credit Image: Embed from Getty Images