Mike Quintero | December 24th, 2018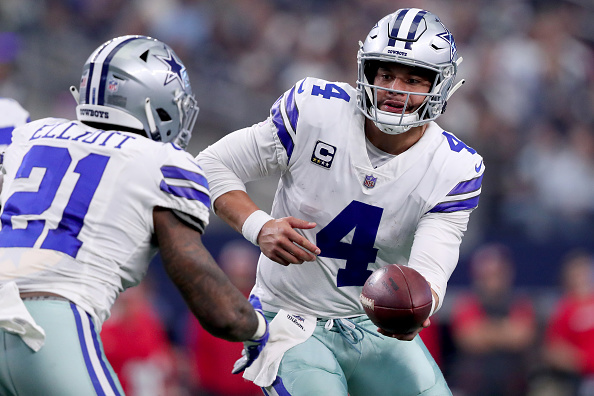 Coming off a week in which The Cowboys were shutout against Luck and The Colts, the boys in blue took advantage of a second opportunity to seal an NFC East Title, taking down Tampa Bay 27-20 Sunday in Arlington.
With this win, Dallas now has a 7-1 record at home with a chance of another home game against Seattle in the Wild Card round.
The defense was the key to this Cowboys victory, as two crucial turnovers proved to be the determining factor in an otherwise steal-able game. The first coming off a forced fumble that was snatched by Jaylen Smith and taken 69 (nice) yard for a TD in the first. Randy Gregory not only forced the first fumble in the game but recovered the second for The Cowboys, setting up the offense for what resulted in a 4-yard TD pass from Dak to Michael Gallup to put Dallas up by 14.
It could be argued that the biggest plays of this game were early in the fourth quarter when Tampa Bay had first-and-10 at The Cowboys 11-yard line. After a Jameis Winston check down to Rodgers for 9 yards, Dallas stuffs The Bucs and catch a fortunate delay of game call after Jameis seemingly ignores the play clock. This puts the 'Boys in a much more comfortable position and allows the pressure to be shifted back onto the Buccaneers offense. The next play presents the audience with an ever graceful Jameis Winston scramble that ends in a turnover on downs.
Winston does find Mike Evans for another touchdown to bring it within seven, but after a failed onside kick, the Bucs chances of coming out of Dallas with a win practically vanished.
The last regular season game will be next week against The Giants, and with a Playoff berth clinched, its time for Cowboys fans to contemplate sitting our starters. Zeke would never ask for fewer touches, but in my opinion, against a weaker Giants team, it wouldn't be a bad idea to give Rod Smith a majority of the touches next week. Look for Dallas to play a typical conservative game, comfortable with a loss, while obviously seeking their 10th win.
Questions and comments?
thescorecrowsports@gmail.com
Follow Us on Twitter @thescorecrow
Follow Us on Reddit at u/TheScorecrow
Follow Mike Quintero on Twitter @MikeInFortWorth
Main Credit Image: Embed from Getty Images