Andrew Harbaugh | December 22nd, 2018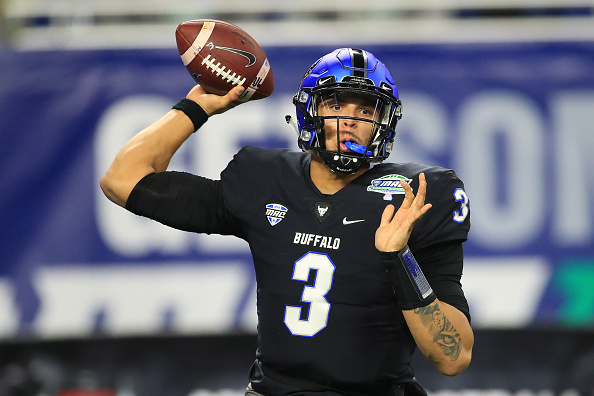 Despite its name being the Dollar General Bowl, there is nothing cheap about this game. Buffalo will be bringing out there very talented duo at quarterback and wide receiver who both rank as top ten prospects at their position. They pack a powerful punch but are up against a severely underrated Troy team with a very good defense to counter the Buffalo offensive firepower.
Buffalo Bulls
Offensive Ranks: 52nd
Defensive Ranks: 31st
Notable Wins: Temple, CMU, Toledo
Key Players: WR Anthony Johnson and QB Tyree Jackson
As I mentioned both players are shaping up to be top ten players at their prospective positions. Tyree Jackson boasts a big body, 6'7" and 245 pounds, and the crazy part with him is he showcases an even bigger arm. He has a less accurate Mahomes arm but the strength is something that his teammate Anthony Johnson has taken advantage of plenty of times this year. Jackson was able to pass for 2,857 yards and find the end zone 27 times but he also threw 11 interceptions. The most alarming number with him, to me at least, is his 55% completion percentage. With an aggressive and dangerous Troy defense watch for his missed throws to turn into turnovers if given the chance.
Now for one of my favorite receivers in this draft class. Johnson has good size, 6'2" and 210 pounds, he has shown breakaway speed at times but what needs to improve his him to show more playmaking ability on his own. Tyree Jackson threw to him open a lot with down-the-field throws. His route running and footwork should get a lot of help at the Senior Bowl in January. As for his stat line, he was able to get 52 catches down from his 76 the year before. He also regressed from 1,356 receiving yards down to 944 this season and he also saw his touchdowns go from 14 down to 11. Despite all this Johnson remains one of the deadliest wide receivers in college football.
Troy Trojans
Offensive Ranks: 79th
Defensive Ranks: 28th
Notable Wins: Nebraska, Lafayette, Georgia State
Key Players: LB Hunter Reese and DB Cedarius Rookard
The key for Troy in this game is containing both Jackson and Johnson on Buffalo. To do that they must get help from there defensive stars in Hunter Reese who is leading the team in sacks and Cedarius Rookard who is leading the team in interceptions.
Reese will be charged with disrupting Jackson and his time he will have in the pocket. He has 7.5 sacks on the year along with 14.5 tackles for a loss. He has shown he can be a disrupter for an aggressive Troy defense.
In charge of covering the ball once it's in the air will be on the shoulders of defensive back Cedarius Rookard. He leads the team in interceptions with four this year but when watching Troy you will notice he is all over the field serving many purposes and patrolling everywhere.
This will be a tale of which teams identity can best the other, will Buffalo's offensive firepower win the struggle or will Troy's defensive prowess emerge with a W. Lots of fun matchups to watch this bowl season and this is one of them!
Questions and comments?
thescorecrowsports@gmail.com
Follow Us on Twitter @thescorecrow
Follow Us on Reddit at u/TheScorecrow
Follow Andrew Harbaugh on Twitter @DHH_Mandrew
Main Credit Image: Embed from Getty Images