Pranav Ramasubramanian | December 22nd, 2018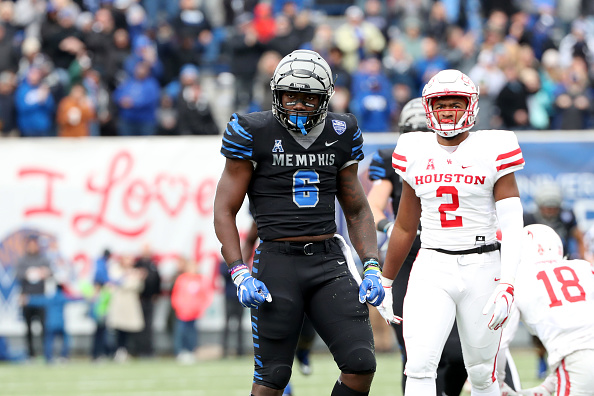 A back-and-forth fun shootout occurred in last year's Birmingham Bowl as it saw Quinton Flowers outduel Nic Shimonek with a last-second touchdown to help USF win it in a game that was up for grabs the whole night.
This year yet again brings together two solid teams in the Memphis Tigers, who are 8-5 and the Wake Forest Demon Deacons, who are 6-6. This should also be very evenly matched in many aspects.
Memphis Tigers
Record: 8-5
Big wins: Houston, UCLA
American Athletic Conference record and ranking: 5-3 in American Athletic Conference and 1st in American West
Strengths
A crucial part to the offense is their running attack with Patrick Taylor Jr., who is going to take primary running back duties in this game so expect him to use his big play-making ability to get Memphis scores or in scoring range. Arizona State has a good quarterback in Manny Wilkins Jr. so Brady White decided to get a chance to play football. He transferred to Memphis to gain two years of football eligibility and won the quarterback competition over David Moore to play quarterback the whole season and his 25 touchdowns and 8 interceptions are impressive considering it's his first full year playing quarterback. He seems to be a good pocket passer and a very accurate one at that so he will need to get the ball out fast against the Demon Deacons pressure. One of Brady White's most reliable targets is Damonte Coxie, whose chemistry with White was really good as he became the only real go-to guy on the team with 66 receptions for 1,104 yards. He should be targeted the most so he has to find a way to shake the coverage and get easy catches to help White establish his ground in the game as Memphis averages 43.6 points per game.
Defensive coordinator Chris Ball has decided to finish off the season with Memphis on Saturday rather heading to Northern Arizona early so expect the defense to play inspired football. They are gonna need to knock the Demon Deacons out of the game early to win.
Weaknesses
The No.1 running back and 2nd leading rusher in the FBS, Darrell Henderson has decided to sit the game out to focus on the draft so they lost a lethal weapon in the running game that had anchored their offense all year with 1,909 yards with 22 touchdowns. There is no replacement for such a play-maker as they are a run-heavy team and now can only rely on one running back to kickstart their offense. Memphis has to find a balance without him or else their offense may not have a flow for most of the game. Brady White has good numbers, but this will be one of the few times this year he will be facing actual good competition as his numbers are just mere products of playing bad teams and he will struggle with the Demon Deacons defense if he doesn't play with the same energy as usual. Kenny Dillingham also leaving for Auburn early is a huge hit for White's confidence as Dillingham developed him all year, which was a perplexing move by Dillingham. The defense is easily one of the worst in the FBS giving up 31.5 points per game and even let up as many as 700 total yards in a single game so the Demon Deacons should easily be able to run their offense today. The Tigers are also ranked 84th in total defense and really don't make enough smart plays to keep other offenses off the field so expect them to get burned on several occasions this afternoon for big plays and touchdowns.
Wake Forest Demon Deacons
Record: 6-6
Big wins: NC State, Duke
Atlantic Coast Conference record and ranking: 3-5 in Atlantic Coast Conference and 6th in Atlantic Coast Conference Atlantic
Strengths
A leg injury knocked starting quarterback Sam Hartman out of action for rest of the season four weeks ago and put Jamie Newman into action but the offense hasn't experienced even a slight drop off because Newman has been throwing the ball well already with 755 yards and 8 touchdowns so expect him to just sling it with tons of confidence today. Jamie Newman can also run on you as he has 156 yards and a touchdown already establishing himself as a dual-threat quarterback and will be a real headache for Memphis when he opens up the playbook. Greg Dortch has also made the passing game lethal as he catches nearly everything thrown to him and just has a knack for being at the right place at the right time so he should easily establish himself in this game against an exploitable Memphis defense.
The Demon Deacons need to have a balance and Cade Carney brings that in the running game as he has put together solid games all year rushing for 900 plus yards in the year with his physical hard-nosed style and should go for 100 plus in this game with his quickness and straight-line running. The Demon Deacons are good at getting easy open field tackles or gobbling up plays within the box because of leading tacklers Justin Strnad and Cameron Glenn, who could give Patrick Taylor Jr. some fits. They also get lots of tackles for loss so they may be getting behind the line of scrimmage early and often to shut down the explosive Memphis offense.
Weaknesses
Injuries are just a killer this late into the season and the injury bug has knocked out key players and solid contributors all season long making the Demon Deacons settle for mediocrity rather than competing for an ACC title and Memphis could attack those tiny gaps to get a little edge. Even their top receivers Greg Dortch and Matt Colburn are questionable with finger and ankle injuries and their unavailability would be huge as the Demon Deacons have no other reliable receivers left without them. The special teams will be lost without Dortch because he has two touchdowns and is the only one with 100 plus yards on special teams. The defense is also bad. They let up 33.2 points per game to their opponents, which is 102nd in the FBS and just didn't have enough to be able to stop them and should surrender tons of points to one of the top scoring teams in the FBS in Memphis. The pass defense is very bad as they gave up a lot of passing yards this year with no discipline and they probably won't have the ability to cover Damonte Coxie, who will burn them all day. It's gonna be a long day for the Demon Deacons defense.
Players to Watch for
Memphis Tigers
Patrick Taylor Jr., RB- He helped Memphis develop one of the best offenses in the FBS with a 100-yard rushing season and is at 1,012 with 15 touchdowns so expect him to get tons of carries and should hit some paydirt. Taylor's immense patience and willingness will be seen as a big plus for scouts. He will get a load of the carries as RB No.1 today.
Wake Forest Demon Deacons
*Some players have been omitted due to availability status
Justin Strnad, LB- An experienced linebacker, who holds his ground and gets to his spots. He limits big plays and diagnoses plays leading the defense. He has done a solid job anchoring the defense with 94 tackles and needs to figure out how to stop Patrick Taylor early.
Cade Carney, RB- A short, but a hard-nosed runner, who will rip off some good runs on the Memphis defense. He could end up like an Andy Janovich if he can produce in this game. He has to kickstart the Demon Deacons defense.
Don't expect any defense in this one as both offenses are more explosive with no defenses and Damonte Coxie will make the extra catches to help Brady White and Memphis pull out a narrow bowl win.
Prediction: Memphis 45 Wake Forest 42
Questions and comments?
thescorecrowsports@gmail.com
Follow Us on Twitter @thescorecrow
Follow Us on Reddit at u/TheScorecrow
Follow Pranav on Twitter @PranavRama1
Main Credit Image: Embed from Getty Images