Pranav Ramasubramanian | December 22nd, 2018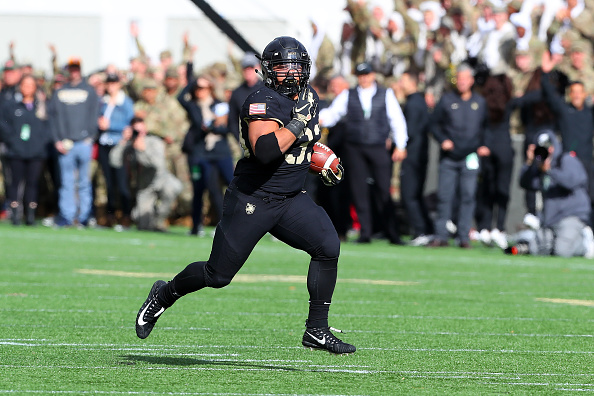 A gutsy call by Jeff Monken to go for 2 and the win paid off last year as Army converted on a two-yard run by Kell Walker to get them past San Diego State in the final seconds in a wild game that featured a lot of scoring.
The Army Black Knights are back yet again at 10-2 but with a new opponent this year in the Houston Cougars, who are 8-4. This should be another very fun and wild shootout.
Houston Cougars
Record: 8-4
Big wins: USF, Arizona
American Athletic Conference record and ranking: 5-3 in American Athletic Conference and 2nd in American West
Strengths
Clayton Tune had to take over as quarterback for the rest of the season as star quarterback D'Eriq King had been knocked out two games ago due to injury and has filled in well with 7 touchdowns even though one of the games was a bad loss and needs to keep the same momentum going. One of the top weapons for Tune is Marquez Stevenson, who has big play ability and great speed racking up the yardage as he has had five 100 yard games in 2018 so expect him to be targeted a lot as he was one of their most reliable receivers. As Tune will look to establish a good flow early he will be handing it off to Patrick Carr a lot, who hasn't hit paydirt much this year, but has produced very well to become a solid contributor and needs to hit 100 plus for Houston to run their offense Saturday. The offense has had great overall numbers all year as Houston has scored 40 points in every game, but the last one and is the fourth best offense in the FBS with 46.4 points per game and they have to keep this pace to win this game.
Houston's defense needs Austin Robinson to be at full strength reading and diagnosing plays to help them blow up plays for losses to limit Army's running game. They can't let Army find any weaknesses in that part of the field.
Weaknesses
The loss of dual-threat quarterback D'Eriq King hurts Houston's run game big time because it would usually open up passing lanes and the offense would flow smoothly, but with Tune, it's harder for him to rein in the offense. King also racked up a lot of touchdowns per game and ended with 14 rushing touchdowns and 36 passing touchdowns for a total of 50 touchdowns. The offense will lose the energy and boost it got from King's amazing ability to spread the ball to different targets. The No.2 receiver Keith Corbin's status for Saturday's bowl game is still up in the air and he may not play to try and keep himself healthy for a possibility of being in the draft so they lose that speed and red zone target as he has the most receiving touchdowns on the team. The offense has been fireworks all year, but the defense has also let other teams hang around too much giving up 34.4 points per game, which is 107th in the FBS and has cost them close games so Army should have no issues executing the gameplan. It won't get any better either as experienced defensive linemen Ed Oliver has been ruled out with a knee injury so they won't be able to get much pressure on Kelvin Hopkins Jr. giving him a ton of time to throw and find open receivers. The defense seems to be too relaxed and not playing with an edge or intensity, which is a recipe for disaster.
Army Black Knights
Record: 10-2
Big wins: Buffalo, Hawaii
Independents
Strengths
Army also has a dual-threat quarterback in Kelvin Hopkins Jr., but the difference here is that he is healthy and has thrown for 6 touchdowns and run for 12. He needs to find the gaps between Houston's hard-nosed linebackers for big gains early to get Army going early. Another key piece in the run attack is Darnell Woolfolk, who is the leading rusher and really helped Army rack up the yardage this season. Expect him to get a ton of carries and to get going early. Army runs a triple-option on offense to wear down the opposing defense and confuses them with different formations averaging 296 yards per game running so look out for that. It should work really well for Army making up for a low-scoring offense.
The defense is one of the best in the FBS ranking 14th and only giving up 18 points per game so if they get off to a good start they may be able to shut down Clayton Tune early. The defense plays as a collective and connected unit that reads and diagnoses plays while helping each other stay in position and following basic fundamentals. This will go a long way in today's game so don't expect to see them out of position too many times. The secondary is also very physical and fast so they should push Houston around a lot.
Weaknesses
The rushing attack is great, but the passing game is non-existent as they haven't generated many yards from it all year and if they get thrown into a sudden passing situation, it could be detrimental. Also, only 6 touchdowns have come via the pass so they will be one-dimensional for most of the game, which means Houston will start clogging up running lanes fast. Difficulties on the road have shown up as both of their losses came on the road to Duke and Oklahoma and they really didn't look like themselves in either game. Hopefully, they can adjust fast in Texas or else it's going to be a long game. The defense also doesn't have that star player to make big plays so if Houston starts rolling, Army will be burned early and often. Army has to keep their head up and keep executing sharply to win this game.
Players to Watch for
Houston Cougars
Marquez Stevenson, WR- He is the No.1 receiver on the team and has 67 receptions for 947 yards and 9 touchdowns so he has vastly improved from last year. Scouts will love his ability to integrate himself into a system fast and he could have a JuJu Smith-Schuster type of impact in the NFL. He needs to show up for the young quarterback to help the Cougars win.
Patrick Carr, RB- One of the reasons behind Houston's great running attack, and he has 816 yard and five touchdowns and has benefitted from more playing time. He finally broke out after two years and may need another year to be polished, but may seize the opportunity to declare early to boost his stock. He needs to play well in his increased role to get the offense going and impress scouts.
Austin Robinson, LB- A big year for him as he had 115 tackles and 13 of them were for loss reading plays before they happened. As he is a linear athlete he is very fast and can use his speed as a way to keep up with running backs and wide receivers. He needs to stifle the Army's running game to help Houston win.
Army Black Knights
Darnell Woolfolk, RB- He is the head of the snake in terms of the running attack with 885 yards and 14 touchdowns helping anchor a great rushing attack. He will have to get going early and needs to be consistent throughout the game to give Army the chance to win. He should declare and NFL scouts will love that he can handle any role well.
Houston has one of the best offenses in the FBS, but that was with D'Eriq King so expect to see a huge drop off and Army's defense should shut down Houston for the most part and gash them with their triple option, but this one will still be very close because of Army's inability to score many points.
Prediction: Army 27 Houston 21
Questions and comments?
thescorecrowsports@gmail.com
Follow Us on Twitter @thescorecrow
Follow Us on Reddit at u/TheScorecrow
Follow Pranav on Twitter @PranavRama1
Main Credit Image: Embed from Getty Images