Justin Bonhard | December 21st, 2018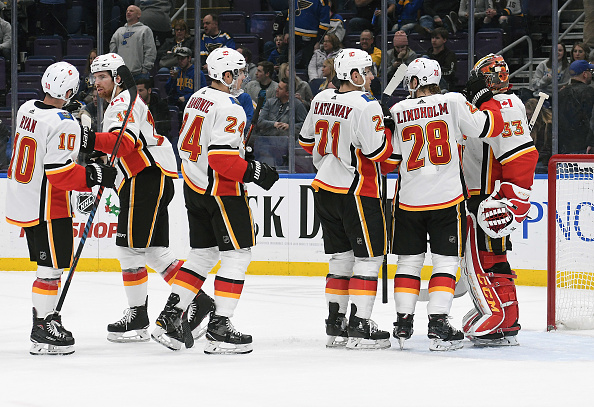 It's no secret that the Calgary Flames are putting together one of their best in franchise history. Or is it a secret that is being kept away in the Pacific division?
Their best season was the 1988-89 season in which they went on to claim their one and only Stanley Cup, and Lanny McDonald finally lifted the trophy. But since then it hasn't been as glorious and gracious for Calgary, with the exception of the immaculate run in 2003-04.
But now, there is something brewing in Calgary that cannot be ignored. The Flames are back and their spark of youth is guiding the way. Johnny Gaudreau, Matthew Tkachuk, Sean Monahan, and Elias Lindholm lead the scoring, and all of them are under the age of 25.
Scoring in Bunches
The Calgary Flames have scored the third most goals in the NHL this season with 122. They have scored in bunches and doing it nightly.
In 22 of the 35 games this season, the Flames have lit up the scoreboard with at least three goals or more. This includes squaring that number to nine against the Vancouver Canucks earlier this month.
The above-mentioned youth movement of Gaudreau, Tkachuk, Monahan, and Lindholm have all scored 15 or more goals this season. That is nearly half of their total goals as a team. From there the goals are coming sporadically but from good places.
Of the eight defensemen that have suited up this season, 17 goals and 67 assists between them. Mark Giordano has been the leader of the defensive core. The 35-year-old has 35 points on the season and leads the team in blocked shots with 62. Furthermore, he is also seeing the ice more than anybody with a little over 24 minutes per game.
Having that kind of production out of the backend helps alleviate the strain of non-productivity from a few forwards. For example, Sam Bennett.
Sam Bennett's woes may be a good thing.
The 2014 fourth overall pick, hasn't exactly lived up to the hype in his first five seasons. This season is looking to be the same but there is an upside. At his current pace, he is projected to contribute 12.4 goals and 12.4 assists for the Flames. This would be one point less than what he contributed in each of the past two seasons, 26.
His overall improvement has been with setting the tone in the physicality department. Bennett is projected to set a career high in hits with 150. Not too bad for a guy that couldn't do a single pull-up at his combine.
Now, more than ever, the Calgary Flames should stop banking on his offensive prowess to come around to be what it was in the OHL. And instead, look to Bennett being a defensive center, that can be as cruel on the defensive end as he is lethal on the offensive end. Right now, Bennett is being used in 55.9% of offensive zone starts, and only 44.1% on defensive zone starts. Seeing a flop between the two may work out better than the current regimen.
Goaltending
David Rittich and Mike Smith have shared the duties so far this season.
Getting more of the load has been 36-year-old Mike Smith. with 19 starts in net, Smith is 11-7-1 with a .888 save percentage.
Smith is in the final season of his 6 yr./ $34 million contract, and his future is unknown. He is among three goaltenders at the tender age of 36, alongside Henrik Lundqvist and Pekka Rinne, but they both save over 91% of the shots they face. Smith does not.
When Smith came over to Calgary, Arizona kept a considerable portion of his contract. In doing so, the only hit the Flames took was that of $4.125 million. Going forward and a new contract looming, it will be more than that. Especially if Smith can eclipse last seasons win total of 25.
Rittich, 26, is in his third season with Calgary. His rookie season wasn't much of anything considering he only saw one period of action.
Last season was split between the AHL and NHL level with having positives on both fronts. As apart of the Stockton Heat, he held a record of 7-5 with a .889 save percentage. In Calgary, he was 8-6-3 with a .904 save percentage and allowed just under three goals a game.
This season, Rittich has been on fire with an 11-4-1 start. During that time, he has stopped .925% of shots faced and has allowed three goals or more in six games this season.
With Mike Smith in the last year of his contract, and at 36, it may be time for Rittich to take his place as starting goaltender. It's early yet, but something to keep in mind going forward. A young forward core up front, a stable defensive top 4, and a young goaltender that could become better with age. The Calgary Flames can contend year after year with the foundation they have built.
Can they be serious contenders for the Stanley Cup?
Absolutely. But they are on thin ice.
Injuries happen in the NHL and in the case of the Calgary Flames, it could cripple them. Outside of the four top scorers on the team, there isn't anyone else that can pick up the slack. Mikael Backlund is the fifth-leading point-getter on the Flames roster with 17 points.
In addition, seeing as though they are in the top spot in the Pacific Division, they stand a very good chance of making the playoffs. Mike Smith hasn't seen that kind of atmosphere since 2011-12 with Phoenix and that was only the second trip to the playoffs in his career. Obviously, Rittich hasn't seen the playoffs yet in his young career.
Getting there will be tough but not impossible, and making it to 16 wins will be much harder. The Calgary Flames have shown that they can be contenders this season, but there's a lot of hockey left to be played.
Questions and comments?
thescorecrowsports@gmail.com
Follow Us on Twitter @thescorecrow
Follow Us on Reddit at u/TheScorecrow
Follow Justin Bonhard on Twitter @justinbonhard
Main Credit Image: Embed from Getty Images