Coach Treal | December 20th, 2018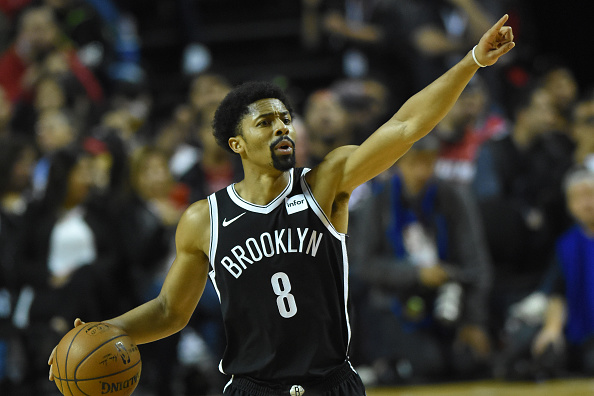 This week's spotlight is shining on a fifth-year pro out of Colorado PG. Spencer Dinwiddie was a Second Round Pick (38th Overall) back in the 2014 NBA Draft by the Detroit Pistons. It has not been an easy road for Spencer up until this point.
The Long Road Back
He was viewed as a potential first-round value back then, but that was cut short as he suffered a torn ACL and missed the rest of the season. He had a long road ahead of him and only saw action in 46 games with the Pistons over two seasons. Then he was shipped off to the Chicago Bulls were he was waived then re-signed and then waived again after playing in five games during the preseason. He was then picked up by the Bulls G-League Affiliate team the Windy City Bulls were he played in 9 games posting 19 ppg, 8 apg & 4 reb. Since he wasn't designated to the team by the Bulls he was free to get signed by any NBA team and that's when the Nets came calling in December of 2016.
This is when things started to change for Dinwiddie and during his first year in Brooklyn he started 18 games and played in 59 total. Then came last season which he took full advantage of his opportunity. He started 58 games and played in 80 total earning him a Third Place finish in the NBA Most Improved Player Award voting. He finished the season averaging 12 ppg and 6 apg.
Paying Dividends
Then came this season and he is having a career year and is now getting serious consideration for the 6th Man of the Year Award. He is averaging 17 ppg and 5 apg and ranks third in scoring amongst bench players behind Julius Randle (Pelicans) 19 ppg and Derrick Rose (TimberWolves) 18 ppg. All the hard work on the court also paid huge dividends off the court as the Nets believed in him so much they reward him with a three-year contract extension worth $34 million with a player option in the third year. This could turn out to be one of the best bargain contracts in the league if he continues his upward momentum and could still set the 25-year-old up for a bigger payday if he outperforms this deal.
I have had the pleasure to follow Dinwiddie through his entire career dating back to high school at Taft and he has always been a player who went about his business quietly. He never comes back after an offseason without something new added to his game. I watched him and his Nets teammates beat the Lakers on Tuesday in Brooklyn where he contributed another solid performance with 18 off the bench and chipped in six assists. In the month of December, he is averaging over 20 ppg and the Nets are currently on a seven-game winning streak with their road win over the Bulls last night which also saw Spencer have another huge night off the bench pouring in 27 points, 6 rebounds, and 3 assists. Even last week Spencer had 39 points in only 30 minutes in a 127-124 win over the 76ers. I have no reason to think his solid play will not continue and carry through the remainder of the season. He will be someone to keep an eye one over the rest of this year and going into next year as the Nets look to get the ship righted and get back into the playoff picture.
Hit me up on Twitter about what Players you think are having a breakout season!
Questions and comments?
thescorecrowsports@gmail.com
Follow Us on Twitter @thescorecrow
Follow Us on Reddit at TheScorecrow
Follow Coach Treal on Twitter @CoachTreal2
Main Credit Image: Embed from Getty Images