Travis Finkel | December 19th, 2018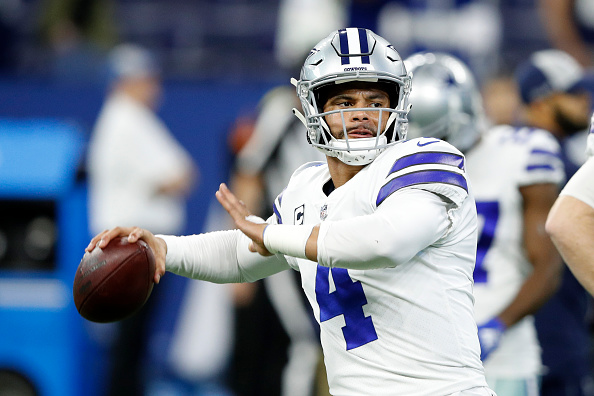 Week 15 was one for the record books. The record books that no one wants to open. Ever. Week 15 was a historically low scoring week in the NFL and if you survived, you better thank your lucky stars because you made it to Week 16. Week 16 is championship week in most leagues and if you're still streaming anything but defenses at this point, you might as well just put all your chips on black and keep it rolling because something has worked wonders to get you here. Week 16 is made for miracles, so maybe some of these suggestions hold just what you need to win the trophy. Make sure to remember exactly what you do on Sunday morning because if you win, you now have a superstitious routine that you have to do forever if you ever want to win again.
Week 15 Recap (.5 PPR)
Dak Prescott: 6.2 pts, 206 yds, 1 INT – Cowboys shut-out by the Colts
Josh Allen: 19.8 pts, 204 yds, 1 TD, 9 rush, 16 yds, 1 TD – Best QB in fantasy right now
Baker Mayfield: 12.1 pts, 188 yds, 2 TD, 1 INT, 1 fumble, 4 rush, 6 yds – Quieter than expected
Chris Herndon: 6.8 pts, 3 receptions, 53 yds – Good matchup against Houston
Ian Thomas: 2.4 pts, 2 receptions, 14 yds – Cam's shoulder is shot but Thomas is still an option
Seattle Seahawks: 4 pts, 1 FR, 3 sacks – Seattle is a much different defense at home
Atlanta Falcons: 22 pts, 2 INT, 1 FR, 1 TD, 7 sacks – Josh Rosen is money for opposing defenses
Mike Badgley: 3 pts
Kenneth Dixon: 5.5 pts, 11 carries, 48 yds, 1 reception, 2 yds – Closer game favored Gus the Bus
DaeSean Hamilton: 8.1 pts, 7 receptions, 41 yds – 7 receptions in back-to-back weeks for the new slot receiver in Denver
Week 16 Streaming Options
Quarterbacks
Dak Prescott – DAL | vs. Tampa Bay Buccaneers
Dak Prescott is the top streaming option, if he is available in your league, against the Tampa Bay Buccaneers at home. This is a great matchup for the fantasy championship, the only issue could be that the Cowboys try to break the single-game rushing record with Ezekiel Elliott.
Josh Allen – BUF | @ New England Patriots
Josh Allen is QB1 in weeks 12-15. If you are still streaming you have to again consider the hottest fantasy quarterback in the game right now. Josh Allen scored 19.9 points this past week and his team only scored 14 points. He was responsible for both of those touchdowns. At this point, Lamar Jackson is Josh Allen lite.
Lamar Jackson – BAL | @ Los Angeles Chargers
In five games as a starter, Lamar Jackson is 4-1 and has not scored less than 15.9 fantasy points. His floor is incredibly high and his ceiling has yet to even be determined because of how raw he is in the passing game. He is a lock for 15 points thanks to his 85.4 rush yards per game over those five games. If he has a rushing touchdown and a passing touchdown in the same game he will likely be in the top 10 at the end of the week. His matchup is tough on the road against the Chargers, but so was playing against Kansas City on the road and that was his second-best fantasy game of the season. Jackson seems unphased by turnovers, critics, and opponents and he can be confidently started as a QB1.
Honorable Mentions: Baker Mayfield (CLE) vs. CIN, Marcus Mariota (TEN) vs. WSH, Nick Foles (PHI) vs. Houston Texans
Tight Ends
Ian Thomas – CAR | vs. Atlanta Falcons
Thomas had a rough game on Monday against the Saints, however, with Cam Newton clearly dealing with shoulder injuries the Panthers will likely get Thomas involved in the intermediate field. He saw four targets against the Saints, but anytime a tight end gets 12 targets in any game as Thomas did in Week 14, he should be featured on the streaming list.
Chris Herndon – NYJ | vs. Green Bay Packers
Herndon is coming off a solid streaming performance against Houston. The Jets offense is showing life by scoring over 20 points in its past two games; against good defenses too. Herndon is one of the last tight ends that you can count on for reliable production, and while it might not be good enough for TE1 numbers, he probably won't lose you the week with a big fat zero or one point.
Honorable Mentions: Gerald Everett (LAR) vs. ARI, Antonio Gates (LAC) vs. BAL
D/ST
Dallas Cowboys | vs. Tampa Bay Buccaneers
The Cowboys defense is good. It's really good. The defense has held its last ten opponents to 23 points or less. That is phenomenal and a big reason why the Cowboys are one of the best football teams in the last six weeks. The defense has at least one turnover per game since Week 9 and hosting Jameis Winston in Dallas offers another great opportunity for a turnover.
New England Patriots | vs. Buffalo Bills
The Patriots need a win and are hosting the Buffalo Bills this week. This smells like a complete domination game from Belichick and the Pats. Josh Allen is very turnover prone as is typical with any rookie quarterback, which gives you a boost in confidence in the Pats' defense. The Patriots do a great job of limiting the opposing teams' playmakers so if Josh Allen is effectively stopped, it could be a long day for the Buffalo Bills and a victorious one for those streaming the Patriots.
Honorable Mentions: Cleveland Browns vs. CIN, Miami Dolphins vs. JAC
Kicker: Jake Elliott | vs. Houston Texans
Deep Boom Flex Plays
Darren Sproles – PHI | RB | vs. HOU
Darren Sproles has played three games since returning from injury and scored in two of those games. Sproles was held out of the end zone in Week 14 but still managed 6.1 fantasy points on three rush attempts and three receptions for 46 yards total. Sproles has three catches in back-to-back games and with Josh Adams banged up, Sproles could be used a lot rushing and as a receiver in a must-win game for the Eagles.
Josh Reynolds – LAR | WR |  @ ARI
Josh Reynolds saw 12 targets last week against the Eagles. That is a ridiculous amount of targets for Cooper Kupp's replacement. The Rams will be in Arizona playing against the Cardinals this week, in a must-win game – if the Rams want to keep hold of their playoff bye. Patrick Peterson, who has been a shutdown corner all year, will be covering Robert Woods and Brandin Cooks most of the game so Reynolds could be open for a big day. Anytime someone gets twelve targets in the Rams offense, they immediately jump into the mainframe of the fantasy radar. Reynolds had a touchdown call reversed last week so that has helped him stay slightly under the radar for this week.
Questions and comments?
thescorecrowsports@gmail.com
Follow Us on Twitter @thescorecrow
Follow Us on Reddit at u/TheScorecrow
Follow Travis Finkel on Twitter @TravisFinkel
Main Credit Image: Embed from Getty Images