Pranav Ramasubramanian | December 19th, 2018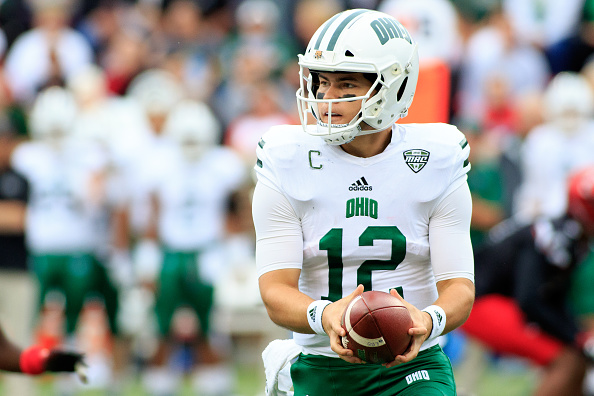 The Frisco Bowl was very unenjoyable last year as Louisiana Tech blew out SMU 51-10 and the game was over at the end of the 1st quarter.
This year brings two different teams to the table in the Ohio Bobcats, who are 8-4 and the San Diego State Aztecs, who are 7-5. This game should be close throughout.
San Diego State Aztecs
Record: 7-5
Big wins: Arizona State, Boise State
Mountain West record and ranking: 4-4 in Mountain West and 4th in Mountain West
Strengths
San Diego State uses their running back to anchor their offense and Juwan Washington is finally back and healthy after an injury limited him so expect to see him hit paydirt a couple of times as he will be fed a lot. The Aztecs averaged 95 yards a game this season. The offensive line is also great paving the way for the running game and jumpstarting the Aztecs offense.
The Aztecs are used to playing in neutral sites in the nighttime so this shouldn't knock them out of their element. The defense has also done a good job against the run holding opponents to just 94.5 yards per game, which is fourth in the FBS. The one flaw was their turnover margin, which was bad at the beginning of the year, but has been fixed so they should be able to play mistake-free football as they have for the last two months.
Weaknesses
Health is a major key and mainly for Juwan Washington, who missed some crucial games down the stretch and even though Chase Jasmin filled in well, Washington brings more explosiveness to the offense. The defense is ranked 20th in the FBS, but as of late, there seems to be a lack of effort as they let their opponents average 26.4 points in the last five games leading to three straight losses. They also have given up 400 or more total yardage in those games and there's just no excuse for that. The linebacking core has to step up because the front seven hasn't been getting the job done lately. The Aztecs closed out games well early, but lately can't do that either as they dropped all of their last three games in the 4th quarter with a chance to still win and just couldn't execute. The quarterbacks have been interchangeable between Ryan Agnew and Christian Chapman and neither has made an impact. The offense is largely one dimensional and predictable, which means unless execution is perfect, Ohio could easily sniff out the Aztecs attack early.
Ohio Bobcats
Record: 8-4
Big wins: Buffalo, Western Michigan
Mid-American record and ranking: 6-2 in Mid-American and 3rd in Mid-American
Strengths
The offense was unstoppable this year as they averaged 41.2 points per game with 208.7 yards in the air and 261.9 rushing yards per game. They really established themselves as a running and passing threat all thanks to Nathan Rourke, who didn't really put up flashy numbers on a game-to-game basis but did end the year with 22 touchdowns and 7 interceptions making sure he kept the team under control and winning games. He also put up 816 yards rushing with 13 touchdowns, which is a number down from last season, but still productive.
Now if Nathan Rourke comes out and doesn't look good then you may see Quinton Maxwell for a couple of series, who showed that he can play tossing four touchdowns in the opener for Ohio before occasionally coming off the bench for starter Rourke. The offensive line helps give the quarterback enough time to throw the ball to his receivers. The rush defense is also good as they were 2nd in the Mid American Conference allowing just 135.8 yards per game.
Weaknesses
The offense may be explosive, but the defense is non-existent for Ohio when it comes to defending the pass as they allowed 263.8 yards on them directly contributing to their losses even though it shouldn't hurt them this week as the Aztecs are a run-heavy team. They also allowed 400 total yards on offense this year to most of the teams they played. That's not good especially when you are making offenses one-dimensional and still giving up a ridiculous amount. It's also alarming that they don't create enough turnovers to flip games to keep their defense from getting tired. The benefit of two capable quarterbacks is good, but it can also kill the flow of the game when you sub in and sub out so Rourke has to come out firing on all cylinders or else subbing in and subbing out may happen, which will turn the game over to their horrid defense. The road struggles are very evident for Ohio as they have lost all four games on the road and looked very out of character on defense and offense other than in their two wins against Western Michigan and Kent State. The Frisco Bowl is in Texas tonight at 8:00pm ET so that could be a major factor to look out for.
Players to Watch Out for
San Diego State
Juwan Washington, RB- He missed all of October with a clavicle injury, but still finished with 870 yards and 10 touchdowns. He won't be declaring for the draft this year as he still has something to prove to the naysayers and might want his degree in his senior season. He is the motor behind San Diego State's offense so he will be used a lot.
Ryan Pope, OT-  He has mostly played as a backup his whole career and doesn't really have impressive knock your socks off stats. What he does bring is size and versatility at 6-7. He also brings stability so he will be on most NFL teams radar.
Kyahva Tezino, LB-  A field general that runs the defense. He had a team-leading 119 tackles, 66 solo and 53 assisted along with 8.5 sacks flying all over the field to stop plays. His ability to see the field so well should be key in a big game like this.
Ohio Bobcats
Papi White, WR- He catches almost everything that's thrown to him and is easily the No.1 receiver on the team. He had 58 receptions for 897 yards along with one rushing touchdown so he will be targeted very often in this game to create diversity in patterns. He will be declaring this year and he's very fast when moving around the field to make up for his small size.
Joe Lowery, OT-  He handles his business very quietly and anchors the offensive line with his big size and great movement to help Ohio's great rushing attack. He stays patient and has battled injury, but has come out strong. His impact will be felt if Ohio's offense starts rolling tonight because of his light feet.
Joe Anderson, OG-  His experience will be something NFL teams will love as he has helped his team consistently for the last four years. He's balanced and not too out of control so he should help a team that needs some holes to open up in the running game. His blocking will be key in tonight's game
A ton of talent across the board so it will be a high-scoring one, but Ohio's passing game should take over in the fourth quarter.
Prediction: Ohio 41 San Diego State 31
Questions and comments?
thescorecrowsports@gmail.com
Follow Us on Twitter @thescorecrow
Follow Us on Reddit at u/TheScorecrow
Follow Pranav on Twitter @PranavRama1
Main Credit Image: Embed from Getty Images