John Wagner | December 18th, 2018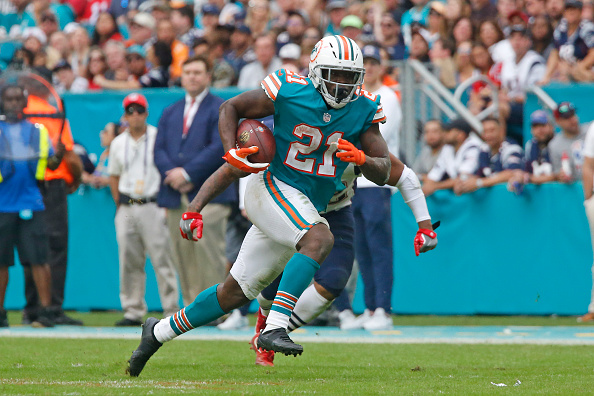 Miami Dolphins running back Frank Gore went down with a sprained foot playing against the Minnesota Vikings, and with the Dolphins on the outskirts of the playoffs (7-7) with only one wild card spot left and three different teams being 8-6 (Tennessee Titans, Indianapolis Colts, and the Baltimore Ravens) It looks like a long shot for the Dolphins to weasel into the playoffs.
Since being drafted in the with pick 65 in the 3rd round of the 2005 draft, Gore has been an underappreciated but very productive running back in the league, while reaching 1,000+ yards in 9 of his 14 seasons. So while not overly productive with only one season reaching 10 touchdowns, he has been soundly productive his entire career while managing a 4.4 yards per carry average. With 3,382 rushing attempts in his career, he ranks 5th all-time with only Emmitt Smith, Walter Payton, Curtis Martin, and Jerome Bettis getting more rushing attempts. All of them are Hall of Famers. In fact, out of the top 14 career attempts leaders, all of them, except for Edgerrin James, are enshrined in Canton other than Gore.
Gore's enshrinement won't be because he was an electric player like Barry Sanders. Not because he could truck anyone in his path like Jerome Bettis. His career will be about fighting for every down, and staying consistent and staying healthy. Let's just talk about the fact that this man hasn't missed since 2011 and while injuries are just a natural part of the game and you can't be knocked for an injury, the fact that Gore has been ready and able to play nearly every single game is a damn miracle and should be treated as such. He ran for 722 yards with a 4.6 YPC at age 35 in a league where most running backs hit the wall at age 30. Since turning 30, he has 3 seasons with 1,000+ yards on the ground. He made statements with his runs up the middle for the dirty yards and getting every yard he could.
The stats speak for themselves and while he has no ring to back up his resume, neither did Barry Sanders or Thurman Thomas or Curtis Martin. The fact that he was productive so late into his career shows what kind of back he was and I think he's a home run if the selection committee gets this one right and votes him in first ballot. I'm not saying Gore will retire after this season but he's talking about a job with the NFL after he retires. He's mentioned signing with the San Francisco so he can retire a 49er, much like LaDainian Tomlinson did when he signed a one-day contract with San Diego so he could retire a Charger. The signs seem to be pointing to him hanging up the cleats and calling it a career. Who can blame him? After 14 productive years with no clear sign of slowing down through it, I don't think there is an NFL fan on earth who would criticize his decision. Let's just hope we get it right and give him his due as a Hall of Famer when he becomes eligible.
Questions and comments?
thescorecrowsports@gmail.com
Follow Us on Twitter @thescorecrow
Follow Us on Reddit at u/TheScorecrow
Follow John Wagner on Twitter @FCS_Wags_
Main Credit Image: Embed from Getty Images