Justin Bonhard | December 17th, 2018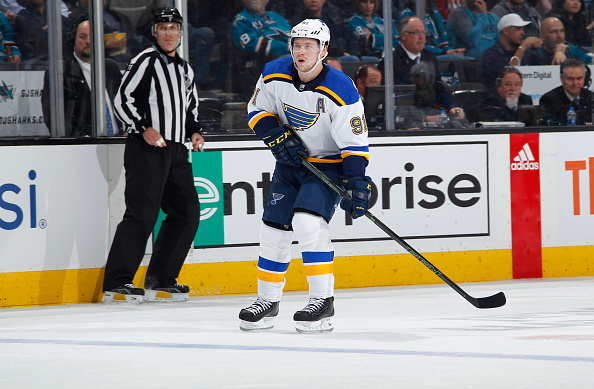 Fights in practice turned into a practice of cuteness for the St. Louis Blues this week. On top of that, a potential fire sale is on the horizon as the NHL season is inching toward February 25.
What exactly is going on with the St. Louis Blues?
Here is Monday, Dec. 10.
We got practice fights in St. Louis.

Things have gone from bad to worse for the Blues.

— Spittin' Chiclets (@spittinchiclets) December 10, 2018
And then Thursday, Dec. 13.
Ruff practice 🏒 #stlblues pic.twitter.com/5czhpopgrc

— St. Louis Blues (@StLouisBlues) December 13, 2018
At 12-15-4 (28 points), St. Louis is dwindling toward matching Chicago at the bottom of the Central division. Obtaining Ryan O'Reilly from Buffalo was a step in the right direction, and it has worked out. But there are still several areas that were in need, but weren't addressed. Aside from ROR, Vladimir Tarasenko was the only other player that could contribute a plethora of points.
Speaking of Tarasenko, his contract will turn to an NTC (No Trade Clause) after this season. Meaning, that if the Blues are in on a rebuild, Tarasenko is more than likely on the move. Many teams are eyeing the 27-year-old, and he makes sense to a lot of them, but staying in St. Louis is unlikely. Trading for a capable NHL Forward, several draft picks over the next two seasons, and getting a team to eat a lot of his $7 million contract would be the right move for St. Louis.
On Nov. 20, Mike Yeo was relieved of his coaching duties after a 7-9-3 start. Craig Berube has taken over with a similar result, as the Blues hold a record of 5-5-1, since.
After the fight in practice between Robert Bortuzzo and Zach Sanford, things now seem to be copacetic. To help with that, their newest member is a puppy named Barclay, who came by practice later this week. Smiles were seen all around, Barclay was chasing the hockey sticks and most importantly, not a single punch was thrown.
A lot has to change for St. Louis to make the playoffs once again. It is looking like it won't be this season, but it could be within a few seasons. Here are some of them.
Taraskenko Must be Moved
It is clear that there needs to be more firepower. At 86 goals this season, they are 28th in the league in scoring. Only two members have double digits in scoring, O'Reilly and Perron, with 13 and 10, respectively.
Tyler Bozak, coming over from Toronto, hasn't panned out as well as expected. at 12 points (3g 9a) in 30 games, he is averaging .40 points per game, the second lowest of his career. The 32-year-old, despite being efficient from the face-off dot, is lacking the ability to score the puck.
Vladimir Taresenko has been known for his deadly accuracy and shot power. He is a frequent visitor of the 30+ goal club, with a tendency to even net 40. But, right now, it will be anyone's guess if he reaches it again. With only 9 goals in 30 games, he is projected to net around 25 goals this season, his lowest since his rookie season in 2012.
It may be best to move on from him now before the NTC kicks in and you can't get anything for him. He isn't on a decline, but his trade value is at the highest of his career.
Moving on from Jake Allen
Jake Allen is another on a laundry list of issues for the St. Louis Blues. He has been a stable goaltender for a number of years, but in order to reclaim former glory, the Blues must move on.
At 10-8-4, his 3.10 Goals Against Average is well above his career average. With the offense struggling to find the other goalies net, it makes sense that if you can't score, to find a capable goaltender to stop the puck. At the end of this season, there are two more years remaining on his 4 yr./ $17.4 million contract.
Going Forward
The St. Louis Blues are going to be interesting to watch. Despite all of the drama and all of the chaos thus far, there is a possibility of upside.
The trade deadline is coming. Moves will be made, and the future of this franchise can be shifted. If the Blues are approaching the possibility of a rebuild, the prospect pool will have to be established. in that event, trading away Tarasenko and collecting a number of picks could be worthwhile.
Ultimately, scoring goals wins hockey games. And as the Blues are approaching the bottom, something has to happen now.
Questions and comments?
thescorecrowsports@gmail.com
Follow Us on Twitter @thescorecrow
Follow Us on Reddit at u/TheScorecrow
Follow Justin Bonhard on Twitter @justinbonhard
Main Credit Image: Embed from Getty Images