Frank Dyevoich | December 16th, 2018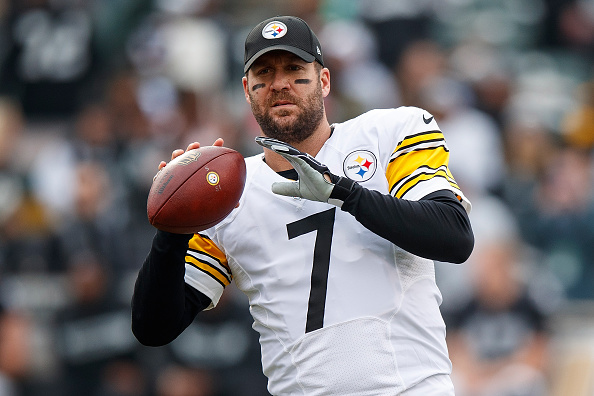 Congratulations if you have made it to your semi-finals and are still fighting for that coveted fantasy football championship. There is only one more week before our championship rounds, unless you play in Week 17, so now is the time to focus even harder and analyze our lineup options with a fine-toothed comb because one wrong move and it spell disaster for everything that we have worked so hard to accomplish this year. The most important rule is not to get cute with your lineups. Last week, Joe Mixon had a tough matchup and Sony Michel had a delicious one, but if you started Michel over Mixon you fell flat. Mixon is a stud and you start your studs. The following start and sit recommendations are based on this week's matchups.
Start 'Em
Quarterbacks:
Ben Roethlisberger vs. NE – Roethlisberger semi-screwed fantasy owners and fully screwed the Steelers last week when he sat out 2.5 quarters against the Raiders due to sore ribs. He came back for what was expected to be the game-winning TD drive only to lose on a botched field goal. He should have come back two or three drives sooner instead of thinking they could steamroll the Raiders without him. Now, the Patriots are coming to town and I can promise you that there is no way he is missing any of this game. Since 2001, the Steelers are 3-11 against the Patriots so if Ben can walk, he will be out there. Further, the Steelers are a laughing stock across the league right now after that embarrassing loss to the Raiders, and there is no better way to legitimize your team than by beating the Patriots in December. Bet the over on this one. Projection: 372 yards, 3 TDs, and 1 INT.
Jared Goff vs. PHI – Goff has been terrible lately, capping it off last week with -2 points. So how can l recommend starting a guy who had negative points in the first week of the fantasy playoffs? Easy, he is coming back home. All of Goff's poor performances this year have come on the road, and in a Jekyll and Hyde sort of way, he lights it up at home. In fact, Goff is averaging over 30 fantasy points per game at home. The Rams are furious after failing to score a single TD for the first time in the Sean McVay era so they are going to want to put on a show for their home crowd on Sunday night and that means fantasy points galore for Goff. Further, he is facing the Eagles who are down to their fourth-string cornerbacks and who just surrendered 455 yards and three TDs to Dak Prescott. Goff has top-five upside this week in this delicious matchup in primetime. Projection: 364 yards, 3 TDs, and 1 INT.
Kirk Cousins vs. MIA – Cousins really flatlined last week against the Seahawks where he had under 30 passing yards going into halftime. After the game, Offensive Coordinator John DeFilippo was fired and QB Coach Kevin Stefanski was promoted. After all of the criticism Cousins and the Vikings took this week, they are going to come out swinging in this "get right" game against the Dolphins, who are allowing the most fantasy points to opposing QBs over the last five weeks and who will be without Pro Bowl cornerback Xavien Howard. I expect the Vikes to go up early and not let up until the final whistle blows. Projection: 310 yards, 3 TDs, and 1 INT.
Lamar Jackson vs. TB – Jackson has been mediocre since taking over as the QB for the Ravens. He has the talent to be extremely explosive and light up the stat sheet, but his passing skills are extremely raw and his rushing has not reached its full potential at 82 rush yards per game. However, if Jackson were ever to have that top-three QB week, it is this week at home against the Buccaneers. The Bucs are near the bottom of the league in total pass defense, rush defense, and fantasy points allowed to opposing QBs. I think this is the week that Jackson finally goes off. It has to be, right? Projection: 179 yards, 1 TD, 2 INTs, 123 rush yards, 2 TDs, and 1 FUM.
Running Backs:
Leonard Fournette vs. WAS – For some reason, fantasy owners have been asking a ton of "Fournette or Player B who is clearly a worse option" questions, and it needs to stop. The Jaguars ran into a buzzsaw last week against the Titans, but that does not change the fact that no RB in the league, except Ezekiel Elliott, sees as much volume as Fournette does. He is a lock for 23-27 touches every week, and this week he gets to gash the Redskins who just allowed Saquon Barkley to rush for 170 yards on 14 carries. The Redskins are bad on all levels of the defense and Fournette is going to eat like he usually does. Don't get cute. He is a rock-solid RB1 this week. Projection: 96 yards, 2 TDs, and 4 receptions for 38 yards.
Doug Martin vs. CIN – Start all the RBs against the Bengals. It is that simple. Martin has at least 16 carries in his last two games, and he has scored a TD in his last three. The Bengals are allowing 26 fantasy points per game to opposing RBs, easily the most in the league so any RB that gets 15+ carries against them is a solid fantasy start. Martin will not go off and win you the week, but he will not crap out on you either. He is a solid RB2 this week. Projection: 79 yards, 1 TD, and 3 receptions for 22 yards.
Tevin Coleman vs. AZ – Coleman has been underwhelming to say the least this season, but he has three more games to impress and show other NFL teams that he can be a starting RB in this league. This week he gets the Cardinals in a juicy matchup at home as the Cards are giving up 24 fantasy points per game to opposing RBs, second-most in the league. Further, Ito Smith is questionable with a foot injury so even if he plays he may be limited. Coleman should see the bulk of the carries this week and he is a solid RB2 with upside. Projection: 74 yards, 4 receptions for 52 yards and 1 TD.
Dion Lewis vs. NYG – Everyone is going to be running to start Derrick Henry after last week's performance, but I think it is Dion Lewis who is poised for a good game this week against the Giants. Since Damon Harrison was traded, the Giants are bottom-ten in the league in rush defense, but it has been the pass-catching backs that have been their kryptonite. Most recently, Tarik Cohen went off for 12 receptions for 156 yards. I'm not expecting Lewis to have the same performance, but the matchup favors him over Henry this week. I'm starting Lewis as a FLEX in PPR leagues. Projection: 51 yards, 6 receptions for 73 yards and 1 TD.
Wide Receivers:
Julian Edelman vs. PIT – Edelman is on fire lately and he is going to continue his elite PPR production against the Steelers. Last week he had a season-high 12 targets, and that number could rise this week with Josh Gordon likely to see most of cornerback Joe Haden. Further, the Steelers have been awful against slot WRs, most recently surrendering 14 receptions for 148 yards and a TD to Keenan Allen two weeks ago. These two teams have a strong rivalry over the past decade and every matchup is must-see TV. This game is going to be high-scoring and as such you must fire up Edelman in all leagues and across all formats. Projection: 9 receptions for 111 yards and 1 TD.
Robert Foster vs. DET – Foster has been a bright spot on the inefficient Bills offense. He has at least 94 yards in three of his last four games, and last week he had a career-high seven receptions for 104 yards on eight targets. Now that Kelvin Benjamin is gone Foster is going to see a floor of six targets a week and he has the speed to take any pass to the house. Further, this week he takes on the Lions who are going to shadow Darius Slay on Zay Jones, which leaves Foster in a plus matchup against literally anyone else. Starting any Buffalo Bill in your fantasy playoffs is risky, but if you need a home run, Foster is your guy. Projection: 6 receptions for 101 yards and 1 TD.
Adam Humphries vs. BAL – The Ravens have shut down opposing WR1s recently, but they are very vulnerable in the middle of the field. It is going to be a tough game for the Bucs, but Adam Humphries should see enough volume to be a solid WR3 play this week. With Winston at the Helm, Humphries has the same amount of targets as Mike Evans and leads the team in receptions, and over his last three games, he has led the team in targets. In this matchup against the Ravens, Humphries should see even more volume considering the Ravens' defense funnels everything to the middle of the field, and he should be started in all PPR leagues. Projection: 8 receptions for 83 yards.
Curtis Samuel vs. NO – Samuel has led the Panthers in targets over the last three weeks, and this week he takes on the Saints at home on Monday Night Football. The Saints are allowing the most fantasy points to opposing WRs this season, and their best cornerback is Marshon Latimore who will likely follow Devin Funchess or D.J. Moore around. This is a must-win game for the Panthers so I expect Samuel to have one of his better games of the year. Start him with confidence. Projection: 7 receptions for 82 yards, 28 rush yards.
Tight Ends:
Jared Cook vs. CIN – Jared Cook is on fire and he gets another juicy matchup to exploit this week against the Bengals. Cook is coming off of back-to-back games with 7 receptions and 100 yards, and he is still the primary passing option for Derek Carr. Trust him as a top-five TE once again. Projection: 8 receptions for 83 yards and 1 TD.
Ian Thomas vs. CAR – Thomas led the team in targets last week with 11 and he hauled in nine receptions for 77 yards. He is finally showing glimpses of his talent and the Packers would be wise to feature him moving forward. Further, Cam's shoulder injury makes it difficult for him to throw deep downfield which has forced him to utilize his receivers within 20 yards of the line of scrimmage, and Thomas runs all of his routes in that zone. I expect Thomas to see double-digit targets again, and if he scores a TD then you struck gold. Projection: 7 receptions for 62 yards and 1 TD.
Defense/Special Teams:
Atlant Falcons vs. AZ – The Cardinals are allowing every defense they face to rack up fantasy points against them. Last week, the Lions were a top-five fantasy defense and they have been awful all season. Do not over think it and fire up the Falcons at home.
Detroit Lions vs. BUF – The Lions are not a very tough defense, but in the right matchup they can come through for your fantasy team. Last week was one of those matchups and they find themselves with another juicy matchup this week. The Bills are amongst the worst teams in the league and they are allowing the second-most fantasy points to opposing defenses.
Sit 'Em
Quarterbacks:
Aaron Rodgers vs. CHI – Rodgers has been off all season, so right away his fantasy owners are nervous about starting him week-to-week (this is why you do not draft QBs early). This week, he faces the toughest defense in the league, the Chicago Bears, and unfortunately for his owners, this game is in Chicago. The Bears just held the Rams to six points and this is their opportunity to make a strong statement that the tides are turning and the Bears are going to run this division for the next decade. The Bears are allowing under 16 fantasy points per game to opposing QBs so even if Rodgers has a decent game, it will be hard for him to finish as a QB1 this week. Projection: 279 yards, 2 TDs, and 1 INT.
Josh Allen vs. DET – Allen has been a top-five QB since Week 12, but all of his stats come from his rushing success as he is averaging over 100 rush yards per game over his last three games. However, this week he faces the Lions who have been absolutely brutal against rushing QBs this season. QBs like Cam Newton, Mitch Trubisky, Dak Prescott and Russell Wilson all failed to reach 20 rush yards against them, and if Allen can't run, he has nothing. Last week, for example, he had zero TDs, threw two INTs and lost a fumble, so if his rushing upside is capped by the matchup, Allen could be a total disaster in your fantasy playoffs. Projection: 171 yards, 1 TD, 2 INTs, 31 rush yards.
Jameis Winston vs. BAL – Winston has been a reliable QB for most of his starts this year, but this week he is going on the road against one of the toughest defenses against opposing QBs. Winston has had the pleasure of facing the 49ers, Panthers, and Saints at home in his last three games, but this game is going to be a rude awakening as the Ravens are only allowing 18 fantasy points to opposing QBs this year. He is going to be sacked a few times, he is going to throw at least two interceptions and his yardage total will one of his lowest of the season. I'm avoiding him in all single QB leagues this week. Projection: 241 yards, 1 TD, 2 INTs, and 31 rush yards.
Cam Newton vs. NO – Newton is fighting his way through a shoulder injury and his performance has significantly waned because of it. Last week, he failed to throw a TD against the Browns, and the week before he threw four interceptions against the Bucs. It is tough to recommend sitting a player with his talent and rushing upside in an excellent home matchup, but this injury is a problem and I can't trust Cam to lead my squad to victory in the playoffs. Projection: 256 yards, 1 TD, 2 INTs, and 39 rush yards.
Running Backs:
Aaron Jones vs. CHI – It hurts my soul to recommend sitting Aaron Jones, but everything about this matchup screams bust. He takes on the Bears in Chicago who are allowing 12 fantasy points to opposing RBs, the Packers' offensive line is significantly banged up, and the Bears just held Todd Gurley to 28 yards rushing. The Bears are going to stack the box against Jones and pressure Rodgers all game so you would be wise to trust safer options in your semi-final matchups. Projection: 53 yards, 3 receptions for 24 yards.
Adrian Peterson vs. JAX – Please do not go chasing the points of Derrick Henry last week and think Adrian Peterson is going to run all over the Jaguars as well. Besides last week, the Jags have been one of the best defenses against the run this year, and recently, the Redskins have been one of the worst rushing offenses. The Redskins entire offensive line is injured and they are starting Josh Johnson their fourth-string QB, so expect the Jags to stack the box on every play against Peterson and force Johnson to beat them. Fantasy owners might still have hope after AP broke off a 90-yard TD run two weeks ago, but he finished that game with 98 yards. AP will be held to under 50 yards this week so get him out of your lineups. Projection: 47 yards.
Marlon Mack vs. DAL – Mack has been a disappointment after his back to back 30-point fantasy performances in the middle of the season, and this week it is not going to get any better. The Cowboys defense is no joke, they are allowing a measly 13.5 fantasy points per game to opposing RBs which is the fourth-best, and if the Colts are going to win this game they are going to have to do it on the arm of Andrew Luck. I like Nyheim Hines more than Mack in this matchup, but both of them are shaky starts. Projection: 48 yards, 4 receptions for 41 yards.
Jordan Howard vs. GB – Howard gave fantasy owners hope last week when he had his first 100-yard performance of the year. However, he has tanked your team all season, and if you are in the playoffs and have Howard on your team it is because you realized you needed to bench him weeks ago. The Bears are also coming off a tough win against the Rams and they want to get Trubisky firing on all cylinders leading up to the NFL Playoffs. I implore you, do not go chasing Howard's production from last week because he is just going to let you down when you need him the most. Projection: 61 yards.
Wide Receivers:
Kenny Golladay vs. BUF – Since Golden Tate was traded, Golladay's production has dipped dramatically. He is the only viable WR on the team and opposing defense know this so they focus their attention on Golladay and force Stafford to use the remaining mediocre talent around him to win the game. Further, this week Golladay will be locked down by TreDavious White who has emerged as one of the league's best shadow cornerbacks. It hurts to say since I have been banging the drum for Golladay all season, but you would be wise to find a safer option to start this week. Projection: 4 receptions for 42 yards.
Alshon Jefferey vs. LAR – Jeffrey has all of the odds stacked against him this week, and the smart play is to fade him in our lineups. He has not been the same WR2 with upside that he was early in the season since Golden Tate came over, and now Nick Foles is starting. Foles was spectacular last postseason, but it took a few weeks for him to find his groove, and the coaching staff's play designs are completely different this year. I expect the Eagles to get completely destroyed in this matchup and fantasy owners should bench every player not named Zach Ertz. Projection: 3 receptions for 26 yards.
Kenny Stills vs. MIN – Stills went off last week, finishing with eight receptions for 135 yards and a TD, but do not go chasing the points. Every week is different and every matchup is unique, and this week Stills will see a ton of Xavier Rhodes. Stills is in for a rough outing this Sunday as the Viking look to right the ship and re-establish themselves as a contender in the NFC. Projection: 4 receptions for 46 yards.
Tight End:
Vernon Davis vs. JAX – Jordan Reed is out, but I am still not trusting Vernon Davis in my fantasy playoffs. Josh Johnson is a complete wildcard, and I expect him to take a ton of shots downfield in a game the Redskin have no expectation of winning. Fade all Redskins. Projection: 2 receptions for 18 yards.
Trey Burton vs. GB – Burton has been a colossal bust this season and he can't be trusted in the fantasy playoffs. Trubisky has not leaned on the TE very much this season, except for the game in New England, and this week he should pick on the Packers subpar cornerbacks leaving Burton begging for targets once again. And once again, he is not going to get the targets and he is going to let your team down. Projection: 3 receptions for 25 yards.
Questions and comments?
thescorecrowsports@gmail.com
Follow Us on Twitter @thescorecrow
Follow Us on Reddit at u/TheScorecrow
Follow Frank Dyevoich on Twitter @Fantasy_Giant
Main Credit Image: Embed from Getty Images