Andrew Harbaugh | December 14th, 2018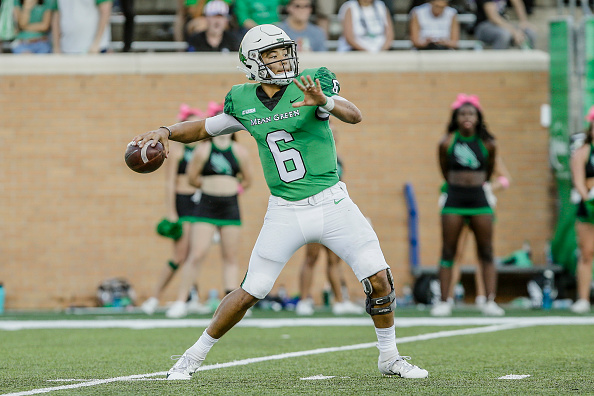 It is finally bowl season! I have to be honest, one of my favorite players in college is in this bowl game and I can almost guarantee you have not heard of him. You also will be introduced to a team that has had a very good but very silent season, so much so their head coach took the Texas Tech job already. The game itself will be between North Texas (9-3) against Utah State (10-2) and should be one of the best games early on in bowl season. So let's dive in, shall we?
North Texas
Offensive Ranks: 15th
Defensive Ranks: 42nd
Notable Wins: Arkansas, SMU, FAU
Key Players: QB Mason Fine and WR Rico Bussey Jr.
Standout Junior wide receiver Rico Bussey Jr. has had himself a tremendous year bringing in 68 receptions, getting 1,017 yards, and finding the end zone 12 times which is good for 7th best in the nation. Bussey has shown he is able to use his big body to his advantage often time "Mossing" opposing defensive backs. He has the ability, by taking advantage of another year with Mason Fine, to entrench his name onto NFL draft boards.
Speaking of Mason Fine, he is the man behind the success of the Mean Green leading the team to much of its success the last two seasons. His quarterback coach Graham Harrell has been very high on his junior quarterback and he should be. He has amassed over 3,700 yards along with 27 touchdowns and has thrown only 5 interceptions. Mason Fine has been my favorite player who no one has talked about this whole year. Going into next year he should start to get some more name recognition. His biggest flaw is his height, listed at 5'10, but his arm strength and athletic ability more than make up for it. He will be a big difference in the game tomorrow for North Texas.
Utah State
Offensive Ranks: 11th
Defensive Ranks: 57th
Notable Wins: Colorado State, Hawaii, Air Force
Key Players: Running Backs Darwin Thompson and Gerold Bright
Thompson and Bright have been splitting the workload for the Aggies this year and with much success. They are a major reason for them being on the brink of having a top 10 offense at there disposal.
Thompson has led the team in rushing by collecting 951 yards on just 132 carries which has him averaging 7.2 ypc. He has also found the end zone a phenomenal 14 times. The junior runner has shown that he can handle a larger workload when given it but with the success of his running mate, he hasn't had to as often.
His running mate is Gerold Bright. The junior from Pensacola has been a welcome complement to Thompson. He has run the ball 125 times, gaining 785 yards, and scoring 8 times. While his numbers are not as impressive as Thompson's, he still shows on film and in the box score, he is a valuable and main component of this successful Aggies offense.
Both teams are offensive powerhouses and don't show much as far as defense, so this should be a good scoring matchup. The over/under is 69.5 and many expect the over to be hit but the biggest X-factor is Utah State losing there head coach Matt Wells who is leaving for the Texas Tech job. With that in mind, I expect them to miss Wells while they find his replacement and Mason Fine and all of the Mean Green will be able to pull the upset against the Aggies.
Check out our other bowl previews | Las Vegas Bowl
Questions and comments?
thescorecrowsports@gmail.com
Follow Us on Twitter @thescorecrow
Follow Us on Reddit at u/TheScorecrow
Follow Andrew Harbaugh on Twitter @DHH_Mandrew
Main Credit Image: Embed from Getty Images