Frank Dyevoich | December 11th, 2018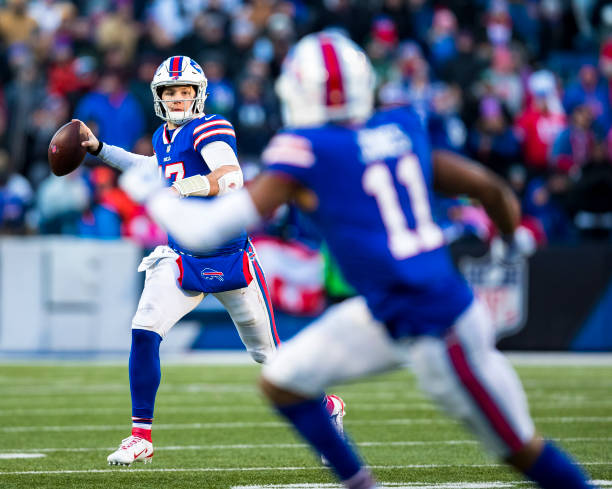 Congratulations if you have made it this far! Many fantasy owners out there have just suffered heartbreaking defeats, so take a minute to enjoy this moment because you have earned it!…. OK, now stop celebrating because that extremely important victory we just pulled out means nothing. It is time to fall back, sharpen our weapons, and add new weapons that will aid us in our victory because if we lose, we die.
Looking ahead to Week 15, it is important to see how much of your Free Agent Acquisition Budget (FAAB) you have left, and even more important to see how much FAAB the remaining teams have left. For example, if you have $7 FAAB left and the three other playoff teams have $0 FAAB left, then you have the pick of the litter. Do not go spending all your FAAB on one player when in theory you can add seven players for $1 FAAB each without worrying that someone else will outbid you. Likewise, if one of the owners has $3 FAAB left then you only have to spend $4 FAAB to guarantee you get that player. Then, you save yourself $3 FAAB for another advantage on the waiver wire next week when you advance. That being said, there are only two weeks left so the only players you should add are players you are going to start or players that the other owners need. The following players are worth adding for the remainder of the fantasy football playoffs and reflect a $100 FAAB.
Quarterbacks:
Josh Allen (BUF) – Once again Allen got it done with his legs rushing for over 100 yards and a TD. Just how valuable is his rushing stats to his overall performance you ask? Well, he lost a fumble, threw two interceptions, and had zero passing TDs and he finished as the QB6 this past week. If he is able to throw a TD or two on top of his rushing stats, then he could very well be the reason you move onto the championship round. He is not worth any FAAB.
Mitch Trubisky (CHI) – Believe it or not, Trubisky was dropped in a ton of leagues when he missed two games with a shoulder injury. This week, it was a blessing in disguise that he had such a terrible performance in his first game back because he is not going to be heavily sought after, and this week he has a very delicious matchup at home against the Packers. He has a ton of weapons at his disposal and I would trust him as a low-end QB1 with upside this week. He is worth $7-11 FAAB.
Derek Carr (OAK) – Only if you are completely desperate and there are no viable options available. This week he faces the Bengals so it is the best matchup possible if you are throwing a dart and praying to get 20 points from your QB. He is not worth any FAAB.
Running Backs:
Justin Jackson (LAC) – Jackson turned in a miserable performance against the best matchup he could have asked for, but we need to go right back to Jackson this week. Austin Ekeler is in the concussion protocol and dealing with both a stinger in his neck and a sprained ankle, and according to Adam Schefter from ESPN, he is "extremely unlikely" to play. Also, Melvin Gordon is still dealing with his sprained MCL and in jeopardy of missing another week which would make Jackson the only RB they have and a must-start in Week 15. He is worth $35-41 FAAB.
Elijah McGuire (NYJ) – Isaiah Crowell was banged up heading into Week 14, and he left the game early, which opened things up for Elijah McGuire to make an impact. He finished with 83 total yards which might not seem very impressive, but the takeaway here is that he saw 20 touches. Further, he is the best pass-catching RB on the roster, which makes him game script proof. If Crowell is out this week, McGuire is a rare workhorse RB just sitting on the waiver wire waiting to be plucked. He is worth $25-31 FAAB.
Kenneth Dixon (BAL) – Dixon burst onto the scene on Sunday finishing with one reception for 21 yards and eight carries for 59 yards. He was much more effective than lead RB Gus Edwards, and Head Coach John Harbaugh already stated that Dixon is likely to see more work moving forward. If Dixon makes it a full-blown timeshare, he has the edge in PPR leagues. We thought Edwards was the Ravens RB that would come out of nowhere to help us win championships, but maybe it's Dixon. Considering the Ravens favorable schedule, Dixon is worth $21-25 FAAB.
Darren Sproles (PHI) – Sproles still looks just as fast as he was five years ago. He is certainly worth an add this week because he sees valuable touches inside the red zone, and further, Corey Clement is going to be out for the remainder of the fantasy playoffs, which opens up the door for Sproles to see more touches. He is not an exciting addition and you certainly hope you do not have to play him, but in PPR leagues he should have a 10-point floor. He is worth $7-11 FAAB.
Damien Williams (KC) – Williams should be added in all leagues as a priceless handcuff or a lottery ticket bench stash. He is the clear RB2 for the Chiefs and the preferred option in the red zone, and he saw the same number of targets as Spencer Ware. He was not productive with his touches this past weekend, but he faced the brutal Ravens defense and still cashed in two TDs on 12 touches. Ware is the RB1 for the Chiefs, but anyone getting 12 touches on this offense is definitely a fantasy relevant player and more valuable than the typical handcuff. He is worth all your FAAB for Ware owners, or $21-25 otherwise.
Wide Receivers:
Curtis Samuel (CAR) – Fortunately, Samuels is still widely available and ripe for the taking in most leagues. He has been the target leader out of all Panthers WRs the last few weeks, and now he faces a Saints secondary that has been allowing supporting WRs to go off against them all season. Samuel is a priority if he happens to be available in your league. He is worth $20-27 FAAB.
Dante Pettis (SF) – Pettis is catching fire at just the right time for fantasy owners. He has four TDs in his last three games, and he does show any signs of slowing down. Last week the 49ers featured George Kittle once again, but Pettis was still the most productive WR on the team. Moving forward, opposing defenses will focus their efforts on taking out George Kittle which will leave Pettis with plenty of one-on-one matchups to exploit. He is worth $16-21 FAAB.
Chris Conley (KC) – Conley must be added in all leagues for the simple fact that Tyreek Hill is fighting through a foot injury. Hill is not expected to miss any time, but if he re-aggravates the injury this week, or suffers a worse injury, then Conley will be the de facto WR1 on the explosive Chiefs offense. He is worth $11-16 FAAB.
DaeSean Hamilton (DEN) – Hamilton took advantage of his starting opportunity in the absence of Emmanuel Sanders and put down seven receptions for 47 yards and a TD. He is the new slot WR for the Broncos, and as such, he has PPR upside with Case Keenum who loves throwing to the slot WR. Considering his 97% snap rate this Sunday, he should give you a decent 10 point floor. He is worth $7-11 FAAB.
Zay Jones (BUF) – Jones has established himself as the WR1 for the Bills, and in their first game without Kelvin Benjamin, he had a team-high nine targets. The downside is that Josh Allen is wildly inaccurate so the quality of targets are going to be low, evidenced by Jones' three receptions on nine targets. However, any WR that sees nine targets a game is fantasy relevant and should be owned. He is worth $7-11 FAAB.
Timothy Patrick (DEN) – Patrick also took advantage of his opportunities in the absence of Sanders. He did not have as many snaps as Hamilton, but he had more targets and more receiving yards so he is definitely worth adding on the chance that he becomes Keenum's favorite target. I prefer Hamilton to Patrick, but it is so close that either one can emerge as Keenum's go-to WR so both are worth adding. He is worth $6-10 FAAB.
Robert Foster (BUF) – Foster has emerged as the deep threat for the Bills and Allen's rocket arm has made Foster a favorite target of his over the past four games, and in that same span, Foster has at least 90 yards in three of them. The important thing to note with Foster is that he finally saw an increase in volume with Benjamin gone. Last week, he had seven receptions for 104 yards, and this week he faces the Lions who will lock Darius Slay on Zay Jones. Foster could be the mystery man that steps up in the playoffs and helps you win a title. It is hard to trust any Buffalo Bills, but Foster has the upside we are looking for this time of year. He is worth $6-10 FAAB.
Jamison Crowder (WAS) – Crowder has been an afterthought this season, but he is finally healthy and making plays. Last week, he saw a team-high seven targets and he should see steady volume moving forward due to the injury to Jordan Reed. Over the last few seasons, Crowder has really broken out when Reed has been injured. Now that Reed may miss the remainder of the season Crowder is primed to be the number one target. He is worth $7-11 FAAB.
Tight Ends:
Ian Thomas (CAR) – Thomas did not look like the same player that he was at the beginning of the year when Greg Olsen was first injured. This time, he looked great off the line and made some tough contested catches. He took advantage of his second opportunity and he delivered with nine receptions for 77 yards on a team-high 11 targets. Further, he will likely be a favorite target for Cam Newton since his shoulder is not 100% healthy and he is struggling with the deep ball. Thomas is a must-add in all leagues considering the horror that the TE position has been this year. He is worth $11-16 FAAB.
Defense/Special Teams: Never spend any FAAB.
Detroit Lions – The Lions have a nice matchup against the Bills this week who are allowing the second-most fantasy points to opposing D/STs
Tennessee Titans – The Titans made a huge statement on Thursday when they destroyed the Jaguars. Their defense forced two fumbles, had four sacks, and allowed under 300 yards of total offense. They face the Giants and the Redskins over the next two weeks.
Seattle Seahawks – The Seahawks defense is finding its groove heading into the fantasy playoffs. They just shut out the Vikings, minus a last-second garbage-time TD, and this week they face Nick Mullins and the 49ers.
Questions and comments?
thescorecrowsports@gmail.com
Follow Us on Twitter @thescorecrow
Follow Us on Reddit at u/TheScorecrow
Follow Frank Dyevoich on Twitter @Fantasy_Giant
Main Credit Image: Embed from Getty Images