Logan Whaley | December 10th, 2018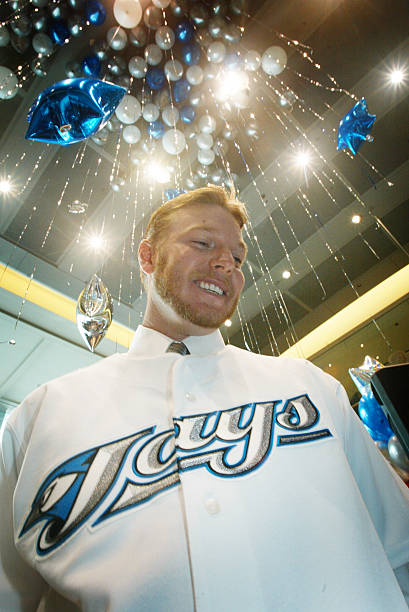 As Major League Baseball Hall of Fame voting is underway, Roy Halladay finds his name listed as eligible for the first time. Halladay will be voted on posthumously after tragically losing his life a little over a year ago in a single-engine airplane crash. How does Halladay stack up to the rest of the list?
History
Roy Halladay was born on May 14th, 1977 in Denver, Colorado. Growing up an avid athlete, Halladay played Little League baseball, Babe Ruth league, and American Legion league. Halladay attended Arvada West High School, in Arvada, Colorado. There, Halladay starred in both baseball and basketball. He attained many accolades including first-team All-Conference as well as selection to All-State for three years and league and state MVP twice.
Halladay found himself selected in the first round of the 1995 Major League Baseball Amateur player draft, number 17 overall. For the record, that year's draft saw names such as Todd Helton, Carlos Beltran, and Kerry Wood selected.
Halladay made his professional baseball debut that same year, at the age of 18, for the GCL Blue Jays. He posted a more than respectable 3.40 ERA across a ten game stretch, where Halladay saw 50.1 innings of work. For Halladay, it would take just two seasons to reach Triple-A. One year later Roy Halladay heard his name called to the show.
Young Beginnings
Halladay was only 21 years old when he made his major league debut for the Toronto Blue Jays. While minor, Halladay's first action with the tip of the iceberg was dutiful. Halladay finished with 14 innings pitched, in two starts, with a 1-0 record and a solid 1.93 ERA.
From there on, the first three seasons of Halladay's young career saw growth, albeit relatively inconsistent. The year after making his debut, Halladay started 18 games, appearing in 36 total games. That year, Halladay finished 8-7 with a 3.92 ERA and a disastrous 5.36 FIP.
The year 2000 was Halladay's worst of his career. Maybe it was post-rumblings about the Y2K threat, or perhaps it had to do with the fact of being only 23 years old. However, Halladay regressed majorly.
His end of year ERA sat at 10.64 ERA while Halladay saw an increase in his FIP, to 6.47. While a positive was the 0.3% bump in strikeout rate, Halladay also experienced a 12.0% walk rate, up a 0.2% tick from the year before. It would be another couple years before Halladay began to catch fire.
One Heck of a Career
It was 2002, and Roy Halladay had notched some willful experience at the major league level. That year, the training wheels came off for Halladay, as he made 34 starts, more than twice as many as the year before. He was finally beginning to fly.
Halladay finished with a ridiculous 19-7 record and 2.93 ERA. Halladay posted an excellent 2.97 FIP and respectable 3.30 xFIP, all good for a finishing 6.8 fWAR. Halladay earned a much-deserved All-Star bid, his first of many.
Over the course of the next decade, Halladay would post a 3.19 ERA across 2,173.2 innings pitched, between the Blue Jays and Philadelphia Phillies. Halladay finished with a career 19.5% strikeout percentage and just a 4.3% walk rate. His WHIP was a solid 1.12 as well as his 3.26 FIP and 3.22 xFIP.
Halladay finished his career with 203 career wins, posting a 3.38 career ERA, 3.39 FIP and 3.23 xFIP, a final total of 65.2 WAR. Eight times across his tenure, Halladay started 30 or more games, reaching a career high in starts in 2003, when he started 36 games.
Regarding his many accolades across his career, Halladay is an 8-time All-Star, a two-time Cy Young Award winner, earning the honor in both the American League and National League. In 2011, Halladay earned the honor for the highest WAR among pitchers. He finished with an 8.3 fWAR. For both 2003 and 2010, Halladay was also named as 'The Sporting News' Pitcher of the Year.'
Halladay's Hall of Fame Case
According to Jay Jaffe of FanGraphs, Halladay does not quite reach the statistical plateau of the average Hall of Fame starting pitcher. He figured Halladay to fall a hair short in both career WAR as well as JAWS, a system developed by Jaffe to determine a players chances at making the Hall of Fame, based on how others who are enshrined performed.
Understanding this does not automatically preclude Halladay from his shot at the Hall of Fame. Halladay is in a prime spot to be selected, even posthumously, into baseball's grand shrine. For starters, Halladay eclipsed the 200+ inning mark eight separate times in his 16-year career. Second, he won 15 or more games eight times, including three 20+ win seasons.
As previously mentioned, Halladay is a two-time Cy Young Award winner, once for each league making it more impressive. His eight All-Star appearances add to the mystique of Halladay's talent throughout his major league career.
Concerning more in-depth stats, there are many which would make him an impressive case. Looking at Halladay's runs across nine innings, he posted a career 3.72 RA9. It takes into count the unearned runs, meaning Halladay allowed under four runs per game throughout his career.
Halladay does have a minor amount of postseason pitching, with an NLCS appearance in 2010 and an NLDS appearance in 2011 when all he did was no-hit the Reds. Across his postseason pitching career, Halladay has a ridiculously low 2.37 ERA in five starts. Halladay pitched 67 complete games in his time in the show and finished with 20 shutouts. Lastly, Halladay crossed the 200 strikeout line five times, with his career high of 220 strikeouts happening in 2011, when he finished with the 2.35 ERA.
Final thoughts
For Halladay, as this is his first ballot, there is an excellent chance of him being elected into the Hall of Fame. Relative to individuals and former players inducted posthumously, 84 players are in the Hall of Fame currently, after being inducted posthumously.
Understanding the corollary of posthumous baseball players and the Hall of Fame, it is difficult to see or even understand the difference between their induction and whether or not it was an advantage for the player in question.
The short answer should be no. Players such as Bill Veeck, Smokey Joe Williams, Cap Anson, and Roberto Clemente are all guys who were posthumous inductions.
As tragic as Halladay's final moments reported to be immediately before the plane crash, seeing Halladay as the sum of the whole and not a piece is essential to whether or not he belongs in the Hall of Fame.
The most direct answer is yes. Roy Halladay belongs in the Hall of Fame, and it will be only a matter of time before his name is called as a recipient for the highest honor in the entire game.
Other articles in our Hall of Fame series: Billy Wagner | Andy Pettitte| Edgar Martinez |Mike Mussina | Todd Helton| Larry Walker | Roger Clemens | Jeff Kent | Fred McGriff
Questions and comments?
Follow Us on Twitter @thescorecrow
Follow Us on Reddit at u/TheScorecrow
Follow Logan Whaley on Twitter @game7magic
Main Credit Image: "Embed from Getty Images