Andrew Harbaugh | December 9th, 2018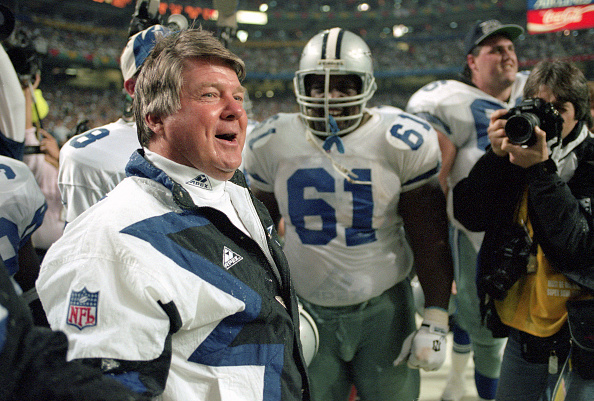 How 'bout them Cowboys! A phrase that has been uttered a million times over and we can thank one slick haired son of a gun named Jimmy Johnson. Jimmy Johnson brought a swagger to the cowboys that they had long been missing. He came in under not the best of circumstances replacing Hall of Famer Tom Landry. That didn't stop him from establishing the Cowboys as a team of the '90s and cementing a place in history. Jimmy has been up for the Hall of Fame on several occasions and this year is no different. He deserves to be there for his work and after reading this he should have your vote as well.
Road to the NFL
Jimmy Johnson grew up in Port Arthur, Texas where he attended and played football at Thomas Jefferson High School later renamed to Memorial High School. After showing excellence on the football field he was able to earn himself the right to attend and represent the University of Arkansas on the gridiron. There he fought in the trenches alongside the future owner of the Cowboys Jerry Jones. The relationship they built would come to benefit them both later down the road.
He entered the 1965 NFL draft only to go undrafted to which point he decided to enter coaching which included stops at several prominent colleges including the University of Miami taking over for Howard Schnellenberger and leading the Hurricanes to an impressive 34-2 record in his final three seasons including one national championship. That was enough for him to catch the eye of his old friend Jerry Jones.
Replacing a Legend
Not only did Johnson face the pressure of replacing the Hall of Famer Tom Landry, but he also was forced with the task of finding his building block for the future. Having the number one overall pick in 1989, he had to nail the pick. Johnson had the choice of a dominant pass rusher from Alabama, a massive offensive lineman from Michigan State, a Heisman winner from Oklahoma State, or a quarterback who had to leave home in Oklahoma to find success at UCLA. He knew based on the success he had at the U, he knew the importance behind the quarterback position so he decided to roll the dice with Troy Aikman.
His first year was one that would make Hue Jackson proud which had lots of growing pains for him and his rookie quarterback. It immediately led to people questioning the firing of Landry and if Johnson made the right decision to leave Miami where he had such a spotless record. He had the belief in himself. He just needed the city of Dallas to be patient, and he planned on testing that patience right away.
The Trade
Many would argue having a Heisman Trophy winner on your roster would be your best piece. In 1989, everyone thought Herschel Walker was the best player on a bad Cowboys team and would be a big reason behind their future success if they were to have any. Jimmy Johnson recognized the value and was able to trade him to the Minnesota Vikings for five players and six future draft picks. Jimmy didn't want to keep the players, as he had said several times over since the trade, so when he cut them they got more pick compensation. He understood the system and on a roster that was so devoid of talent, he needed more valuable players and that's what he saw with those picks.
The end result of the move that saw him trade Walker ultimately landed the Cowboys several top players including Emmitt Smith, Kevin Smith, and Russell Maryland, among others. He changed the way teams and players not only value picks but value players which we still see reflected today in the NFL.
How 'Bout Them Cowboys!
Jimmy Johnson's first two years as Cowboys Head Coach were tough. He accumulated a record of 8-24, in his final three years he was 36-12 and had shown that the patience was worth it for Dallas. He was able to bring a culture and a dominance that the NFL had not seen since the Steelers teams of the '70s, and his teams were just as talented if not more so. With the trio of Aikman, Smith, and Michael Irvin on offense, it showed that his eye for talent would prove to be one of the best. They would dominate the Buffalo Bills in Super Bowls XXVII and XXVIII. Despite those dominant teams and performances, Jimmy Johnson and his old college roommate could not put there differences and egos aside and they had to go their separate ways. Jimmy Johnson announced there was a mutual agreement between him and Jones, but it had been long reported in the Dallas media where Jones was taking credit for Johnson's moves and that the team was so talented that "500 coaches could coach this Cowboys team.."
One Last Stop on the Road to Happiness
Jimmy enjoyed a small break from coaching taking the 1994 and 1995 seasons off, in that time he developed a love for fishing and boating in the Florida Keys. At that same time, the Miami Dolphins were losing a legend of a head coach in Don Shula and they were looking for his replacement. So it only made sense for the man who always replaced legends to take the gig at Miami. It also helped that he had another Hall of Fame quarterback at his disposal in Dan Marino. Johnson would only be coaching in South Beach for four seasons. Even though he led them to the playoffs his final three seasons, Johnson had lost the fire for coaching and it had been replaced with fishing.
Jimmy Johnson can still be seen today working all the NFL on Fox kickoff and halftime coverage shows. The man still has an eye for talent and his hair still hasn't moved. The only thing that should change for him is his spot in the Pro Football Hall of Fame. Johnson has said he would turn down meeting a president to go fishing but I bet he would be willing to dock his boat for the day if it meant he was going to Canton.
Questions and comments?
thescorecrowsports@gmail.com
Follow Us on Twitter @thescorecrow
Follow Us on Reddit at u/TheScorecrow
Follow Andrew Harbaugh on Twitter @DHH_Mandrew
Main Credit Image: Embed from Getty Images