Sean Tafoya | December 8th, 2018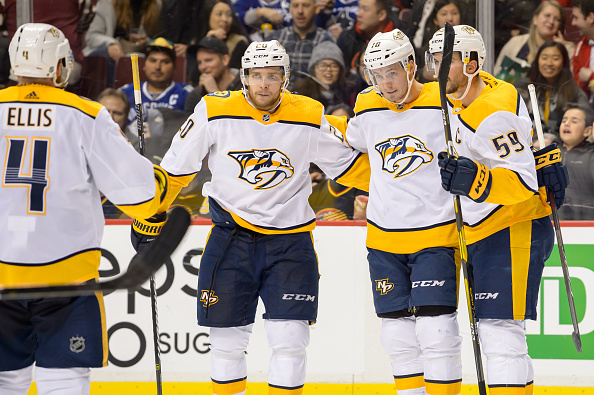 Let's take a look at the NHL's Central Division. Can the Predators stay on top this year? Or will another upstart team knock them down?
St. Louis Blues: What more can you say about the Blues except that the season has not gone the way they expected. The Blues spent the offseason retooling the roster with the additions of Ryan O'Reilly, Patrick Maroon, and David Perron. This team had its sights set on a return to the playoffs a year removed from missing out at game 82. O'Reilly leads the team with 28 points and Perron has been bested by only Vladimir Tarasenko and O'Reilly with 16. The Blues have had their season derailed however by guys not being able to stay in the lineup and they have been bit hard by the injury bug. Robby Fabbri, Carl Gunnarsson, Erik Foley, and Jaden Schwartz have all missed significant time this year and continue to remain out. As if that wasn't bad enough they lost Alexander Steen and Alex Pietrangelo in the span of 24 hours and are not expected to get them back until after Christmas at the earliest. Still, the Blues sit 9 points out of a playoff spot with two games in hand. If this team gets healthy they can make a run and at the very least, they are too talented to stay in the cellar for the whole year.
Chicago Blackhawks: How the mighty have fallen. I think it's safe to say the Blackhawks, currently sitting in last place, and their dynasty can be put to bed. Many were expecting a bounce-back year, but the roster is not there. They are currently ranked dead last in the NHL in goal differential, although the Corsi stats suggest the team will get better, but they are in a rough stretch after starting the year hot, they have dropped 16 of their last 19 games. Still, much like the Blues, they sit just ten points out of a wild-card spot before Christmas. Corey Crawford and the defense needs to be better as Cam Ward and Crawford have a 3.91 and 3.22 GAA respectively. The signings of Chris Kunitz and Brandon Manning look not so great right now. The team has already let go their head coach in Joel Quenneville. They are lead by a trio of scorers; Patrick Kane with 32 points, a young Alex DeBrincat with 22 and Jonathan Toews who is quietly having a bounce-back year with 24 points. They could put things together if the defense shores up and it's worth noting they have cap space to play around with if they want to make a splash at the deadline.
Minnesota Wild: The Wild currently sit just four points out of the final playoff spot. They have played 29 games, which is the third-lowest of any team in the Western Conference. The goaltending tandem of Devyn Dubnyk and Alex Stalock has been fantastic both goalies posting sub 3 GAA and plus .900 save percentages. Mikael Granlund, Mikko Koivu, and Zach Parise have combined for 73 points on the season and they have gotten depth scoring from Charlie Coyle, Jason Zucker, and Jared Spurgeon. With an always solid blue line, the Wild are quietly one of the most well-rounded teams in the NHL it would not be surprising to see them make a run at the central this year.
Dallas Stars: Anton Khudobin may have been one of the best offseason acquisitions in the NHL offseason. The Stars have been one of those teams that seemed to be good goalie play away from being cup contenders. They may have finally found that this year. Ben Bishop and Khudobin have been outstanding and a team with 2 MVP caliber players in Tyler Seguin and Jamie Benn can never be counted out and it seems like they have placed a stellar supporting cast around them. Currently sitting in the WC1 spot in the conference they are one point behind Winnipeg and in a competitive division, they are a team poised to make some noise.
Winnipeg Jets: Winnipeg is a city no stranger to great Finnish players. This time they have traded out their Finnish Flash for a Finnish Phenom in Patrik Laine who has turned into the player we all expected him to be in the best way possible. He is currently leading the NHL in goals at 21 and has his team in the Central Division's 3rd spot. With the best American goalie, Connor Hellebuyck they have maybe the deepest roster in the Central Division. Blake Wheeler, Bryan Little, Mark Scheifele, Kyle Connor, Nikolaj Ehlers, Tyler Myers, Dustin Byfuglien are just a few of the great pieces in place. The list goes on and on and moving through a whole 82 game stretch and through the playoffs, a team that can beat you with all 4 lines is a dangerous one. That is what I think the Jets have here. Make no mistake, they will be a force to reckon with and they will make noise.
Colorado Avalanche: The best line in hockey belongs to the Avalanche in Mikko Rantanen, Nathan MacKinnon, and Gabriel Landeskog. Those 3 have combined for over 120 points already on the young season. Rantanen and Mackinnon are one-two in points, with this occurrence being the first time two Avalanche have led in the category since the early 2000s. Looking at the Avalanche as a team, they are just flat out good. This season was going to tell us if this team was a one year fluke or if they were for real. They are for real and they are young and they are only going to continue to get better. They have a host of phenomenal under 25 players like Mackinnon, Rantanen, Nikita Zadorov, Tyson Jost and Samuel Girard. The sky is the limit for this team. Oh yeah, and they still have Ottawa's first-round pick in the upcoming draft. If Semyon Varlamov and the team can stay healthy this year, there is no reason to not look at the Avalanche as serious cup contenders for now and years to come.
Nashville Predators: The reigning division champs and the reigning President's trophy winner has a ton of talent and a lot of swagger. They are currently first in the Central and tops in the whole Western Conference. They are led by superstar P.K. Subban who continues to dazzle night in and night out. Not to mention how deep and well rounded they are. If the Jets aren't the deepest team in the Central then the Predators are. They currently have 14 players with double-digit point totals. All but 3 players on the current roster have added a goal this season and Pekka Rinne is once again a Vezina trophy front-runner. A 1.96 GAA and a .930 save percentage is going to get it done and then some. The old saying is goaltending wins championships and Nashville have one of the best in the game. They have been top dogs the last 2 years and there is no reason to believe they will not be there when all the dust settles. After getting bounced in the playoffs in the 2nd round last year, this could be the year the put it all together.
Questions and comments?
thescorecrowsports@gmail.com
Follow Us on Twitter @thescorecrow
Follow Us on Reddit at u/TheScorecrow
Follow Sean Tafoya on Twitter @sean_athan
Main Credit Image: Embed from Getty Images