Frank Gulino | December 8th, 2018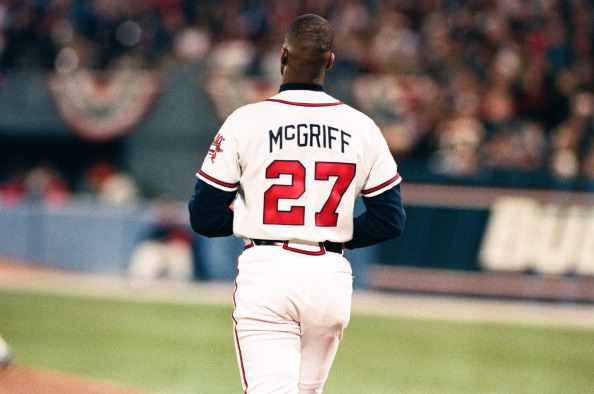 By the mid-1990s, Fred McGriff seemed destined for enshrinement in the National Baseball Hall of Fame. When "the Crime Dog's" contract was purchased by the upstart Tampa Bay Devil Rays in November of 1997, more than four months before the franchise played its first Major League game, the tall first baseman with the helicopter follow-through boasted one of the most prolific resumes in baseball.
Fred McGriff had already won a home run title in each league, made four All-Star teams, hit 30 or more home runs in seven consecutive seasons, and led the Atlanta Braves to a World Championship. Although McGriff would remain a characteristically productive middle-of-the-order bat for another five seasons, being the model of consistency quickly became overshadowed by the eye-popping numbers of a new brand of baseball that saw single-season home run totals regularly topping 50, 60, and even 70. Now, as McGriff appears on the Baseball Writers' Association of America Hall of Fame ballot for the 10th and final time—and as questions continue to swirl regarding the propriety of those 60- and 70-homer campaigns that made McGriff's numbers appear so unduly small—it is more critical than ever that the Writers take a close look at the highly deserving candidacy of one of the game's most consistent and understated run producers.
The Model of Consistency
Originally a 9th-round pick by the New York Yankees in 1981, McGriff broke into the Major Leagues with the Toronto Blue Jays, appearing in three games in 1986 before clubbing 20 homers—then a Blue Jays rookie record—in 1987 as the lefty component of a designated hitter platoon with Cecil Fielder. The following year, The Crime Dog hit 34 home runs, the first of seven straight (and ten total) seasons in which he would hit 30 or more. McGriff won his first home run title in 1989, pacing the American League with 36 homers and a .924 OPS. He also drew a career-high 119 walks, won his first Silver Slugger award, and garnered his first of six top-10 finishes in MVP voting.
From there, McGriff's run production was like clockwork. After winning his second home run title with the Padres in 1992, The Crime Dog was traded in 1993 to Atlanta, where he would bat cleanup for his entire tenure. McGriff's outstanding 1994 campaign—famously cut short by a players' strike in August that canceled nearly two months of the regular season and the entire postseason—remains one of the biggest "what-ifs" in baseball lore, as writers continue to bemoan the fact that he finished his career with 493 home runs, just seven shy of the magic plateau that, until recently, all but guaranteed a plaque in Cooperstown. Although he was far from being the only player whose efforts were frustrated that year—Tony Gwynn was making a run at batting .400, Matt Williams was on pace to break the single-season home run record, and the Montreal Expos had the best record in all of baseball—McGriff certainly has the distinction of having his Hall of Fame candidacy adversely impacted by the strike more than anyone else. McGriff put together a remarkable season, batting .318 with a 1.012 OPS and taking home All-Star Game MVP honors. Yet the strike still looms large as voters continue to seize on the seven-homer shortfall. The Crime Dog was on pace to hit another 14 or so homers before the end of the '94 season.
By the late 1990s, McGriff was still a virtual lock for 30 homers and 100 RBI year in and year out. Thanks to characteristically productive years from the Devil Rays' inaugural campaign in 1998 through his lone full season with the Chicago Cubs in 2002, McGriff became the first player in baseball history to crush 30 or more homers in a season with five different teams. By the time he announced his retirement in early 2005, McGriff had compiled an impressive career that embodied consistent offensive production as few others had in the sport. In addition to a .284/.377/.509 slash line, McGriff collected 2490 hits, 493 home runs—tied with Lou Gehrig for 28th on the all-time list—1550 RBI, and 1305 walks, while appearing in 2239 games at first base. He appeared in five All-Star Games, won three Silver Slugger awards, and hit over 200 home runs in each league during a 19-year career in which he averaged 32 homers and 102 RBI per 162 games played.
The consistency of his production is remarkable—perhaps historically so. In the mold of Hank Aaron, McGriff maintained those gaudy 162-game averages without the benefit of a single monstrous season. While he topped 30 homers ten times, the Crime Dog never hit more than 37 in a year. Similarly, while he broke the 100-RBI plateau eight times, he never drove in more than 107 runs in one season. For nearly two decades, baseball fans and front offices were all but guaranteed a productive season out of the big slugger from Tampa, who also compiled a .302 batting average and .917 OPS over the course of 50 postseason games. Any argument that McGriff's inclusion in the Hall of Fame would somehow reduce it to the "Hall of Very Good" necessarily overlooks the value of his consistently high level of play and ignores the fact that his career statistics compare very favorably to a number of sluggers that already have plaques in Cooperstown.
A New Brand of Baseball
While McGriff continued to produce into the early 2000s at the steady clip we had all become accustomed to, a new brand of baseball emerged, one that seemed to rewrite the record books almost every season. In 1998, 37 years after Roger Maris clubbed 61 homers to set a new single-season record, two hitters surged past the mark that had stood since 1961. Mark McGwire's 70 home runs became the new gold standard, while Sammy Sosa enjoyed his first of a record three separate seasons in which he would hit 60 or more. Unlike Maris's record, which stood for nearly four decades, McGwire's record was toppled just three years later, when Barry Bonds hit an astonishing 73 homers.
During a 2001 season that saw Bonds set new single-season records in home runs, walks, and slugging percentage, four different players cracked the 400 total base plateau. To put that in context, only four 400-TB seasons occurred during the 60-year stretch leading up to 1998's famous home run chase, while there would be six more from just 1998 through 2001.
The Crime Dog meanwhile hit 31 home runs and drove in 102 while batting .306 with a .930 OPS, authoring a 2001 season that looked very much like his dominant years with the Blue Jays and Padres. In 1991, the fourth of his seven consecutive top-four finishes on the league home run leaderboard, McGriff's 31 homers trailed NL leader Howard Johnson by 7. In 2001, however, his 31 homers were less than half of the Major League lead, trailing Bonds by 42, Sosa by 33, Arizona's Luis Gonzalez by 26, and Texas's Alex Rodriguez by 21.
Although McGriff's power numbers appeared to be dwarfed by the tremendous offensive output of the late '90s and early '00s, the legitimacy of many of those titanic seasons has been called into question. The Writers have widely declined to support many of that era's most prolific sluggers on their Hall of Fame ballots—even hitters who handily reached the magic plateaus of 500, 600, or even 700 home runs—for reasons ranging from alleged steroid and growth hormone use to corked bats, lying under oath, and pre-humidor Coors Field.
Like a machine, McGriff continued to produce near the level he always had, even as trades, free agent signings, and an expansion draft saw him suit up for 6 different franchises during his career. As the Writers have made a point of not rewarding players who availed themselves of certain pharmaceutical advantages, they have failed, conversely, to reward the clean players—such as Fred McGriff—who compiled extraordinary numbers without ties of any kind to performance-enhancing drugs. On one hand, many of the most prolific hitters of the late '90s and early '00s have been penalized for the use, alleged or otherwise, of performance-enhancing substances; on the other hand, clean players like McGriff have also been penalized for not stacking up well against the artificially inflated offensive output of this new brand of baseball. It would seem we can't have it both ways.
If there is support among the Writers for the notion that PED use detracts from one's Hall of Fame case, the converse ought to be true as well. We owe it to ourselves—and to the game—to recognize that the otherwise impressive statistics of some indisputably clean players may appear artificially depressed by the inflated power numbers of an era at saw Sammy Sosa hit 60 or more homers three times without even leading his own league in homers during any of those three seasons.
Hall of Fame Comparisons
Despite hitting as many home runs as Lou Gehrig while maintaining the same lifetime batting average as Ken Griffey Jr., McGriff's support on previous Hall of Fame ballots has been lackluster. Even given the fact that his OPS+ is artificially weighed down by the questionably huge offensive output occurring around him during latter part of his career, the Crime Dog's lifetime numbers compare favorably to a number of baseball legends who already have plaques in Cooperstown:
| | | | | | | | | |
| --- | --- | --- | --- | --- | --- | --- | --- | --- |
| Player (Sorted by OPS) | Hits | BA | HR | RBI | BB | OPS | OPS+ | WAR |
| | 2232 | .282 | 475 | 1540 | 937 | .889 | 147 | 57.5 |
| | 2490 | .284 | 493 | 1550 | 1305 | .886 | 134 | 52.6 |
| | 2351 | .297 | 379 | 1365 | 588 | .849 | 133 | 50.2 |
| | 2304 | .318 | 207 | 1085 | 450 | .837 | 124 | 51.1 |
| | 2383 | .300 | 169 | 1304 | 1018 | .834 | 124 | 55.3 |
| | 2774 | .279 | 438 | 1591 | 589 | .806 | 119 | 64.8 |
| | 2732 | .279 | 379 | 1652 | 925 | .804 | 122 | 54.0 |
Even among Hall of Famers who did break the coveted 500-homer plateau, McGriff stacks up well against many of the all-time greats on the this list, with his rate stats at or near the top of every category:
Had McGriff played the remainder of the 1994 season, he likely would have finished with a career home run total somewhere between that of Eddie Murray and Eddie Mathews. It would seem flawed to argue that a player so clearly cut from the same cloth as these already enshrined sluggers should be denied entry to the Hall of Fame.
Conclusion
Fred McGriff was a feared slugger and consistent run producer throughout a career that saw him take 350 different pitchers deep in 43 different ballparks. He hit the first home run in the history of Toronto's SkyDome and earned MVP honors with his game-tying blast in the 9th inning of the 1994 All-Star Game before leading the Atlanta Braves to a world championship the following season. Indeed, performing in the clutch was nothing out of the ordinary for the Crime Dog, who hit .303/.385/.532 in the postseason and .361/.381/.608 with the bases loaded during his career.
We should not allow the tremendous accomplishments of this great baseball player to be so overshadowed by the artificially eye-popping numbers of the late '90s, or so adversely affected by the work stoppage that almost certainly deprived him of the opportunity to reach 500 home runs. For nearly two decades, managers penciled Fred McGriff's name in the cleanup spot on their lineup cards as opposing pitchers, one after another, were stunned by his ability to drive the ball out of any part of the park.
McGriff was just as good a player in 2001 as he was when he became the first player since the Dead Ball Era to win a home run title in each league, and the numbers plainly bear that out. Unfortunately, by 2001, baseball's attention had become entirely consumed by the spectacle of pharmaceutically enhanced single-season home run totals that even the likes of Babe Ruth and Hank Aaron never approached. As the Writers continue to question the legitimacy of those seasons, they should look critically at McGriff's understated career and make room on their ballots in this, his final year of eligibility, to vote for one of the most consistent hitters to ever play the game.
Other articles in our Hall of Fame series: Billy Wagner | Andy Pettitte| Edgar Martinez |Mike Mussina | Todd Helton| Larry Walker | Roger Clemens | Jeff Kent
Questions and comments?
thescorecrowsports@gmail.com
Follow Us on Twitter @thescorecrow
Follow Us on Reddit at u/TheScorecrow
Follow Frank Gulino on Twitter @notgaetti
Main Credit Image: Embed from Getty Images