Kit Shepard | December 7th, 2018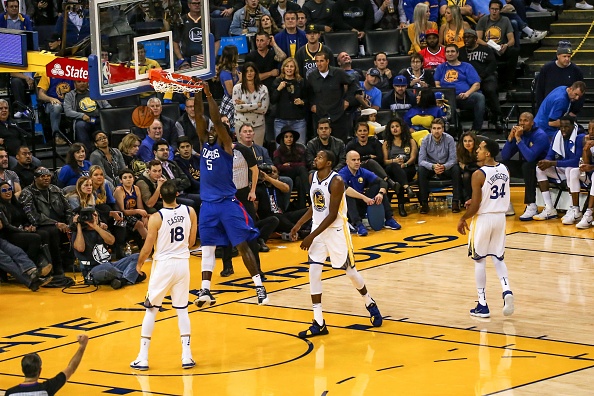 If it is possible for an NBA conference to be drunk (and hey, this season has not exactly been short of bizarre moments), then the West, in all its drama and unpredictability, is absolutely plastered at the moment. With a mere 6.5 games separating the top fourteen teams, everyone besides the pitiful Phoenix Suns look set to contend for the eight postseason spots. There have been shocks galore and, with the standings so close, almost every game out west is highly-entertaining.
And at the top of any Western Conference must-watch list is the Los Angeles Clippers. Prior to this campaign, they seemed destined for the lottery but, behind superb scorer Tobias Harris, fearless closer Lou Williams and the presence of several capable role players who can be relied upon on a nightly basis, the Clippers sit third in the West with a 16-8 record, just a game of the one-seed. Undoubtedly, Los Angeles' unexpected success has been a team effort. Yet despite this, there is one player who epitomizes everything that is great about the post-Lob City Clippers, and he does not get talked about enough.
Montrezl Harrell is not exactly a household name. Drafted in the second round by the Houston Rockets in 2015, nobody anticipated stardom for the power forward out of Louisville. After an uneventful couple of seasons in Texas, he was sent to the Clippers as part of the Chris Paul trade and now, in his second season in LA, has become one of the NBA's best bench players, simply by trying hard.
Skill and finesse are not words one would associate with Harrell's game. In many ways, he is out of touch with the modern NBA; he does not shoot threes, he is probably more effective when the pace is slower and, rather than coasting through the regular season, he plays with maximum intensity every night.
The 24-year-old, although he is slightly undersized at 6'6″, dominates in the paint on both ends. Amongst forwards who have come off the bench in ten games or more, he ranks fourth in offensive rebounds, first in blocks, and first in free throws attempted. He tallied his career high former employers the Rockets last October with 30 points, but his performance two weeks later against the high-flying Milwaukee Bucks was the best illustration of what Harrell brings to the Clippers.
In this encounter, an overtime buzzer-beater by Williams sealed victory for the Clippers, and deserved plaudits for the reigning Sixth Man of the Year but, in reality, Harrell was the reason why LA won. He scrapped and yelled his way to 26 of the most unglamorous points imaginable, but it was exactly what he is team required.
It is impossible not to like Harrell's game. As fans, we are often critical of players who do not appear to give their all, believing that if we had the talent to play in the NBA, we would put in maximum effort every night. This is what Harrell does: every possession is the decisive one in his mind, and his team-mates and the Clippers crowd feed of his endless energy.
Equally, Harrell knows his role on the team and rarely lets his uncensored passion force him into rash decision making. He attempts just 9.4 field goals a night and shoots 64.6%, indicating that he rarely gets carried away. Admittedly, his free throw percentage (62.9%) needs a little work, especially considering how often he gets to the line. Nevertheless, like the rest of the Clippers, Harrell obediently sticks to a system which has transformed the team into one of the best in the West.
Harrell goes beyond playing in this system, he perfectly represents it. This season, he has overcome external doubts by leaving nothing in the tank, ignoring individual success, and openly enjoying his time on the court, which is exactly what the Clippers have done. Doc Rivers' side boasts no true star (even Harris is an outside chance at best to make the all-star team) and, with LeBron James now in town, have seen their status as Los Angeles' unfashionable team reaffirmed. Regardless, they have at least ten players who understand their role and seem to get excited when they play with each other. There is no clear weak link on the roster, while their clear desire to work hard for one another has been vital to their excellent record to date, and Harrell is the driving force behind this.
Obviously, it remains to be seen whether the Clippers and Harrell can continue to upset the apple cart. While they may be one game behind the first seed, they are also three and a half games away from dropping out of the playoffs entirely, such is life in the chaotic West. That being said, there is no reason why they cannot keep this up. Harrell and the Clippers understand that they are not the most talented team in the league by any stretch of the imagination, but they might be the most resolute. While you cannot control whether your shots fall or if referee calls go your way, the Clippers do not rely on what they cannot influence. Instead, they seem to understand that they have complete autonomy over their attitude and that any team in the league can become the hardest working. Harrell personifies this better than anyone and, while it may not be the most enthralling watch, it is highly effective.
Can Harrell fully establish himself as the league's best off-the-bench big? Can the Clippers make a deep run in the playoffs? Both would have been considered unprecedented a couple of months ago, but this NBA season has revealed that we should expect the unexpected.
Questions and comments?
thescorecrowsports@gmail.com
Follow Us on Twitter @thescorecrow
Follow Us on Reddit at u/TheScorecrow
Follow Kit Shepard on Twitter @KitShepard Main Credit Image: Embed from Getty Images