Frank Dyevoich | December 4th, 2018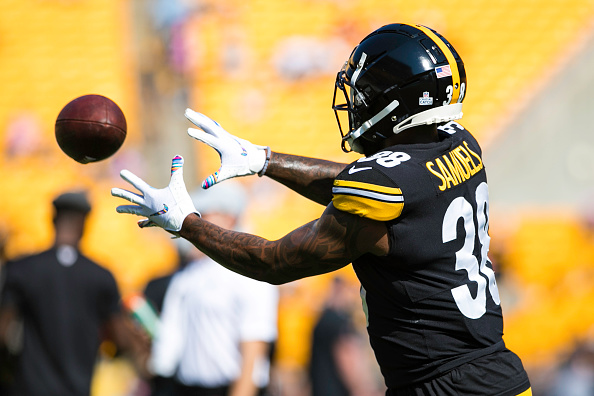 This season was one for the ages. I have been playing fantasy football since 2003 and I can safely say that 2018 was the craziest one yet. Whether you drafted Le'Veon Bell number one overall, or Leonard Fournette at the back of the first round, or if you were lucky enough to buy into the Phillip Lindsay hype after Week 1, no one can say that this season was not exciting.
Now it is time to rise up and claim what is rightfully ours. We have crawled through the mud, battled in the trenches and given our blood, sweat, and tears to emerge victorious. We have lost some soldiers along the way, but we will honor their memories with our championship. Rest assured, their sacrifices will not be in vain.
Ok, now that we have reminisced a little, it is back to business. You have three weeks left until you can claim your title and the only ones standing in your way are your league mates. Now is not the time to relax, because your team can always be better. That being said, there are no more bye-weeks, so it is all hands on deck and there is no time for anyone that is not going to help you win a title. Spend your Free Agent Acquisition Budget and make those claims because there are still some available players worth adding. The following waiver wire pickups are based on a $100 FAAB.
Quarterbacks:
Mitch Trubisky (CHI) – Check your waiver wire for Trubisky because he was dropped in a ton of leagues after missing the last two weeks with a shoulder injury. Trubisky has been a high-end QB1 this season and is due back this week, and he should maintain his QB1 ways against the Rams, the Packers, and the 49ers. He is worth $25-31 FAAB.
Josh Allen (BUF) – Allen is not going to do you any favors with his arm, but he is the RB1 for his team and can certainly produce a 20 point fantasy day when you need it most. Lamar Jackson is widely regarded as a back-end QB1 because of his rushing, but the thing is Josh Allen has 234 rushing yards over the last two games compared to Jackson's 146. If you do not have a rock-solid QB1, then Allen could give you that high floor that you desperately need. He is worth $11-17 FAAB.
Running Backs:
Chris Thompson (WAS) – Thompson was disappointing in his first game back this week, but the Redskins will now be starting Mark Sanchez at QB due to the fractured leg of Colt McCoy. This means that the Redskins are going to be an extremely run-heavy offense moving forward, and Chris Thompson will see a lot of work in the check down game when they are trailing. He has RB2 upside in PPR. He is worth $7-11 FAAB.
Rashaad Penny (SEA) – Penny seems to be coming on once again, and he needs to be owned due to the volume of RB touches in Seattle and the fact that their RB usage is completely unpredictable. If Penny has another good outing in Week 14, then he could find himself leading the backfield heading into Weeks 15 and 16. He is worth $10-14 FAAB.
Jaylen Samuels (PIT) – Samuels is going to be the RB1 for the Steelers on Sunday to the lower leg injury to James Conner. Samuels is a must-add in all leagues because Conner has already been ruled out this week, and the Steelers routinely produce RB1 stats. Samuels is a great pass catcher and will be heavily utilized in the red zone, and if you play in Yahoo leagues he gives you a ton of roster flexibility because he is eligible as a TE. He is worth all your FAAB if you own Conner and $20-25 if you don't.
Justin Jackson (LAC) – Jackson emerged as the best healthy RB on the Chargers on Sunday night. His counterpart, Austin Ekeler, was only able to muster 21 yards on 13 carries, and the Chargers' lack of a run game was the primary reason for their first-half struggles. When Jackson's number was called in the second half, he burst onto the scene with eight carries for 63 yards and a TD. He looked explosive, elusive and powerful, and as long as Melvin Gordon is sidelined, Jackson is the fantasy RB1 on the Chargers. He is worth all of your FAAB if you own Gordon and $30-40 FAAB if you don't.
Jeffrey Wilson (SF) – Wilson balled out on Sunday in place of a banged-up Matt Breida to the tune of 15 carries for 61 yards and eight receptions for 73 yards on nine targets. Kyle Shannahan is capable of making any RB productive in his zone-blocking scheme, and this week Wilson is going to be the man again. Matt Breida was already ruled out so it's the Wilson show this Sunday. He is worth all of your FAAB to Breida owners and $25-31 FAAB otherwise.
D'Onta Foreman (HOU) – The Texans have finally activated Foreman from the Physically Unable to Perform list and he is eligible to play this week. Foreman is a powerful runner with excellent burst for his size and the Texans would be wise to get him involved sooner rather than later. Lamar Miller has been doing well over the past few weeks, but other than one 97-yard run he has been just average. If Foreman starts where he left off before the injury, he could be the RB! On this team heading into Week 16. Add him now before he becomes next week's most popular add. He is worth $5-11 FAAB.
Theo Riddick (DET) – As long as Kerryon Johnson is sidelined, Riddick can be started in all PPR leagues. He is routinely second in targets on the team, and quick route running and reliable hands make him a deadly weapon in the red zone. Even when Johnson returns, Riddick should still have a 10-point floor in PPR. He is worth $6-11 FAAB.
Kenneth Dixon (BAL) – Well folks, the Alex Collins bust season is officially over since he has been placed on Injured Reserve. In his stead, Gus Edwards has taken over the backfield, but Kenneth Dixon returned to action on Sunday and is certainly worthy of bench stash on an RB-needy team. He came in and averaged over 4.0 yards per carry, and we know from years past that he has excellent receiving skills. His role moving forward is uncertain, but Edwards has been banged up, and if he were to miss any time then Dixon would be an RB2 with upside. He is not worth any FAAB.
Wide Receivers:
Adam Humphries (TB) – Adam Humphries is a PPR machine. Except for one game with Ryan Fitzpatrick, Humphries' big games have come with Jameis Winston. He is the apple of Winston's eye and will average between 7-9 targets per game moving forward. Due to the historically bad Buccaneers defense, they will usually be in catchup mode, and as such, Humphries should see mostly positive game scripts. He is worth $21-26 FAAB.
Curtis Samuel (CAR) – Samuel burst onto the scene with 11 targets on Sunday. D.J. Moore is still the WR1 for the Panthers, but Samuel has surpassed Funchess on Cam Newton's list of favorite targets. The Panthers face the Browns, the Saints, and the Falcons over the next three weeks so Samuel is an excellent addition for the final stretch. He is a bit risky, however, as the week prior he had two targets, but he is too talented and too explosive not to be involved against the weak defenses upcoming. He is worth $15-21 FAAB.
John Ross (CIN) – After years of waiting, it looks like Ross might finally be a thing at the end of 2018. A.J. Green just underwent season-ending surgery on his injured toe so Ross is once again the WR2 for the Bengals. He is arguably the fastest player in the NFL so if the Bengals make a conscious effort to get the ball in his hands, he could win you a week and save your playoffs. Do not play him in Week 14 until we see how well he plays with Jeff Driskel, but add him this week in case he goes off. He is worth $7-12 FAAB.
Dante Pettis (SF) – Pettis has stepped up in the absence of Marquise Goodwin and Pierre Garcon, and his recent production has him firmly in the WR3 conversation. Nick Mullens has locked onto Pettis and we as fantasy owners need to recognize these trends and adjust accordingly. Pettis has eaten into the production of George Kittle recently, and if Mullens makes a primary target shift from Kittle to Pettis, then Pettis is going to pay huge dividends to his owners. He is worth $11-15 FAAB.
Tight Ends:
Chris Herndon (NYJ) – Everyone on the Jets had a poor outing on Sunday, but Herndon still garnered six targets. He has now been targeted 22 times over the last four games, and he is an especially useful target in the red zone. It is wise to avoid playing any Jets of you can help it, but Herndon is at least seeing enough targets to be stream worthy over the next few weeks. He is not worth any FAAB.
Ian Thomas (CAR) – Thomas is now the TE1 for the Panthers in the wake of the season-ending injury to Greg Olsen. Considering Olsen's age and his injury history, there is a strong likelihood that the Panthers move on in the offseason. As such, they would be wise to involve Thomas more over the next few weeks in order to see if he can be the TE of the future. He is worth $5-8 FAAB.
Defense/Special Teams:
New England Patriots – The Pats are finding their stride just in time for the playoffs. This week they face the Dolphins, and the Pats historically destroy the Dolphins. They are an excellent defensive play this week.
Los Angeles Chargers – This week the Chargers play the Bengals. Need I say more? Ok, I will. The Chargers are on fire right now and the Bengals are surrendering sacks and turnovers to all who face them. This game is going to be a blowout and as such, the Chargers are the best streaming option this week.
New York Giants – The Giants showed up big time on Sunday, forcing several turnovers and scoring a defensive TD against Chase Daniel and the Bears. This week they face Mr. Buttfumble himself, Mark Sanchez. There should be plenty of turnovers to go around.
Questions and comments?
thescorecrowsports@gmail.com
Follow Us on Twitter @thescorecrow
Follow Us on Reddit at u/TheScorecrow
Follow Frank Dyevoich on Twitter @Fantasy_Giant
Main Credit Image: Embed from Getty Images