Brendan Abban | December 4th, 2018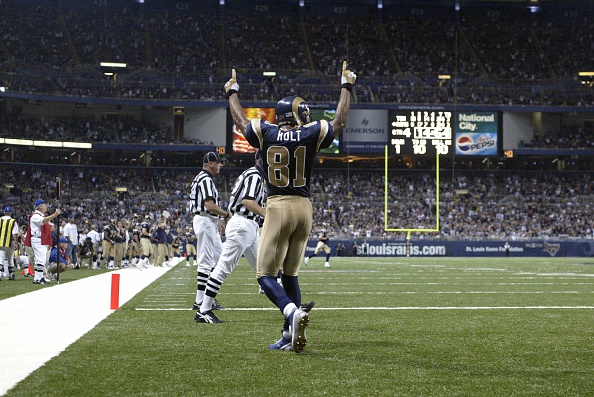 Torry Holt is one of the best to ever line up at the wide receiver position and is a semi-finalist to be inducted into the 2019 class. Is his case strong enough for him to get in this go around?
The NFL recently announced the 25 modern-era semifinalists for the 2019 Hall of Fame class. One of those semi-finalists being former St Louis Rams wide receiver Torry Holt. Holt has been a semifinalist five times from 2015-19. Every player hopes to get a gold jacket once their career is over, and Holt is no different.
An Impressive Resume
Holt put together a Hall of Fame-worthy career resume during his 11 years in the NFL. He spoke to that point during a sit-down with Sports Illustrated in 2015:
"I played the game for 11 years, I felt like I played it at a very high level for all those 11 years."
At the end of his career, he had 920 receptions, 13,382 receiving yards, 74 touchdowns and averaged 14.5 yards per reception. He was a seven-time Pro Bowler and an All-Pro once. He was also a key component to  "The Greatest Show on Turf" which won the Rams lone Super Bowl in franchise history.
Holt led the league in receiving yards twice and had over 1,000 receiving yards in eight straight seasons. As a result, he was always a threat when lining up on the field. His level of consistency made him a dependable receiver with multiple quarterbacks.
Holt saw success when playing with Hall of Fame quarterback Kurt Warner.  From 1999-2001, Holt was averaging 71.7 receptions, 1,262 receiving yards and 6.3 touchdowns under Warner. He also saw success with Marc Bulger.
Holt was averaging 93.4 receptions, 1,267 yards and 7.9 touchdowns under Bulger. He was the primary receiving option on teams that featured Hall of Fame candidate Isaac Bruce and Hall of Famer Marshall Faulk.
Question Marks
His time playing alongside Bruce is one of the reasons Warner believes neither has made it into the hall yet. Warner said on the Rich Eisen Show:
"Those guys sometimes cross each other out instead of being able to set them aside and say ok lets just look at how great this guy was."
Holt discussions do normally end up tying into the rest of that offense which subtracts from his individual acclaim. However, his role in the Rams lone Super Bowl win is not a topic for debate.
The leadership and favor he had with teammates will help his case getting into the hall. While the numbers may speak for themselves, stats themselves will not get someone in. Everyone knows this to be true after Terrell Owens delayed induction.
He does have competition at the receiver position in Bruce his former teammate and two-time Super Bowl champ Hines Ward. However, Holt has the accolades to stand toe-toe with any of the semifinalists when push comes to shove.
The Hall of Fame is a wild card that no one can predict, but Holt has done his part to better his odds.
Questions and comments?
thescorecrowsports@gmail.com
Follow Us on Twitter @thescorecrow
Follow Us on Reddit at u/TheScorecrow
Follow Brendan Abban on Twitter @AbbanBrendan
Main Credit Image: Embed from Getty Images