Frank Dyevoich | November 24th, 2018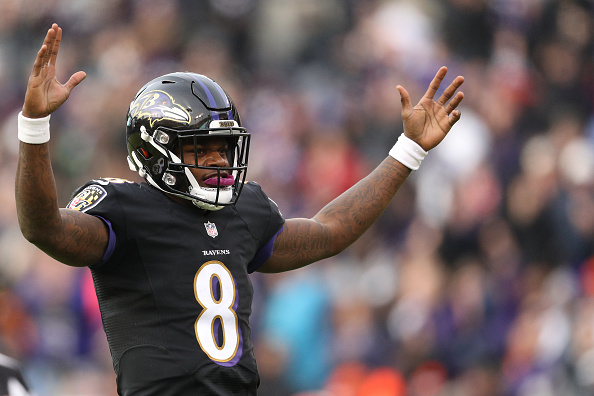 This is the most crucial week in the fantasy football regular season. Teams are hanging on, fighting and clawing their way to be in playoff contention, and many teams will be eliminated if they lose this week. That being said, it is more important than ever to make the right calls in your lineups. One wrong move could be the difference between going home with your tail between your legs and contending for glory as your league's champion. The following start and sit recommendations are based on this week's matchups.
Start 'Em
Quarterbacks:
Jameis Winston vs. SF – Winston is back at the helm for the Buccaneers and I think it is finally his job for good. The Bucs need to know if Winston can be their franchise QB or if they should be looking to move on. This week he faces the 49ers who have allowed an average of 22 fantasy points per game to opposing QBs. Winston has great receiving weapons and should attack this defense for at least 25 fantasy points. Further, this game has the highest over/under out of the remaining games to be played Projection: 345 yards, 2 TDs, 1 INT and 31 rush yards and a TD.
Lamar Jackson vs. OAK – Jackson gets another start against another horrible defense and he should be in most of your lineups. Jackson is a threat for 100 rushing yards every week, and as a QB, anything you get in the passing game is just gravy. Further, the Raiders are amongst the worse defenses against QBs and RBs, so due to his rushing, Jackson is can't-miss this week. Projection: 186 yards, 1 TD, and 123 rush yards and a TD.
Carson Wentz vs. NYG – Wentz had his worst performance of his career last week, finishing with 0.8 fantasy points. However, prior to last week, Wentz was top-five in fantasy points per game since he returned, and this week he faces the Giants who allowed Wentz to have his best game of the season back in Week 6. Look for Wentz to get back on track this week in this divisional rivalry at home. Projection: 310 yards, 3 TDs, 1 INT and 22 rush yards.
Nick Mullens vs. TB – This play is mostly for deep leagues and daily fantasy sports (DFS). Mullens has been better than advertised when he has time to sit in the pocket and read the field. Going against the Bucs, he should not face much pressure which should lead to another productive day for Mullens: Projection: 245 yards and 2 TDs.
Running Backs:
Gus Edwards vs. OAK – Edwards came out of nowhere last week to drop 115 yards and a TD on the ground. He is a bruising downhill runner out of Rutgers and he should carry the load again this week versus the Raiders, who have given up on the season. Over the last four weeks, the Raiders have allowed an opposing RB to score a TD, rush for 100 yards or both. Look for Edwards to continue where he left off and fulfill his prophecy of being 2018's random Ravens' RB to come out of the woodworks and help you win a title. Projection: 96 yards and 1 TD.
Matt Breida vs. TB – Breida has a firm grasp on the RB1 role for 49ers since Raheem Mostert went on Injured Reserve. He is being used as an every-down workhorse and he must be started as such until he gets injured. Given his size, it is unlikely that he holds up for the remainder of the season, but while he is Kyle Shanahan's RB1 he is a must-start until that happens. Further, the Bucs are allowing 23 fantasy points to opposing RBs, the sixth-worst defense against the position. Projection: 83 yards, 1 TD, and 6 receptions for 59 yards.
Marlon Mack vs. MIA – This is Marlon Mack week. He has been outstanding since winning the RB1 role for the Colts, and this could be his best game of the season. The Colts should be up early in this game and Mack should be heavily utilized in the second half to kill the clock. Further, the Dolphins are atrocious at defending opposing RBs, allowing 100 yards or a TD or both in 10 out of 11 weeks. Last week, Aaron Jones went off for 145 yards and two TDs on only 15 carries and Mack could see similar production in Week 12. Start him everywhere. Projection: 116 yards, 1 TD, and 4 receptions for 39 yards and 1 TD.
Josh Adams vs. NYG – Adams has been slowly emerging in the Eagles' backfield and this week could be the breakout we have been waiting for. He is averaging 6.1 yards per carry this season, and this week he should finally see the volume we have been hoping for. The Giants have been terrible against the run since they traded Damon "Snacks" Harrison, and last week they let Peyton Barber rush for over 100 yards and a TD, the third straight RB to do so. Look for Adams to be a rock-solid RB2 with upside this week. Projection: 103 yards, 1 TD and 2 receptions for 21 yards.
Elijah McGuire vs. NE – The Patriots are going to come out of their bye-week guns blazing and the Jets will once against be starting Josh McCown. In a game that should get out of hand quickly, Isaiah Crowell will not have many opportunities to stumble forward for a couple of yards which should lead to plenty of volume for McGuire. Further, the Jets need to know if McGuire can be their RB of the future so he should see plenty of volume moving forward. Projection: 62 yards and 5 receptions for 41 yards and 1 TD.
Wide Receivers:
D.J. Moore vs. SEA – Moore broke out in a huge way last week with seven receptions for 157 yards and a TD. He is an explosive rookie who is finally getting his chance to shine, and he should continue turning heads this week versus Seattle. The Seahawks' defense has been better than expected, but they have allowed double-digit PPR points to eight receivers in their last four games. Further, Devin Funchess is banged-up and may miss this game in which case D.J. Moore would be in line for an even larger target share. Projection: 6 receptions for 97 yards and 1 TD.
Doug Baldwin vs. CAR – Baldwin is finally healthy and playing like the high-end WR2 he was drafted to be. Last week he had 10 targets, and he should continue his late-season surge this week against the Panthers. Carolina has struggled mightily with slot receivers this season since James Bradberry does not follow opposing WR1s into the slot. I expect another high-volume afternoon for Baldwin this week. Projection: 7 receptions for 69 yards and a TD.
Adam Humphries vs. SF – Humphries has been a huge surprise this season in PPR leagues, and now with Jameis Winston back at the helm and O.J. Howard placed on Injured Reserve, his target volume should increase even further. Look for Humphries to get 7-10 targets this week against the 49ers. Projection: 7 receptions for 81 yards.
Danny Amendola vs. IND – Amendola is a PPR machine. He has at least five receptions in five straight games, and he is one of only two healthy WRs on the Dolphins. Further, the Dolphins are going to be trailing early in this one so they will have to have a heavy-passing attack if they are going to compete. Look for Amendola to top double-digit PPR points this week. Projection: 7 receptions for 74 yards.
Tight Ends:
Cameron Brate vs. SF – It time to make fantasy football Brate again. O.J. Howard has been placed on Injured Reserve, and as such, Brate is going to be an every-down TE moving forward. If that wasn't enough, Jameis Winston has always had a strong connection with Brate. I like him to be a weekly TE1 from here on out and it starts this week.  Projection: 6 receptions for 62 yards and 1 TD.
Vance McDonald vs. DEN – McDonald has been a viable TE1 the past few weeks, and this Sunday he takes on the Broncos who were just gashed by Antonio Gates. Opposing QBs need to get rid of the ball quickly versus this explosive Denver pass-rush which benefits the TE. Further, the Broncos have allowed a TE to score against them for three straight weeks, and McDonald certainly can make it four. Projection: 5 receptions for 51 yards and a TD.
Eric Ebron/Jack Doyle vs. MIA – Andrew Luck is going to rely heavily on his tight ends this week because Miami has an all-pro cornerback in Xavien Howard who will be matched up on T.Y. Hilton. I expect the Colts to run the ball extremely effectively and most of their production through the air is going to come from Doyle and Ebron. Ebron is a virtual lock to score this week and Doyle will be peppered with targets as the Colts' slot receiver. Regardless of which one you have, both Ebron and Doyle should be started this week. If you have them both, you have to roll with Ebron as his role in the red-zone is too important to ignore. Projection: EE 5 receptions for 57 yards and 1 TD/ JD 7 receptions for 76 yards.
Defense/Special Teams:
New England Patriots vs. NYJ – The Patriots are widely available since they were on a bye last week and they need to be started everywhere. I expect the Pats to come out of their bye swinging in order to show the league that they are just as deadly as the Saints the Rams and the Chiefs. Further, Josh McCown is starting for the Jets so the Pats should be able to generate plenty of turnovers and keep the total points allowed very low.
Los Angeles Chargers vs. AZ – The Cardinals struggle to put up points and Josh Rosen is no stranger to interceptions. I expect the Chargers to take control of this game early which will force the Cardinals to play catch-up. Further, Joey Bosa is back which strongly improves the Chargers' pass rush and run defense. Fire up the Chargers defense with confidence.
Sit 'Em
Quarterbacks:
Ben Roethlisberger vs. DEN – Big Ben has a tough matchup ahead of him this week. So far this season Ben is undefeated on the road, but history tells us that is not going to last. He has always played worse on the road, and this week, in particular, he is traveling across the country to Denver. The Broncos have allowed over 20 fantasy points to three straight QBs, but they have a lethal pass rush which should not allow Ben to get comfortable in the pocket. Projection: 310 yards, 2 TDs, 2 INTs, and 1 FUM.
Phillip Rivers vs. AZ – The fact of the matter is that teams do not need to pass very much against the Cardinals. If Melvin Gordon plays, this is going to be a heavy rushing game for the Chargers and in turn, will lead to low volume for Rivers. The Cardinals are also second in fewest fantasy points allowed to QBs. Look for Rivers to have under 30 passing attempts this week. Projection: 242 yards and 1 TD.
Andy Dalton vs. CLE – Dalton has been atrocious without A.J. Green and this week Green will likely be absent once again. Over the past few games, Dalton is averaging a menial 15 points per game, and this week the Bengals should feature Joe Mixon in the running game. The Browns allow the fourth-most fantasy points to opposing RBs so look for very little Dalton and tons of Mixon in this one. Projection: 250 yards, 1 TD, and 2 INTs.
Running Backs:
Lamar Miller vs. TEN – Miller has been up and down all season, and this week he faces the Titans who are only allowing 13 fantasy points per game to opposing RBs, third best in the league. The other problem is that Miller's volume is unpredictable since he was out-carried by Alfred Blue just two weeks ago and D'Onta Foreman's return is imminent. Further, the Titans have been extremely vulnerable through the air so I expect tons of passing volume for Deshaun Watson and Deandre Hopkins. Projection: 61 yards, 2 receptions for 19 yards.
Doug Martin vs. BAL – Martin has looked better than expected since he took over the RB1 role for the Raiders, but the offense, in general, is a disaster. They have no viable wide receivers to take the pressure off of the running game, and once they fall behind, Jalen Richard gets the bulk of the touches. Further, this week they face the Ravens who are allowing the fewest amount of fantasy points to opposing RBs. You must sit Doug Martin at all costs this week. Projection: 39 yards and 2 receptions for 15 yards.
LeSean McCoy vs. JAX – Two-weeks ago McCoy destroyed the Jets to the tune of over 100 yards and two TDs, but do not go chasing those points because the Jets gave up in that game before halftime. This week McCoy faces the Jaguars who have not allowed an RB to score in two-weeks, and they just held James Connor to under 30 yards. I expect McCoy to see eight men in the box on every play since there are no viable pass-catchers in Buffalo, and as such, he should remain firmly on your benches. Projection: 43 yards and 4 receptions for 31 yards.
Isaiah Crowell vs. NE – Over the last five games, Crowell has failed to top 60 total yards in any game. He has also been losing work to Elijah McGuire lately, which should continue this week against the Patriots. The Jets will be trailing in this game almost immediately, and as such Crowell's role will be very minimal since he is not used in the passing game. Look for Crowell to have fewer than 10 touches in this game. Projection: 37 rush yards.
Wide Receivers:
Ravens' WRs vs. OAK – As long as Lamar Jackson is the QB1 for the Ravens, you can't start any of their WRs in your matchups. He is a high volume running QB who will have less than 20 pass attempts most of the time. Last week he targeted Willie Snead the most, but there was nothing that suggested Jackson will be capable of making his receivers fantasy relevant. Adjust your lineups accordingly and bench all Ravens WRs.
Devin Funchess vs. SEA – Funchess is banged-up right now so monitor his status. That being said, he has been a serious disappointment this season. Funchess is TD or bust and more time than not it is bust. Over his last five games, Funchess has been held to five catches or less and under 50 yards in each game. Funchess has been an afterthought in this offense since the return of Greg Olsen and his struggles will continue this week. Projection: 4 receptions for 47 yards.
Christian Kirk vs. LAC – This sit recommendation is purely matchup based. Patrick Peterson is an all-pro cornerback and he will be matched up on Kirk all game. You would think that Peterson would follow Larry Fitzgerald around, but the coaching staff is not moving him into the slot on defense which is where Fitzgerald runs most of his routes. Peterson is going to shut down Kirk this week and as such he should be firmly placed on your bench. Projection: 3 receptions for 31 yards.
Golden Tate vs. NYG – Tate is a must-sit until further notice. He is not running nearly enough routes to be fantasy relevant, and when he is running routes he is not being targeted. This was a peculiar addition for the Eagles since Zach Ertz is essentially their slot receiver. Hopefully, Tate can find his place in this offense, but until that time he can't be started with your playoffs on the line. Projection: 3 receptions for 41 yards.
Tyrell Williams vs. AZ – Similar to Christian Kirk, Williams will face off against an all-pro cornerback in Casey Heyward. Heyward has not followed opposing WRs into the slot very often this season so expect Keenan Allen to operate predominantly out of the slot. This means Heyward will be locked on Williams, making him a shaky start this week. Projection: 3 receptions for 41 yards.
Tight Ends:
David Njoku vs. CIN – Njoku has been a tremendous disappointment this season. Baker Mayfield has targeted him as if he is the number two option in the passing game, but the two have been unable to make any real impact in the stat sheets. Further, Njoku is banged-up so even if he does play he could be limited. Look for the Browns to run Nick Chubb and Duke Johnson into the ground in this one. As such. It is wise to fade Njoku this week/. Projection: 3 receptions for 29 yards.
Kyle Rudolph vs. GB – Rudolph is an afterthought in this offense. Adam Thielen and Stefon Diggs command over 70% of the Vikings' targets, and now Dalvin Cook has entered the mix as an effective pass-catching RB. There is simply not enough volume to go around in order for Rudolph to be fantasy relevant. Projection: 2 receptions for 22 yards.
Questions and comments?
thescorecrowsports@gmail.com
Follow Us on Twitter @thescorecrow
Follow Us on Reddit at u/TheScorecrow
Follow Frank Dyevoich on Twitter @Fantasy_Giant
Main Credit Image: Embed from Getty Images