Frank Dyevoich | November 20th, 2018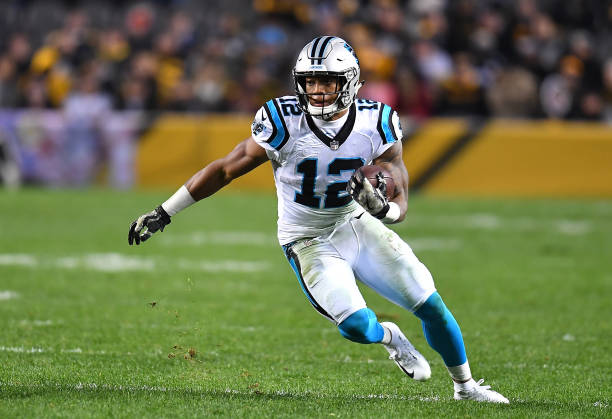 As the playoffs loom closer, these next few weeks are our last hope for improving our teams since the trade deadline has passed in most leagues. Do not sit on your Free Agent Acquisition Budget (FAAB) because you can't take it with you when the season is over. There are still a few gems out there at each position–yes, even tight end–so analyze your rosters to see where you need improvement and pounce on the following players while you still can. The following waiver wire adds reflect a $100 FAAB:
Quarterbacks:
Lamar Jackson (BAL) – Jackson is an electric runner and has QB1 upside off of his rushing ability alone. However, he needs to show that he can be a capable passer if he is going to survive in this league. Nevertheless, Jackson should be started as an upside QB1 as long as he is the starter. In his first start, he had 27 carries for 117 yards. With that kind of rushing volume, Jackson will have to throw several INTs in order to be a poor start for your fantasy team. Do not break the bank for Jackson because Joe Flacco will be the QB1 when he returns from his hip injury. Jackson is worth $11-17 FAAB.
Jameis Winston (TB) – The tides have turned again. Ryan Fitzpatrick threw three INTs and Winston was given the start in the third quarter of last week's game. He should be added in all leagues because he faces the 49ers this week, and he has the weapons to be a QB1 moving forward. There is always the concern that he gets benched for Fitzpatrick again, but the Bucs need to see if Winston can be their QB of the future, so I expect them to let him start the rest of the way. He is worth $11-17 FAAB.
Eli Manning (NYG) – It appears that Manning and the Giants offense are finally on the same page. The Giants have scored 27 points or more in back-to-back games, and Manning has topped 20 fantasy points in both. This week they face the Eagles, who are decimated by injuries to their secondary. It could be the third week in a row for Manning to put up QB1 numbers. It is hard to trust him so I would not spend any FAAB.
Running Backs:
Gus Edwards (BAL) – Who? My thoughts exactly. Gus Edwards is an undrafted rookie who came in and had the game Alex Collins was supposed to have. If Edwards is going to be the guy moving forwards then he is definitely a must-add this week. It is the historical trend of the Ravens and I called it before the draft season that Alex Collins can't be trusted because the Ravens have no loyalty. Justin Forsett came out of nowhere to help win titles, Alex Collins came out of nowhere to help win titles, and now Gus Edwards is coming out of nowhere and could help win titles. If Lamar Jackson is going to continue leading this team, Edwards is worth $17-25 FAAB.
Josh Adams (PHI) – I hope you added Adams last week like I told you to for pennies on the dollar. Adams has been the best-looking and most efficient RB for the Eagles the last few weeks, and in his first game as the RB1 for his team he delivered. The Eagles were out of this game early so Adams did not have much of a role, but he still ran for 53 yards and a TD on only seven carries, an astounding 7.6 yards per carry. He has definitely earned himself more touches moving forward. In more positive game scripts, Adams will be a weekly RB2 with upside. He is now worth $11-17 FAAB.
D'Onta Foreman (HOU) – Keep Foreman's name in the back of your mind over the next few weeks. He finally practiced for the first time last week and he could come in and challenge Lamar Miller for carries right away. We saw towards the end of last season that Foreman can be an explosive weapon so if you have a bench spot open or if you are a Lamar Miller owner, then Foreman is a wise addition. He is worth $3-6 FAAB.
Elijah McGuire (NYJ) – If McGuire is still out there, he is an excellent add at the RB position because it appears that he will be involved regardless of game script. He averaged 5.0 yards per carry last game to Crowell's 2.7 and he is the preferred RB on passing downs. He is definitely worth adding since the Jets are likely to give him more work in order to evaluate his long-term potential for the team. He is worth $7-11 FAAB.
Rex Burkhead (NE) – Sexy Rexy is back! He has not played since Week 3, but he is eligible to return this week and should be added in all deep leagues. Exactly how he will be used is unclear since James White and Sony Michel have been fantastic this season, but Bill Belichick loves him some Rex Burkhead so I expect him to have a role going forward, especially in the red zone. He is worth $1-5 FAAB.
Theo Riddick (DET) – Riddick is one of the more talented pass-catching RBs in the league and he is about to see his role increase due to the injuries to Marvin Jones and now Kerryon Johnson. Riddick is going to be heavily relied on while KJ is out, especially since the Lions are usually trailing, and no one is concerned that LeGarrette Blount is going to all of a sudden be a thing again. Grab Riddick in all of your PPR leagues. He is worth $5-9 FAAB.
Key Handcuffs: The following handcuffs are must-adds for teams with their RB1. They are not worth any FAAB.
Carlos Hyde – Leonard Fournette
Jaylen Samuels – James Connor
Wayne Gallman – Saquon Barkley
Wide Receivers:
D.J. Moore (CAR) – Moore was my favorite rookie WR coming into this year, and the Panthers are realizing his potential. Moore went berserk for the second time this season with seven receptions for 157 yards and a TD on eight targets. He has earned a full-time role moving forward and I fully expect him to see 6-8 targets per week. Moore is explosive out of his breaks and deadly after the catch. He must be added in all leagues, and he could very well help win you a title. Hopefully, you added him a few weeks ago because now he is worth $25-40 FAAB.
Josh Reynolds (LAR) – Cooper Kupp has been lost for the season due to a torn ACL and now Josh Reynolds becomes a starting WR for the Rams. The offense is still going to run through Todd Gurley, Brandin Cooks, and Robert Woods, but Reynolds will have weekly WR3 upside, as demonstrated in last night's bonanza where he put down six receptions for 80 yards and a TD on eight targets. The volume will be low for Reynolds, but he is a must-add this week due to the offense he plays for. He is worth $11-15 FAAB.
Anthony Miller (CHI) – Miller has been in this article for several weeks now, but luckily if you missed out he is still under 20% owned in Yahoo! leagues. He is an explosive WR with a nose for the endzone, and he and Mitch Trubisky are clicking more and more each week. Allen Robinson is back to 100% so Miller's upside is somewhat capped, but the way the Bears are slinging the ball week in and week out, Miller should be owned in all leagues. He is worth $11-15 FAAB.
Keke Coutee (HOU) – Keke came back with a vengeance this week, leading the team with five receptions for 77 yards on a team-high nine targets. There was a worry that Demaryius Thomas would make Coutee irrelevant, but it was just the opposite as DT only saw one target. Coutee is an excellent add in PPR leagues, and when Deandre Hopkins is facing shadow coverage from a pro-bowl cornerback, you can fire Coutee up as a high-end WR3. He is worth $5-9 FAAB.
Tre'Quan Smith (NO) – Check your waiver wires because it is almost a certainty that someone in your league dropped Tre'Quan after his zero-point performance last week in Cincinnati. Smith just broke out in a big way on Sunday when he exploded for 10 receptions for 157 yards and a TD. He is the clear-cut WR2 for the Saints, and while he won't see 13 targets every week, he needs to be added in all formats. He is worth $8-12 FAAB.
Bruce Ellington (DET) – You may remember him from the Texans last year, but Bruce has reappeared in Detroit to fill in for the injured Marvin Jones and the departed Golden Tate. In his first game as a starter Ellington saw nine targets, so fantasy owners definitely need to pay attention to see if this continues. He is not worth any FAAB.
Dontrelle Inman (IND) – Inman has been a pleasant surprise in the high-flying Colts offense, operating as the WR2 opposite T.Y. Hilton. He has played three games and he has over 10 PPR points in two of them. He should only be considered in deep PPR leagues, but Inman could bail you out of a jam in the wake of an injury of the final bye-week. He is not worth any FAAB.
Tight Ends:
Cameron Brate (TB) – Brate is the last hope for teams desperate for a viable TE this season. O.J. Howard was injured on the final drive of the game on Sunday and today he was placed on Injured Reserve ending his season. This means that Brate is the de facto TE1 for the Buccaneers and he will see upwards of six to eight targets per game. Now that Jameis Winston is back at the helm Brate will see tons of work in the red zone. He is worth $21-27 FAAB.
Tyler Higbee/Gerald Everett (LAR) – Higbee and Everett stepped up in a big way on Monday night with three receptions for 49 yards and two TDs for Everett and six receptions for 63 yards for Higbee. With Cooper Kupp lost for the season to a torn ACL, the Rams are going to have to use their TEs more often going forward. Everett is extremely fast for his size and is a matchup nightmare for linebackers and Higbee is an excellent possession TE. It is going to be hard to predict who is going to have a good game, but given the lack of depth at TE this year and the offense that they play for, Higbee and Everett are intriguing adds. They are worth $3-5 FAAB.
Jonnu Smith (TEN) – Smith has been more involved in the offense lately, scoring over 10 PPR points in three straight games. His value takes a hit if Blaine Gabbert is starting, but Mariota is expected to be fine. Smith should continue to see five to seven targets a game and should be added if you have been streaming TEs this year. He is worth $3-5 FAAB.
Defense/Special Teams:
Dallas Cowboys vs. WAS – The Redskins will be starting Colt McCoy against the Cowboys, in Dallas, on Thanksgiving. The Cowboys are the best streaming defense for Week 12.
Buffalo Bills vs. JAX – The Bills defense has been excellent this season despite their abysmal offense. Fortunately for them, Blake Bortles is next up on their schedule. The Bills should be good for a couple of sacks and turnovers and a low total for points allowed.
Patriots vs. NYJ – The Patriots own the Jets. Whenever they play each other, the Jets tend to play their worst football. Further, Bill Belichick is going to make mincemeat out of Sam Darnold.
Questions and comments?
thescorecrowsports@gmail.com
Follow Us on Twitter @thescorecrow
Follow Us on Reddit at u/TheScorecrow
Follow Frank Dyevoich on Twitter @Fantasy_Giant
Main Credit Image: Embed from Getty Images