Coach Treal | November 19th, 2018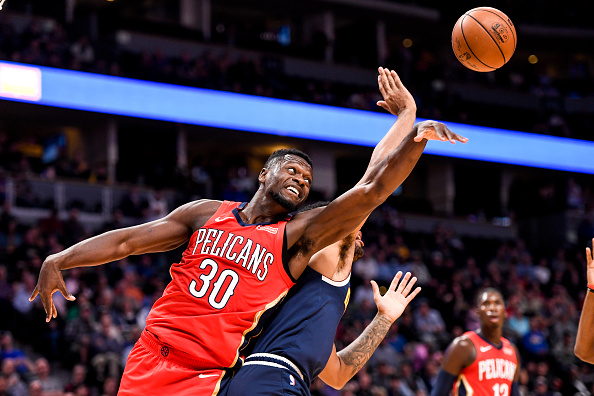 Happy Holidays basketball fans! We are moving along in this NBA season and are already in week 6. Some teams' seasons are taking shape the way we thought they would, while others are headed in a totally unexpected direction. Could this be the week that they put together some wins and get back on track? Let's take a look at some of the most intriguing match-ups.
Week 6 (Nov 19 – Nov 25)
What a difference a couple weeks make. The Thunder started the season 0-4, as they missed former league MVP Russell Westbrook after his offseason knee surgery. However, they responded by running off seven straight wins and currently have won three in a row, taking their record to 10-5. Westbrook has missed the last few games dealing with what many could be a severe ankle injury but, in his absence, the team has continued its strong play on both ends of the floor, with Paul George being the catalyst. The Kings are currently 8-8 and have played solid basketball during the young season. This could be a trap game for the Thunder who have some high profile match-ups this week.
This is a game between two of the best guards in the entire league. Kyrie Irving is coming off a 43 point and 11 assist performance over the Toronto Raptors and Kemba Walker, who on Saturday poured in an NBA season-high 60 point game in an overtime loss to the Philadelphia 76ers. Outside of these two star players, both teams are coming off home loses and will look get things back on track.
This should be a great contest as Anthony Davis has been on a complete tear this past week and comes into the game with back-to-back 40+ point performances. With the new addition of Jimmy Butler already paying off for Philly as he hit a game winner this weekend, this is a game not to be missed. The Pelicans were dealt some more tough injury news as Elfrid Payton will miss 6 weeks after surgery on his finger. They will need to figure out the rotation moving forward to ensure they remain in the playoff picture in a tough western conference.
LeBron James will make his one and only return back to Cleveland on Wednesday and I expect him to receive a warm welcome this time around from the fans. This trip is totally different from his previous return as a member of the Miami Heat. James is coming off a 51 point game against Miami on Sunday night, so it will be interesting to see what he has in store for another one of his former teams. I think LeBron will go out and look to score from the jump to not let this Cavs team hang around as they are 2-12. A blowout to end this 3 game road trip would be ideal for the Lakers.
What was looked at to be a sure-fire primetime game has taken a backseat to all of the news coming out regarding the Kevin Durant and Draymond Green confrontation. Add that to the Steph Curry injury issue and with the Warriors being in the midst of a 3 game losing streak, this game becomes more interesting. It will be something to watch as Russell Westbrook has been out with an injury as well. This is still a must-see game despite the injuries; any time a player faces his old team it is fun to watch.
Some familiar faces meet again as the struggling Bulls pay a visit to the reborn Timberwolves as the Jimmy Butler trade drama has now passed. The conversation between who would be the better player in the 2014 NBA Draft between Jabari Parker and Andrew Wiggins seems like a distant memory at present, while coach Tom Thibodeau is going up against his former team. Zach LaVine will be looking to have a much better performance in his return to Minnesota than he had last season, when he went 7/17 from the field for 11 points. He missed the team's last game with an illness so that is something I am watching as well when scrutinising his performance.
The Clippers are another team that has surprised mine and many peoples' expectations this season as they are 10-5 after a great start to the season. Portland, as I write this, have the best record Western Conference, thanks in no small part to All-Star Damian Lillard, who last night poured in 40 points against the Washington Wizards. I expect this to be a hard-fought game, but it should be a high-scoring affair as both of these teams rank in the top ten in the NBA in scoring.
Let us know in the comments below and hit me up on Twitter about what League Pass Games you are most excited for this week! HAPPY THANKSGIVING!!!
Questions and comments?
thescorecrowsports@gmail.com
Follow Us on Twitter @thescorecrow
Follow Us on Reddit at TheScorecrow
Follow Coach Treal on Twitter @CoachTreal2 Main Credit Image: Embed from Getty Images