Frank Dyevoich | November 17th, 2018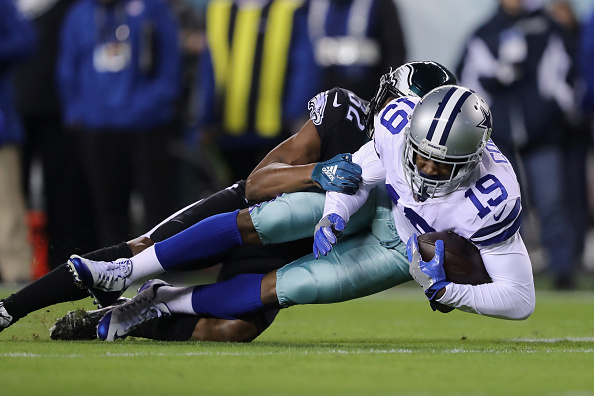 This is 2018's last devastating bye-week as six teams are on bye. With the playoffs looming right around the corner these next three games will determine if you are going to be challenging for a title or if you are going to looking forward to 2019. These next three games are the most important of the season and it is more crucial than ever before that we make the right lineup decisions. So sit tight as I tell you who needs to be on your starting roster this week and who you need to bench in order to avoid the devastating bust performance that could end your season. The following start and sits are recommended based on their matchups this week.
Start 'Em
Quarterbacks:
Dak Prescott vs. ATL – The addition of Amari Cooper has significantly increased Dak's volume the last few games. Dak has also been running more this season and has at least 33 rush yards in three of his last five games. This week he faces the Falcons who are giving up the fourth-most points to opposing QBs. I expect Atlanta to go up early in this one which means Dak is going to have to take the game over of the Cowboys are going to compete. Projection: 226 yards, 2 TDs, 38 rush yards, and 1 TD.
Marcus Mariota vs. IND – Mariota is on fire right now and the Cot's defense is nothing to fear. He has over 25 fantasy points in two straight games, and those performances were a complete dismantling of Tom Brady and the Patriots at home, and Dak Prescott and the Cowboys on the road. Mariota's efficiency and production were significantly down due to the nerve damage in his elbow and the numbness in his fingers, but since he has been 100% healthy, he has looked like the QB the Titans hoped they drafted. Projection: 238 yards, 2 TDs, and 32 Rush yards.
Ben Roethlisberger vs. JAX – The Steelers are playing at a level that we have not yet seen this year and they will continue to roll this week against the Jaguars. The Jags have allowed three QBs to score over 25 fantasy points in their past four games, and the last time Big Ben faced them he went off for 469 yards and five TDs. The Steelers are going to look to make a huge statement in this one since they lost to the Jags twice last year. Big Ben is going to lead the revenge game and continue his streak of 20+ fantasy points on the road. Projection: 326 yards, 3 TDs, 1 2Pt, 1 INT.
Jared Goff vs. KC – This game has the highest over/under since the 1970's at 63.5 so points are going to be scored in bunches. If the Rams are going to keep up with the high flying Chiefs, Goff is going to have to have at least three TDs in this one. The game has also been moved to Los Angeles, which favors Goff as he has scored over 20 fantasy points in every home game this season and is averaging over 30 fantasy points per game at home. This one is a no-brainer. Projection: 327 yards, 3 TDs, and 1 INT.
Running Backs:
Phillip Lindsay vs. LAC – Lindsay should be extremely busy this week and fantasy owners must start him accordingly. The Chargers are going to have no trouble scoring points in this division rivalry which means the Broncos will likely be in catch-up mode. Lindsay should be involved plenty in the passing game this week and is a virtual lock for double-digit points in PPR as he has surpassed that threshold in all but one game this season (he was ejected in the first quarter of Week 3). Further, the Chargers lost Denzel Perryman for the season and he was one of their best run stoppers. Fire up Lindsay with confidence. Projection: 72 rush yards and 5 receptions for 62 yards and 1 TD.
Alex Collins vs. CIN – I have been adamantly opposed to Alex Collins this season and for the most part I have been spot on. However, this week Collins should be started everywhere as he will be heavily relied on in this game. The Ravens will be without Joe Flacco which means Robert Griffin or Lamar Jackson will be the QB in this one. The Ravens will go extremely run-heavy, and if Jackson is the QB, Collins will see truck-sized holes to run through as the defense tries to contain Jackson. The matchup also could not be better as the Bengals have allowed nine TDs to RBs over their last four games. Collins is going to eat in this one. Projection: 89 yards, 1 TD, and 3 receptions for 31 yards.
Dion Lewis vs. IND – The Colts are among the highest scoring offenses over the last several weeks so the Titans are going to have to put up a ton of points if they want to compete. This also means that the Titans will not be able to sit on a comfortable lead. The Titans have also realized that Lewis is far and away their best RB, evidenced by the fact that he has been getting over 70% of the Titans' RB snaps and he has out-touched Derrick Henry two-to-one since right before their bye week. He struggled last week, but he still saw 22 touches to Henry's 11. Further, the Colts are in the top three in the NFL of receptions allowed to RBs so when you add it all up, it is going to be a high-volume and high-production day for Dion Lewis. Projection: 65 yards and 6 receptions for 57 yards and 1 TD.
Tarik Cohen vs. MIN – Jordan Howard has been coming on lately, but Cohen should come back to form this week against the stout Vikings defense. Look for Cohen to be used in the passing game as an extension of the rushing game this week since Howard will not find many open lanes to run through. Cohen is the most explosive player on the Bears and he is going to have to have some splash plays in this one if the Bears hope to win. Projection: 38 yards and 6 receptions for 76 yards and 1 TD.
Kerryon Johnson vs. CAR – The Lions have finally recognized that Johnson is by far their best RB. Last week, in a game where they were trailing the entire time, KJ was able to score two TDs against the toughest run defense in the league, and he became the first RB this year to score on the Bears on the ground. What is more noteworthy is KJ's role in the passing game. Over his last three games he has 19 targets, and last week he caught all six for 38 yards and a TD. Further, this week Marvin Jones is out so Theo Riddick will likely be running more WR routes leading to more passes out of the backfield for KJ. This week he faces the Panthers who are allowing plenty of production to opposing RBs. Look for KJ to have at least 15 touches in this one. Projection: 89 yards, 1 TD and 6 receptions for 46 yards.
Wide Receivers:
Corey Davis vs. IND – Davis has broken out over the last few weeks due to Marcus Mariota's return to full strength. He is a dominant physical receiver and last week he torched Pro Football Focus' number one rated cornerback Stephon Gilmore to the tune of 7 receptions for 125 yards and a TD. While Davis has been up and down all year one thing has remained a constant, his target volume. This season Davis is seeing over 30% of the Titans' total target share which is the second highest percentage in the league. Now that Mariota is healthy Davis is a WR2 every week. This week he faces the Colts who will be without their best player in the secondary Malik Hooker. Davis is going to eat once again. Projection: 6 receptions for 84 yards and 1 TD.
Anthony Miller vs. MIN – Miller should have a productive game on Sunday Night because Allen Robinson will likely be shadowed by Xavier Rhodes. Miller has been an excellent WR3 with upside the last few weeks, and even with the return of Allen Robinson he still saw six targets to Robinson's eight. Given that Robinson will get the Rhodes treatment this week, Miller should out-target and out-produce his counterpart this week. Fire him up as a WR3 with upside. Projection: 6 receptions for 76 yards and 1 TD.
Larry Fitzgerald vs. OAK – Larry Fitzgerald has been exactly who we expected when drafted him since Byron Leftwich took over play-calling duties. Over the last two games, Fitzgerald has 22 targets, 9 more than Christian Kirk, and Leftwich is making it a priority to get the ball in his hands as often as possible. This week Larry faces the Raiders who are dead-last in pass defense this season, and with the 10+ targets, he is sure to see be a rock-solid WR2 with upside this week. Projection: 8 receptions for 83 yards and 1 TD.
Kenny Golladay vs. CAR – Golladay will be the only viable WR playing for the Lions on Sunday since Golden Tate was traded and Marvin Jones has been ruled out. He faces an extremely tough matchup this week as he will likely be shadowed by James Bradberry, but he is a must-start considering the volume of targets he will receive. Last week he saw 13 targets, 10 of which came in the second half, and he is in line to see even more this week as the focal point of the Lions passing game. Projection: 6 receptions for 78 yards and 1 TD.
Amari Cooper vs. ATL – Cooper has been everything that the Cowboys hoped he was when they traded their 2019 first round pick for him. He has looked explosive with the ball in his hands and he is getting separation at will on his defenders. This week he faces the Falcons who are getting torched by everyone. Cooper is also being used out of the slot quite often and the Falcons are miserable at defending slot receivers. Look for Cooper to see 10+ targets in this one and have his best game as a Cowboy so far. Projection: 7 receptions for 81 yards and 1 TD.
Tight Ends:
Ricky Seals-Jones vs. OAK – The Raiders are dead-last in defending the tight end this season and it is not even close. They are allowing over 11 yards per reception and are allowing a TD every 7 receptions to tight ends. This week Rick Seals-Jones gets the pleasure of facing this defense and he should eat. Last week RSJ received 9 targets against the Chiefs and this week he could top that considering the matchup. RSJ is the best streaming tight end for Week 11. Projection: 6 receptions for 67 yards and 1 TD.
Austin Hooper vs. DAL – The Falcons will be forced to rely on Hooper once again this week since the Cowboys' secondary has been shutting down opposing WRs. Julio Jones will still get his, but I expect the majority of the targets that Calvin Ridley and Mohamed Sanu usually get to be funneled to Hooper in the middle of the field. Last week Zach Ertz showed just how vulnerable the Cowboys can be at defending tight ends as he went absolutely ballistic catching 14 of his 17 targets for 145 yards and two TDs. While Hooper will not have that much production, he is a rock-solid TE1 this week. Projection: 7 receptions for 72 yards and 1 TD.
Evan Engram vs. TB – Evan Engram is on the verge of a big game and there is a strong probability that it comes this week against the second worst defense against opposing tight ends. He is extremely an athletic receiver and the Giants desperately need him to make an impact sooner rather than later. He has struggled with drops this season, but if Engram can catch most of his targets this week, then he should have his best fantasy day of the season so far. Projection: 5 receptions for 69 yards and 1 TD.
Defense/Special Teams:
Arizona Cardinals vs. OAK – This one is easy. Always play the defense that is facing the Raiders. They have completely mailed it in on the season so the Cardinals are a lock for several sacks and a few turnovers.
Pittsburgh Steelers vs. JAX – The Steelers defense has come alive of late and last week they embarrassed Cam Newton. This week they face Blake Bortles. Expect 3+ sacks and several turnovers in this one.
Carolina Panthers vs. DET – The Lions have given up 16 sacks in their last two games. The Panthers will get to Matt Stafford with ease and since the Lions receiving options are practically non-existent, the Panthers should prevent the Lions from scoring a ton of points.
Sit 'Em
Quarterbacks:
Kirk Cousins vs. CHI – The Bears' defense is playing at an elite level and they are easily the best fantasy defense of 2018. Kirk Cousins has been an excellent addition to the Vikings, but his fantasy performances have been up and down, and this week he faces the #1 defense on the road. The Bears have only allowed three QBs to score 20 fantasy points this season and the Bears were all on the road for those games. Dalvin Cook has also returned to the mix which should lead to the Vikings becoming a little more run-oriented down the stretch and in the cold weather games such as this one. Further, Stefon Diggs is not fully healthy though he is going to play. Cousins will be a mediocre start this week so I'd look elsewhere if you are desperate for a win. Projection: 284 yards, 2 TDs, 1 INT.
Mitch Trubisky vs. MIN – Trubisky has been a fantasy revelation this season, scoring over 25 fantasy points in five of six games since week 4, and he is averaging over 30 fantasy points per game over the same span. However, this week the Vikings' defense is coming to town and they have been playing light out lately. In their last game, the Vikings sacked Matt Stafford 10 times and held him to zero TDs, and they have only allowed three QBs to reach 15 fantasy points this season. These two teams always get up when they play each other as it is one of the NFL's greatest rivalries, but this week's game has an added element to the typical hard-fought rivalry. The winner of this game will be the leader of the division. I expect a hard-fought low scoring game won in the trenches. Both of these QBs are shaky plays. Projection: 229 yards, 1 TD, 2 INTs, and 37 rush yards.
Matthew Stafford vs. CAR – Stafford was able to bring the Lions back last week against the Bears after getting completely demolished in the first half, but this week's matchup will be just as difficult since Marvin Jones has already been ruled out. Stafford has been sacked 16 times in the Lions' last two games and now he is down to only one viable WR. The Panthers are certainly beatable in their secondary, but they do have a pro-bowl caliber cornerback in James Bradberry who will force Stafford to spread the ball around. The problem is that there are not a lot of weapons to spread the ball around to. Stafford will not be a QB1 this week/. Projection: 331 yards, 1 TD, 2 INTs and 1 FUM.
Andy Dalton vs. BAL – Dalton cannot be started in any leagues until he gets A.J. Green back. Further, the Ravens are a top-five defense this year and they are going to eat the Red Rifle alive. Look for 3+ sacks in this one and at least 2 INTs. This is as tough of a matchup as it gets for Dalton, and with no A.J. Green, there is no one that can still be productive against this stingy defense. Projection: 238 yards, 1 TD, 2 INTs, 1 FUM.
Running Backs:
Lamar Miller vs. WAS – In the Texans' last game, Lamar Miller was out carried by Alfred Blue 15 to 12. He is the best healthy RB on the roster, but the Texans still do not feel comfortable giving him a ton of work anymore. As such, we as fantasy owners need to recognize these trends and adjust accordingly. What's worse is that this week he faces the Redskins who have held the likes of Saquon Barkley and Ezekiel Elliott to under 50 rushing yards this season. He can't be relied on to get consistent touches anymore and this week he can't be relied on to be productive with the touches he does get. This may be the beginning of the end for Lamar Miller in fantasy football. Projection: 42 rush yards, 1 FUM, and 3 receptions for 22 yards.
Marlon Mack vs. TEN – Marlon Mack has been a revelation to his fantasy owners this season as he is undoubtedly the Colts' RB1. He gets tons of volume and he looks explosive with the ball in his hands. However, this week, just like last week, he faces a weak secondary and tough defensive front which should lead to more passing and less running for the Colts. Further, he faces the Titan's this week who have been phenomenal at stopping the run lately. Over the last five games the Titans are the best run defense in the league, barely allowing RBs to reach 3.0 yards per carry, and they have allowed only one RB to score over the same span. Mack will help fantasy owners win a championship this year, but this week you need to look elsewhere for your RB production: Projection: 46 yards and 4 receptions for 31 yards.
Philly RBs vs. NO – On the year, the Saints are the best run defense in the league and the Eagles are amongst the worst rushing offenses in the league. I like Josh Adams to be productive down the stretch since he has clearly looked like the best RB on the Eagles and has been just named the RB1 on their official depth chart, but he is not going to make an impact this week. The Saints are favored by 8.5 points in this one which tells you that the Eagles are going to be in catch-up mode. Carson Wentz is going to have to air it out over 40 times in this game if the Eagles have a shot at winning, which means very limited work for the RBs. If you have to play one, I like Wendell Smallwood simply because he is the pass-catching back on the team without Darren Sproles in the mix.
Royce Freeman vs. LAC – Freeman is returning from a high-ankle sprain so his workload will likely be limited. Even if he was 100% healthy, he has been a colossal bust this season and can't be relied on in your lineups. If that wasn't enough, this week the Broncos will be trailing so Freeman will be relegated to short yardage work. If you were excited to get Freeman back due to the Bronco's juicy fantasy playoff schedule, you must keep your hopes in check for one more week. Projection: 28 yards.
Adrian Peterson vs. HOU – AP is the heart and soul of the Redskins running game and he is the only starter that is healthy. He should see tons of volume going forward, but the offensive line is in complete shambles since most of their starters have been lost for the season. Last week AP had the best matchup of the season against the Buccaneers and he was only able to rush for 68 yards on 19 carries.  If that wasn't enough, AP faces the Texans this week who have been extremely stout against the run lately, and have only allowed three RBs to score this season. Projection: 57 yards and 2 receptions for 17 yards.
Wide Receivers:
Golden Tate vs. NO – We need to see Tate have a good game with the Eagles before we can feel comfortable starting him. Last week in his debut, he only had two receptions on four targets, and worse he only had 18 snaps. This week Tate should see a few more targets against the Saints, but the problem is that he shares the middle of the field with Zach Ertz who is unquestionably Carson Wentz's favorite weapon. I do not see enough volume going to Tate to make him a weekly start going forward and as such he should be benched until we see it. I hope better days are coming for Tate as an Eagle, but until it happens you can't start him. Projection: 4 receptions for 28 yards.
Devin Funchess vs. DET – Funchess has been TD or bust this season. He is not receiving the target volume we expected and he is not producing at the level he did last year. This week he faces the Lions who get back their all-pro cornerback Darius Slay, and Slay will likely be shadowing Funchess all game. He is not going to score a TD this week and as such he should remain firmly on your bench if you can help it. Projection: 4 receptions for 32 yards.
John Brown vs. CIN – John Brown is a deep ball specialist and he has been extremely productive this season because Joe Flacco is an excellent deep ball passer. However, this week Flacco will be out which means Smokey Brown will be receiving his targets from either RGIII or Lamar Jackson, neither of whom come close to Flacco in deep ball accuracy. The Bengals defense is very soft, but I don't expect Brown to receive enough targets to be worth starting this week. Projection: 3 receptions for 49 yards.
Calvin Ridley vs. DAL – Much like Funchess, Ridley is pretty TD dependent this season. Unlike Funchess, Ridley has exploded in the games where he scores. Unfortunately for Ridley owners, he has one TD in his last five games, and this week he faces an elite Cowboys secondary who has only allowed six receiving TDs all year. Considering the absence of Sean Lee for the Cowboys, I expect the Falcons to go run-heavy and lean on their Tight End Austin Hooper in the passing game this week. Projection: 4 receptions for 49 yards.
Tight Ends:
Benjamin Watson vs. PHI – Watson has been extremely dependent on TDs this season and he is not likely to get in the end zone this week since the Eagles have only allowed two tight ends to score against them this year. Further, the Eagles secondary is pitiful this year so the Saints WRs should have their way with them, limiting the opportunities Watson has in this game. But do not drop Watson because with how bad tight ends have been this year he could be a valuable asset down the stretch. His remaining schedule after this week is as sexy as it gets for tight ends. Projection: 2 receptions for 17 yards.
Jordan Reed vs. HOU – Reed has not scored since Week 1 and last week, in the best matchup he has faced all year, Reed only had four receptions for 51 yards. This week he faces the Texans who have not allowed a TD to a tight end over their last six games. It makes no sense because he is healthy and very talented, but Reed and Alex Smith just cannot get it together. Projection: 4 receptions for 61 yards.
Questions and comments?
thescorecrowsports@gmail.com
Follow Us on Twitter @thescorecrow
Follow Us on Reddit at u/TheScorecrow
Follow Frank Dyevoich on Twitter @Fantasy_Giant
Main Credit Image: Embed from Getty Images