Pranav Ramasubramanian | November 17th, 2018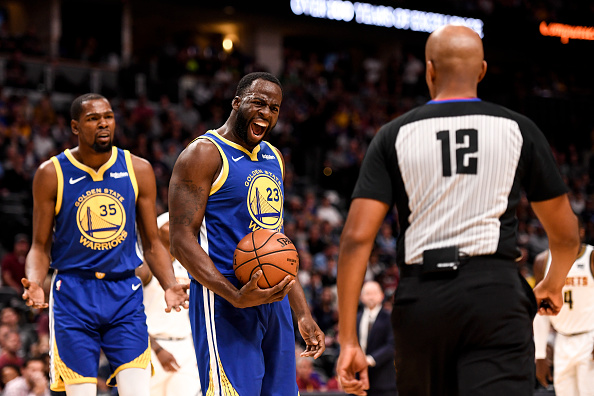 We are only a month in and the current NBA is already in full swing, largely due to the big Jimmy Butler trade and the increased amount of fighting. Meanwhile, even when they are doing things wrong, it seems everybody still wants to watch the Golden State Warriors closely to see if they will crumble from the inside, as they definitely will not crumble because of the competition in the West.
It seems hysterical that Draymond Green is a recurring name in altercations. He never shies away from running his mouth, which infamously got him in trouble with Tristan Thompson over the offseason. Green even ran his mouth to Joel Embiid last year:
Green wants to push the team, but he also seems to test people's limits as he is very unfiltered and never seems to hold back in an attempt to make his teammates better. This seems like something that should not even be an issue given how dominant the Warriors are, but things are always rough to start out the season. This time, however, it seems different as he has gotten under Kevin Durant's skin, who is his own teammate and has helped the Golden State win two straight championships.
What Went Down
The Warriors were set to play the Los Angeles Clippers on Veterans Day and everything looked smooth until Stephen Curry was announced out with a groin strain, leaving Golden State without one of their best players on offense. The game was deadlocked at 116-116 following 8-0 run by the Warriors. With five seconds left, Green got the ball on the defensive rebound but, as he ran down the floor with time running out, he lost control of the rock and his balance, leading to the game going to overtime. Durant had been yelling for the ball the entire sequence and was even open at the three-point line for an easy shot if Green had seen him. This left the two-time reigning Finals MVP very frustrated as he was heading to the bench. Durant started yelling at Green to give him the ball, and Draymond responded by repeatedly calling him the b-word. He continued to go at KD fearlessly, even after Klay Thompson and Steve Kerr diverted the attention making Durant very uncomfortable. Green also challenged Durant on his impending free agency, telling him something along the lines of, "We don't need you. We won without you. Leave", according to sources.
It also got messy in the locker room, as many players challenged Green on his late-game decision-making. This focred Thompson, one of the quietest guys on the team, to speak up and say that everyone needs to remember to stick together for the team to work.
Aftermath
Draymond was suspended without pay for one game by the Warriors organization, losing $120,000, meaning he missed Golden State's win over the Atlanta Hawks on Tuesday night. Curry tried to do his part to repair the situation, going to Green's house to get his side of the story. Many Warriors players believe that Durant will leave in the offseason and are not keen on doing a 'please Stay-KD' campaign, to which Durant himself has said he would prefer that not to happen. Even veteran Andre Iguodala had an insightful response when asked if the feud would affect the team.
https://t.co/baPfxVXZTP pic.twitter.com/feMVs4uB7k

— sam esfandiari (@samesfandiari) November 14, 2018
Durant and Green were spotted talking and chatting while walking into shootaround in Houston yesterday prior to last night's game.
Draymond Green and Kevin Durant communicating positively on their way to the arena for shootaround. pic.twitter.com/hrOi3mJY5U

— Chris Haynes (@ChrisBHaynes) November 15, 2018
Green also addressed the media yesterday trying to squash the beef.
Draymond Green's very long statement on the KD situation pic.twitter.com/itXd3a7SMP

— Anthony Slater (@anthonyVslater) November 15, 2018
The Warriors still seemed to look flat in Curry's absence last night, as the Houston Rockets easily beat them 107-86. The Warriors could not get anything going except for some good jokes on the sideline, as well as the fact that Green and Durant were communicating.
Well, for the Warriors sake, at least the blowout L is giving Steph Curry some time to bring KD and Draymond (and Cousins) together on the bench for a light-hearted conversation pic.twitter.com/IhylhtkovQ

— Anthony Slater (@anthonyVslater) November 16, 2018
Kevin Durant addressed the media yesterday in a different tone.
Kevin Durant hit with one Draymond relationship question postgame: "Don't ask me about that again." pic.twitter.com/OvukBOwvbI

— Anthony Slater (@anthonyVslater) November 16, 2018
KD and Draymond have had arguments before, but none have really been this explosive to date.
Reactions
Kevin Durant is the player that gets the most amount of hate in the NBA and he has shown that he is very sensitive, thus this may affect him more than Green. Durant's brother didn't like what Green did and had some messages for him on Instagram.
Kevin Durant's brother weighs in 👀

(via IG/TDurant) pic.twitter.com/M7NLczRSQQ

— Bleacher Report (@BleacherReport) November 14, 2018
The following day, Jarrett Jack had a theory on what he thinks the outcome will be.
Man if y'all thought the league was in trouble before they bout to mess around and have AD KD and Bron all on the same team 🤦🏽‍♂️

— JARRETT JACK (@Jarrettjack03) November 15, 2018
Inside the NBA analyst and former player Charles Barkley made a bold statement on why the Warriors need Durant to continue their current dominance.
"The reason the Warriors are a dynasty is because of Kevin Durant… plain and simple."

Chuck comments on KD and the Warriors 👀 pic.twitter.com/AQl6OLJksK

— NBA on TNT (@NBAonTNT) November 16, 2018
A Las Vegas site named Oddsshark have now given the largest chance of odds that Durant will sign to a different Western conference powerhouse in the offseason.
Opening odds for what team Kevin Durant will be on for the first game of the 2019-2020 season (@betonline_ag):

Lakers +300
Warriors +350
Knicks +500
Clippers +900
Nets +1000
Celtics/Heat/76ers +1200
Raptors +1400
Jazz/Pelicans +1600
Sunds/Wizards +1600
Thunder +3300

— Odds Shark (@OddsShark) November 16, 2018
Some insightfulness and rational were given by former player Tracy McGrady on Igoudala's comments, based on how hard it is to win for a long period of time in the NBA. McGrady was speaking on the ESPN show "The Jump" along with Rachel Nichols.
Michael Jordan's Bulls dynasty.
The Shaq/Kobe Lakers.
Will the Warriors eventually combust from the inside too? Andre Iguodala tells the Athletic "Everything comes to an end" pic.twitter.com/75zLEP61Ex

— Rachel Nichols (@Rachel__Nichols) November 15, 2018
Everyone had a field day with the all of the turmoil, as what happens next will shape the future of the NBA.
Kevin Durant and Draymond Green are back on good terms, but only time will tell if they will be able to coexist with their own free agencies impending. Green has played with the Warriors for longer, but the Warriors organization has shown that they favor Durant more, even though Green was the one who helped get Durant. Draymond hits free agency in 2020 and it seems likely that the Warriors will let him walk or trade him before then. KD has also taken pay cuts to keep the team together, meaning he will definitely want more money this summer. Curry is out for the next eight days and it will be interesting to see how the team will do because so far they are 2-2 without the point guard after starting 10-1.
After all the drama going on with the defending NBA champions, are you worried about the Warriors? pic.twitter.com/S39o1dhc30

— ESPN (@espn) November 16, 2018
The Warriors are still the top team in the West at 12-4 and will continue their Texas tour on Saturday and Sunday when they play the Dallas Mavericks and San Antonio Spurs before heading home.
Questions and comments?
thescorecrowsports@gmail.com
Follow Us on Twitter @thescorecrow
Follow Us on Reddit at u/TheScorecrow
Follow Pranav on Twitter @PranavRama1 Main Credit Image: Embed from Getty Images