Logan Whaley | November 17th, 2018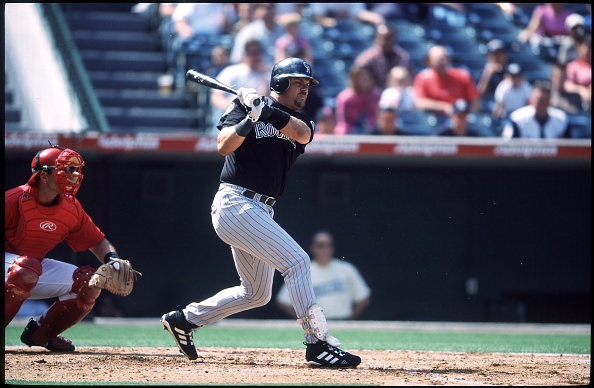 "Number 33, Larrrryyyy Walkerrrrrrr."
It is difficult to be a fan of Major League Baseball and not know the name, Larry Walker. If you talk to the Colorado faithful about the name, it is an aspect of Denver sports legend. The Major League Baseball Hall of Fame nominee list includes Walker for the ninth time. It means because of the reduction in eligibility, from 15 years to 10 years, Walker has only two total attempts to be inducted. Will his chances continue to grow this year?
History
Larry Kenneth Robert Walker was born December 1st, 1966 in the frozen confines of Maple Ridge, British Columbia, Canada. Following the usual path of hockey, Walker instead found himself on the road for baseball. Walker was then drafted at the age of eighteen years old by the Montreal Expos.
Following five years, before he finally reached the big time, Walker debuted for the Montreal Expos on August 16th, 1989 in a game versus the San Francisco Giants. In that game, Walker went 1-4, scoring two runs in the victory.
The first big league season for Walker was, not surprising, tumultuous. Walker finished with seeing twenty games of action, slashing an uninspiring .170/.264/.170 with 4 RBI and a strikeout rate of 23.2%. He finished with a 34 wRC+.
The following season, however, Walker came in with a bang. He played in 133 games, slashing .241/.326/.434 with a much-improved .339 wOBA and above-average 109 wRC+. Walker posted a 3.0 WAR that season. Walker played a total of six seasons in Montreal before jumping ship to the Colorado Rockies.
Ain't No Mountain High Enough
Walker came to the Colorado Rockies in 1995. The team had been established for two years, as they headed into their third season. He was granted free-agency from Montreal at the end of the prior season, making him a hot commodity for the Rockies to target. As Spring Training approached, the team signed Walker to a 4-year, $22 million deal.
In his first game in purple pinstripes, Walker finished 3-7 with 3 2B and 3 RBI. His first season in Colorado, the Rockies were successful enough to reach the playoffs. Walker was a major catalyst in that, finishing with 131 games, and slashing .306/.381/.607 with 36 HR and 101 RBI. He also stole 16 bases. Walker finished with a .414 wOBA, 129 wRC+, and a 4.6 WAR.
Walker is undoubtedly best known for his time in Colorado. In 1997, two years in, he won the  National League Most Valuable Player Award after slashing .366/.452/.720 with 49 HR, 130 RBI, and 33 stolen bases. He posted a video game-like .488 wOBA and 177 wRC+. It was kind enough to propel him to a 9.1 WAR. Walker saw many of his best seasons in Colorado. He won five Gold Gloves while also capturing two Silver Slugger awards.
Finishing off a Great Career
In 2004, the Colorado Rockies said goodbye to their beloved longtime Walker, trading him to the St. Louis Cardinals in a four-player deal. At the time of the trade, Walker was hitting .324 with 6 HR and 20 RBI.
While his production dropped off pretty significantly in St. Louis, it was still respectable. He finished his first partial year batting .280 with 11 HR and 27 RBI. In a refreshing turn of events following the trade, Walker got to experience a World Series trip. The Cardinals saw themselves get swept, but it didn't take away from the experience.
Walker made 2005 his final season in Major League Baseball. That year he finished with a bang. Across a modest 367 total plate-appearances, and 99 games, Walker finished with a .289/.384/.502 with 15 HR and 52 RBI. It included a .382 wOBA and 135 wRC+. Larry Walker went out on a strong season.
Hall of Fame status
The first year, 2011, Walker saw a 20.3% of the total votes. It was good enough to push him to number ten overall in the voting. In his second year, Walker saw a slight uptick in percent, increasing to 22.9%. A minute increase, however, it was trending in the right direction.
Due to the many big name players who found their name on the same list, Walker saw his voting percentage strongly decrease. By 2014, Walker was down to a measly 10.2%, garnering 58 total votes. However, in 2017, it was back up to 21.9% and saw a significant increase this past year, as he jumped to 34.1%.
Realistically, it does not seem likely that Larry Walker finds the Hall of Fame. The chance of coming close could be a reality. Unfortunately, there may be too much to make up and not enough time to cover it. The likes of Edgar Martínez, Mike Mussina, Roger Clemens, and Barry Bonds are all on the ballot for 2019.
Walker had a phenomenal career. It was many years of dominant, powerful, fun baseball. We can never forget the happenings of the MLB All-Star game in 1997, where Walker turned his batting helmet around. He played with heart and found success. Unfortunately, it may be too late for Larry Walker's Hall of Fame chances.
Other articles in our Hall of Fame series: Billy Wagner | Andy Pettitte| Edgar Martinez | Mike Mussina | Todd Helton
Questions and comments?
thescorecrowsports@gmail.com
Follow Us on Twitter @thescorecrow
Follow Us on Reddit at u/TheScorecrow
Follow Logan Whaley on Twitter @game7magic
Main Credit Image: Embed from Getty Images