Chazz Bradner | November 16th, 2018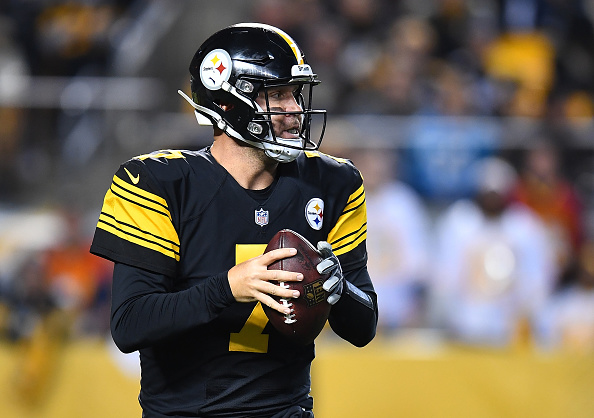 When looking at the MVP race this NFL season, you tend to hear the same names mentioned as the top candidates. Names such as Todd Gurley, Drew Brees, Patrick Mahomes, and Philip Rivers. These are some of the names that come to mind. However, there is a player that has been playing outstanding football, but is not receiving nearly the amount of recognition the players I listed are. The player I am speaking so highly of is Ben Roethlisberger.
Adversity
The Steelers began the season not knowing if they would be with their star running back, Le'Veon Bell, who is arguably the best running back in the league. This created a lot of drama within the Steelers organization, and when beginning a football season, drama is the last thing you want to deal with. Pittsburgh did not immediately respond well, starting the season with a 1-2-1 record, averaging around 25 points per game. Ben Roethlisberger's numbers during those first four games were nothing to write home about either. Ben threw for eight touchdowns and five interceptions to begin the season. Many began to worry that the absence of Le'Veon Bell created too much pressure for the Steelers offense to handle. Pressure will either make you or break you, and after that rough four-game stretch, Ben Roethlisberger thrived under that pressure. The Steelers have now won their past five games giving them a 6-2-1 record. During this time, Roethlisberger has taken his game to another level, throwing for 13 touchdowns to only two interceptions. The offense has averaged an impressive 35 points per game during this stretch, behind Roethlisberger's excellent play.
Under-Appreciation
Roethlisberger has always been regarded as a high-level quarterback in the league. However, his name is almost never mentioned when speaking about the elites of the game. As everybody knows, the elites contain Tom Brady, Aaron Rodgers, and Drew Brees. Because Roethlisberger is excluded from that prestigious category, his accomplishments and high-level of play tend to go unnoticed. People must remember that he is a two-time Super Bowl winning quarterback that will definitely make his way to Canton one day. He also still continues to play the game at an extremely high level at the age of 36, even if Jalen Ramsey disagrees. But even Jalen cannot look past the fact that Ben is once again leading his team towards a playoff run. Ben has been a model of consistency for much of his career and should be appreciated for what he has given to the game.
Value
Ben Roethlisberger's value to his team is something that should not be questioned. Imagine if it were Ben who was holding out for the entire season instead of LeVeon Bell. The Steelers would be a shell of themselves even with all the weapons on that offense. Isn't that what the MVP race signifies? Who is the most valuable player? Ben Roethlisberger is showing this year that he embodies what it means to be an MVP, and should at least be more relevant within the candidate conversation.
Questions and comments?
thescorecrowsports@gmail.com
Follow Us on Twitter @thescorecrow
Follow Us on Reddit at u/TheScorecrow
Follow Chazz Bradner on Twitter @__chazz301
Main Credit Image: Embed from Getty Images