Brittany Kirkland | November 15th, 2018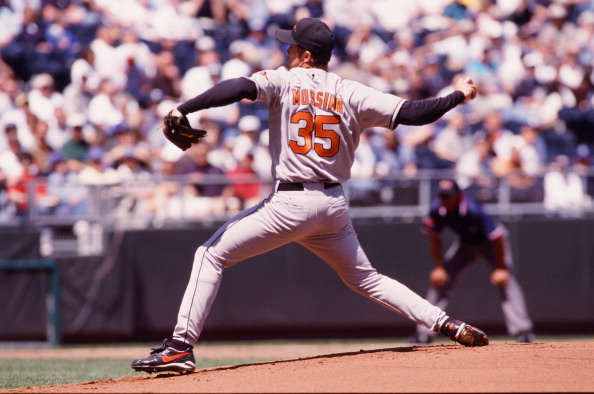 With Mike Mussina inching closer to Hall of Fame glory, will 2019 be the year he finally scores those revered bragging rights?
History
Mike Mussina was born on December 8, 1968, in Williamsport, Pennsylvania, the birthplace of Little League Baseball. Mike pitched well in high school with the Baltimore Orioles on his heels as graduation approached in 1987, but he ultimately turned them down to attend Stanford University.
After playing for Stanford and racking up an All-American title, he was drafted by the persistent Orioles again as a first round pick (20th) in 1990. In his first full season in 1992, he secured some pretty decent stats, closing out the year with 18 wins, a 2.54 ERA in 241 innings, and 4 shutouts that tied him up with several other high-performing pitchers including Greg Maddux, Dave Fleming, and Curt Schilling, while only tailing one behind Roger Clemens.
Where Does Mike Stand?
Moose has pitched for both the Baltimore Orioles and New York Yankees over a span of nearly two decades. He ranks 33rd in all-time wins (270) which puts him right in the thick of several other enshrined pitchers, tying him with Burleigh Grimes (270), yet still outranking Jim Palmer (268), Bob Feller (266), Bob Gibson (251), and several other Hall of Famers including Pedro Martinez (219) and John Smoltz (213).
His second year with the Orioles brought a shoulder injury that would hinder him from creating any mind-blowing numbers but nonetheless, Moose went on to win 14 games while raking in the 7th best winning percentage in the American League. During Mike's tenure with the Orioles in the late 90's, he continued to flirt with the DL. Despite perceived setbacks, his injuries pushed him to be the finesse pitcher we knew him as, forcing him to adapt where he lacked. He showed us all that his inventive pitches were nothing to take lightly, especially in the postseason. With the Orioles, Mike would outmatch the Seattle Mariners' Randy Johnson in 1997's division series playoffs only allowing 2 hits in 7 innings, propelling the Orioles to the ALCS and creating one of baseball's most memorable moments.
In 2001, Mike became a Yankee, continuing to hold his own in an era in which big hitters were dominant. Not only was he a pitcher at the height of the Steroid Era, but he was also a pitcher facing beefed-up players in hitter-friendly home ballparks in the toughest league at the time. It was as if he was some sort of alchemist, manipulating his fastballs and knuckle curves into landing on some of the strike zone's sweetest spots, earning him the 20th spot of all-time strikeout leaders (2813). Just as he contributed to the Orioles' big wins in the postseason, Mike would do the same for the Yankees by delivering a clutch relief performance in 03's seventh game of the ALCS against Boston helping New York progress to the World Series despite ultimately going home with nada.
Mike retired from the Yanks in 2008 with a 20-win season literally leaving us wanting more.
The Not So Good
Moose isn't your peak performance type of guy and often gets overshadowed by extravagant pitchers like Pedro Martinez and John Smoltz. His numbers don't necessarily blow you out the park, but Mike is noticeably famous for his endurance and consistency.
Mike never took home a World Series ring or a Cy Young award, although he was top-5 in voting six times. Heck, he never even led the American League in strikeouts or ERA. That 3.68 ERA is an eyesore, to say the least when scanning Mike's resume, as it's easily higher than most Hall of Famers', including Johnson (3.29), Greg Maddux (3.16), and Tom Glavine (3.54) who also endured the high offense period. Nonetheless, Moose's high control and durability were obvious badges of a high-performing starting pitcher.
Is it His Time or Is it His Time?
Despite pitching at the peak of the use of PEDs, Moose thrived and came off the mound with more than a few impressive accolades under his belt.
This is the seven-time Gold Glove winner and five-time American League All-Star's 6th time on the ballot, and his votes have spiked since his ballot debut in 2014 in which he garnered 20.3% of the votes. He'd recoup from those numbers by climbing up to 43% in 2016 and 51.8% in 2017. Last year, he hit 63.5% of the total ballot votes, so Moose is on track to gain that Hall of Fame title this year. With his votes on the rise for the past few years, I'd be very surprised if Mike can't nab the honor.
Mike may not have the beyond belief, trippy numbers and markers that most Hall of Famers secure as their ticket into such a revered status, but he stands up well besides several of his peers and inductees. I'd say it's time he joined the rest of the gang in reputation.
Questions and comments?
thescorecrowsports@gmail.com
Follow Us on Twitter @thescorecrow
Follow Us on Reddit at u/TheScorecrow
Follow Brittany Kirkland on Twitter @earthtobrittt
Main Credit Image: Embed from Getty Images